Firecracker Chicken Meatballs
Firecracker Chicken Meatballs recipe can be an easy, light party appetizer or serve them over rice and make a healthy weeknight dinner out of them! They have a nice, spicy kick to them but can be toned down to your liking!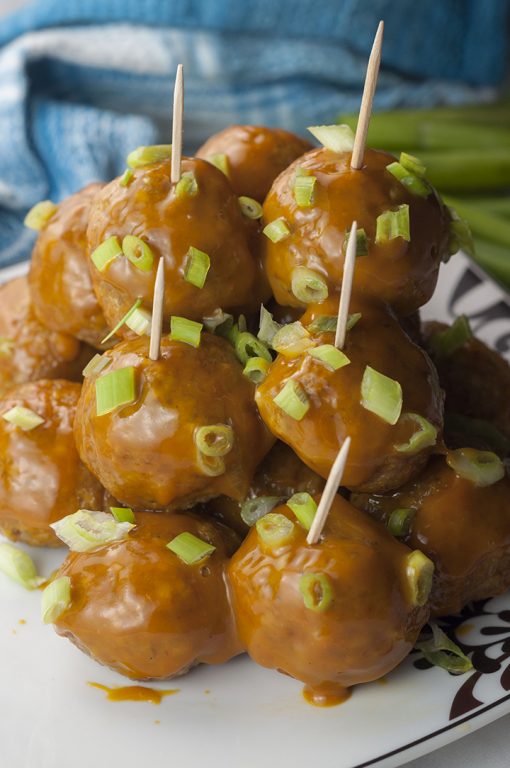 Firecracker chicken meatballs. Yes, I'm going there. What is it about meatballs that just make me do whatever the heck I want with them?
I love them and like to experiment with different meatball recipes.  I thought that the perfect time to share a recipe with the word "firecracker" in it would be right before the 4th of July. Come on, anything with the word "firecracker" in the title is going to be fun to make and even more fun to eat.
This is a really great, easy, and tasty recipe. The meatballs come out soft and flavorful and are SO quick to mix together.
These firecracker chicken meatballs pack a punch, just as they say in the name. They remind me of my other non-wimpy meatballs, Bacon Bourbon Homemade Meatballs.
The sauce gives these meatballs some nice heat without being to the point where you feel like you're eating the sun. It just glazes the meatballs beautifully and gives them a nice glossy look. I feel like I'm talking about painting walls here, anyone else?
I'm so glad you're here! Follow along on Pinterest for more inspiration!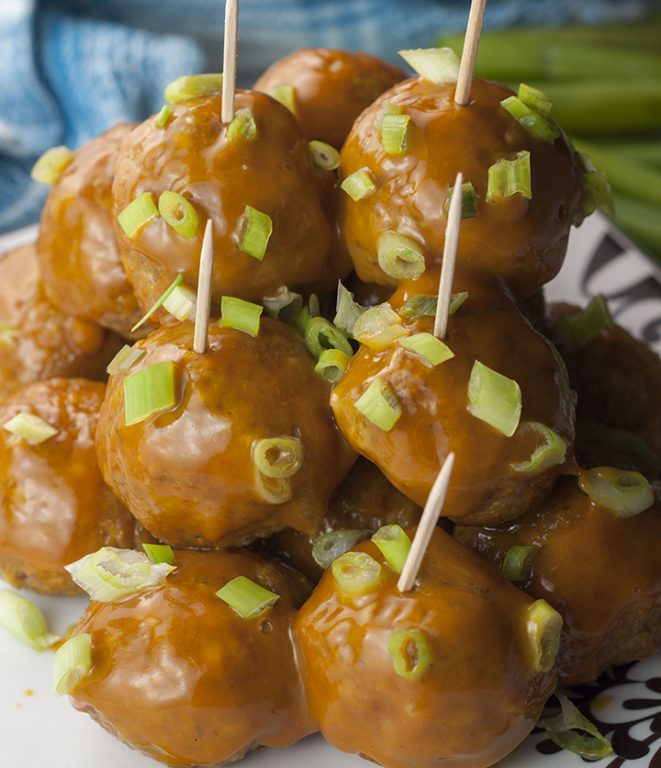 My entire life has been a whirlwind of traveling lately. I was in NYC for four days just to come home, turn around, and head to Wichita, Kansas for a trip with Certified Angus Beef.
As you're reading this, I'm on my way home from Kansas and hopefully staying put for the rest of the summer. I have to soak up the nice weather in Rochester while I can!
If you're looking for more festive 4th of July Recipes, feel free to peruse. If you're loving meatballs as much as I do,  I have these Crock Pot Italian Meatballs and Brown Sugar Glazed Pork Meatballs that are always a huge hit.  Enjoy!
Firecracker Chicken Meatballs
Recipe type:
Appetizer, Dinner
Prep time:
Cook time:
Total time:
Serves:
about 20 meatballs
Firecracker Chicken Meatballs recipe can be an easy, spicy, light party appetizer or serve them over rice and make a healthy weeknight dinner out of them!
Ingredients
1 ¾ – 2 pounds ground chicken
4 teaspoons minced garlic
1 ½ teaspoon salt
1 teaspoon pepper
2 large eggs
1 cup Panko breadcrumbs
½ teaspoon paprika
1 teaspoon onion powder
Firecracker Sauce (this makes extra sauce, cut in half if you don't need extra for serving):
1 cup hot sauce
2 cup light brown sugar
4 tablespoons apple cider vinegar
½ teaspoon salt
½ - ¾ teaspoon red pepper flakes (more or less, to your liking)
Instructions
Preheat oven to 475ºF. Line 2 baking sheets (or one large baking sheet) with parchment paper, set aside.
Combine the ingredients for the sauce in a saucepan over medium high heat; bring to a boil and reduce heat to simmer for about 10 minutes.
Remove from heat and allow the sauce to cool and thicken.
In a large mixing bowl, combine the ground chicken, garlic, salt pepper, eggs, panko, paprika, and onion powder. Mix ingredients together with your hands, being careful not to overmix or your meatballs will be tough.
Roll the meatballs, about 3 tablespoons of meat each; place on prepared baking sheet and bake for 11-13 minutes or until the meatballs are cooked through.
Using a pastry brush, brush each meatball with the sauce (you can dip them if you don't have a brush). Place back on the baking sheet and bake for an additional minute. Drizzle or brush with additional sauce before serving. Enjoy!
Recipe source: adapted from littlespicejar.com