Crock Pot Loaded Bacon Baked Potato Soup
If you love loaded baked potatoes, you'll love this Crock Pot Loaded Bacon Baked Potato Soup recipe that is the perfect texture and full of flavor with classic toppings! This is great for a slow cooker dinner or game day food!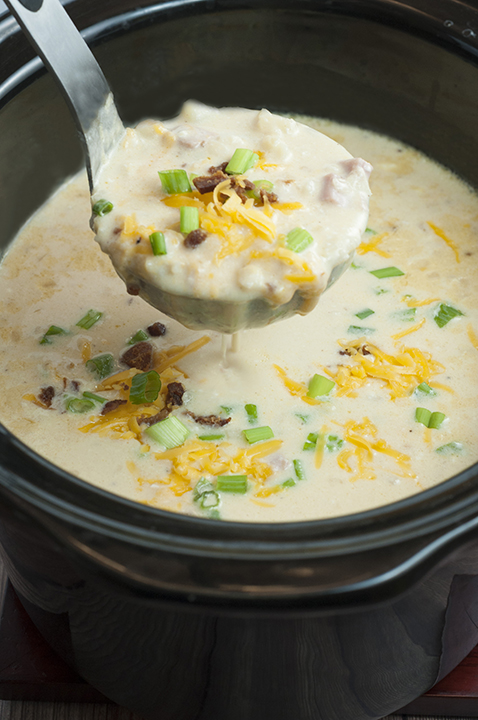 I am such a sucker for creamy, comforting soups. Sometimes I like the snowy, dreary days because it gives me an excuse to make one like this Crock Pot Loaded Bacon Baked Potato Soup. We have had a very snowy winter so far, well above our average here in Rochester. I read someone post the other day on social media how sometimes snow days are a gift because it stops the world and is a sign for us to take it all in and take things just a little slower. Next snowstorm I hope I can look at things this way instead of seeing the snow as such a nuisance like I normally do. I do tend to enjoy the lazy days at home staying in my pajamas all day and just getting things done around the house. Don't hold me to this. Mr. Wishes! I know I'll regret ever putting that out there. Ha!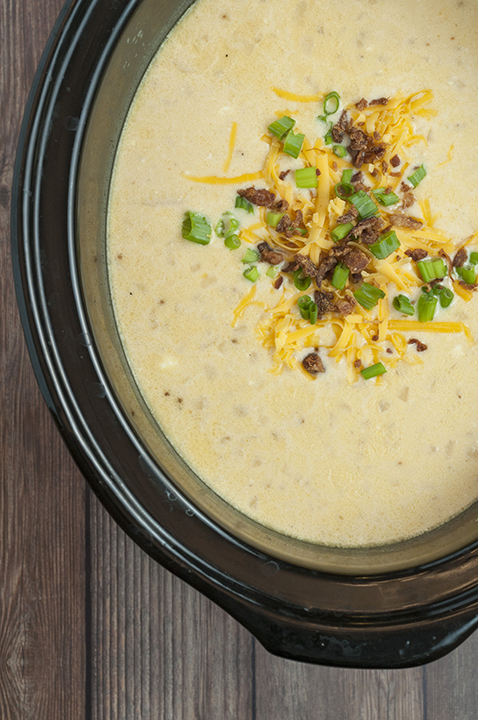 Let us get back to this Crock Pot Loaded Bacon Baked Potato Soup. It's obviously not diet food by any means, but we all need and deserve a meal like this once in a while, am I right? You can cook it up and leave it sitting on "warm" in the slow cooker and your family can fill their bowls as they want to throughout the day. I know with super bowl coming up, this could be an awesome food idea to have out for people to nibble on throughout the game. Appetizers are fun, but people always appreciate something different like a delicious soup! You can put out the various toppings for the soup next to the crock pot and your party guests can add whatever they like. I think it's a brilliant idea and I just might do this!
This soup has the perfect thick consistency – more so than any other potato soup I have tried. It's hearty, filling, and to die for!
If you're looking for more game day comfort food you can make in your crock pot, I gathered a list of a few of my favorites you can feel free to check out:
Crock Pot Loaded Bacon Baked Potato Soup
Prep time:
Cook time:
Total time:
If you love loaded baked potatoes, you'll love this Crock Pot Loaded Bacon Baked Potato Soup recipe that is the perfect texture & full of flavor & toppings!
Ingredients
8 slices bacon, cooked and diced
4 cups chicken stock
2 pounds Yukon gold or Russet potatoes, peeled (optional) and diced
1 medium white or yellow onion, diced
4 tablespoons butter
⅓ cup all-purpose flour
1 (12-ounce) can evaporated milk
1.5 cups shredded sharp cheddar cheese
½ cup sour cream
1 teaspoon salt
½ teaspoon black pepper
Toppings of choice: sliced green onions, chives, shredded cheese, bacon, dollop of sour cream
Instructions
Add cooked bacon, chicken stock, potatoes and onion to your large slow cooker; stir to combine.
Cook on low for 6-8 hours or on high for 3-4 hours, or until the potatoes are completely fork-tender.
When soup is done, melt butter in a small saucepan on the stove over medium heat to make your roux.
Whisk in the flour until combined, about 1-2 minutes.
Slowly add in the evaporated milk while whisking it together with the flour mixture until completely smooth.
Let the mixture continue simmering until thickened, stirring occasionally.
Immediately pour this mixture into the slow cooker with the potatoes; stir until combined.
Stir in the cheese, sour cream, salt, pepper.
Using a potato masher (or spoon) to thicken the soup while it's in the slow cooker, mash some of the potatoes. (optional step).
If your soup is too thick, add in a another cup or 2 of hot chicken stop.
Stir to combine all ingredients; taste; season with additional salt and pepper if necessary.
Serve hot and garnish with toppings of choice. Enjoy!

Recipe source: slightly adapted from gimmesomeoven.com