No-Bake Avalanche Cookies
No-Bake Avalanche Cookies are made with Rice Krispies, marshmallows, creamy peanut butter, and white chocolate for the ultimate easy cookie recipe! They make for a great gluten-free holiday dessert!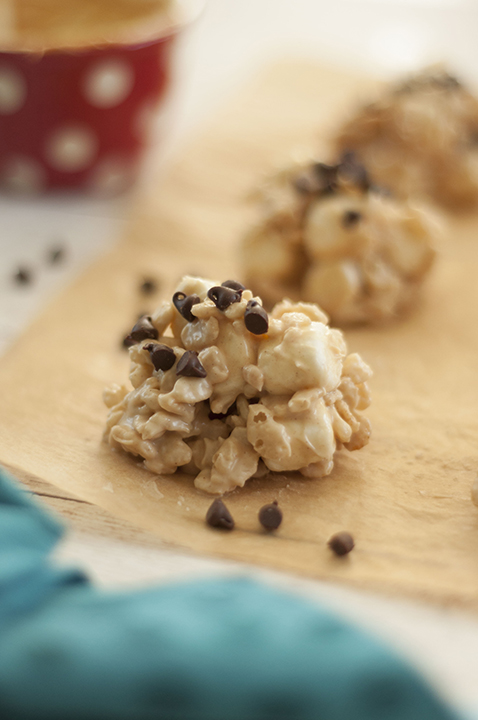 I would really like to tell you about these amazing no-bake avalanche cookies, but first I need to do a little "woe is me" story type thing. So, our air conditioner decided to bite the dust about two weeks ago right in the peak of summer hotness. Isn't that how it always seems to happen? We had someone come and try to fix it but it was a hopeless situation. It's not even that old! I have literally avoided turning on the oven for almost 2 weeks now because it just makes the temperature unbearable. When it's already 83 degrees in your house the last thing you want to do is crank the oven for any period of time! No thank you! Pass.
What I will say "yes" to is having a sweet treat happen without having to heat up the oven. That is where these no-bake avalanche cookies come to save my life and my sanity. My friend Hayley, who I have talked about before in this Pecan Pie Bark post, is simply the dessert queen. Her blog is called The Domestic Rebel and she's truly one of my blogging heroes. I flipped through her new cookbook, "Two in One Desserts", the second I got it in the mail (I didn't even make it inside before I took a peek) and was amazed at her creativity. Her recipes are all SO easy to follow that anyone can succeed at them. I highly recommend it if you have kids who may be getting interested in baking because Hayley makes the recipes attainable for anyone from seasoned bakers to beginner bakers.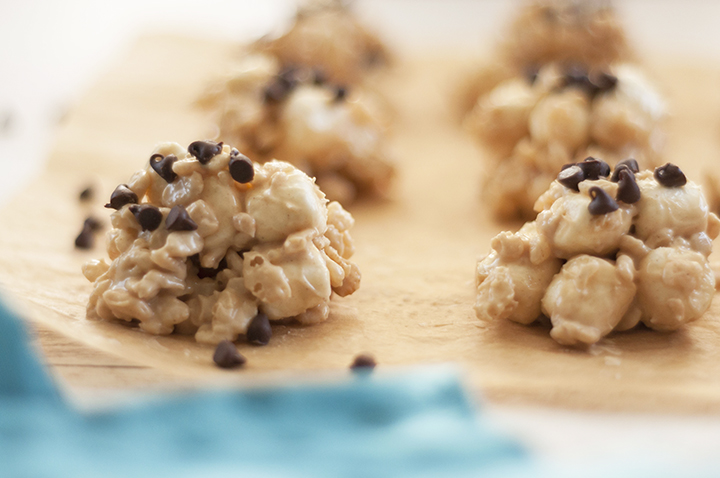 Her focus is on sweet treats that combine two ore more classic desserts into one. All of her recipes in "Two in One Desserts" are simple, the photos are beautiful and the results are always spot-on. It's a great addition to my cookbook collection and will be for yours, as well!
You never know when you're going to be asked to bring dessert to a party at the last minute. It's always a good idea to have a few great cookie recipes in your back pocket for those times. Have you tried my favorite no-bake stuffed cookie dough bites? The ingredients list in these avalanche cookies is short and the time putting these together is basically nothing. When you taste these you will not believe how easy these gooey, crunchy treats are! No mixer required and no oven required. These cookies and my No-Bake Chocolate Chip Cookie Dough Bars may just be my favorite no-bake recipes ever.
Definitely check out Hayley's book for yourself and make these no-bake avalanche cookies out of her book as soon as you can. You can also check out my whole collection of no bake dessert recipes. This is how you make gooey, chewy, no-bake cookies that make everyone in your life love your guts.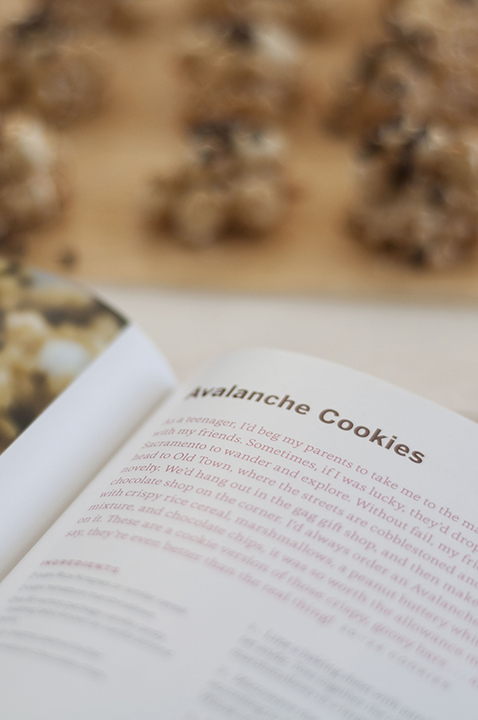 Be sure to check out my step-by-step video above on how to make these No-Bake Avalanche Cookies!
No-Bake Avalanche Cookies
No-Bake Avalanche Cookies made with Rice Krispies, marshmallow, peanut butter,& white chocolate for the ultimate easy, gluten-free recipe & holiday dessert!
Instructions
Line a baking sheet with parchment paper and set aside.
Mix together cereal and marshmallows in a large, heatproof bowl.
Microwave the candy coating according to instructions on package or until smooth.
Whisk the peanut butter with the white chocolate to combine.
Pour the candy coating mixture over the cereal and mix until thoroughly coated.
Using a spoon, drop rounded spoonfuls of mixture onto the prepared baking sheet, working quickly so the chocolate doesn't harden.
Before cookies harden, sprinkle miniature chocolate chips on top.
Let the cookies set for about 15 minutes or more before serving. Enjoy!