Lemon Chip Macadamia Nut Cookies
An easy recipe for Lemon Chip Macadamia Nut Cookies that are crunchy on the outside and chewy on the inside!  If you like lemon and macadamia nuts, you'll love these for an easy spring dessert.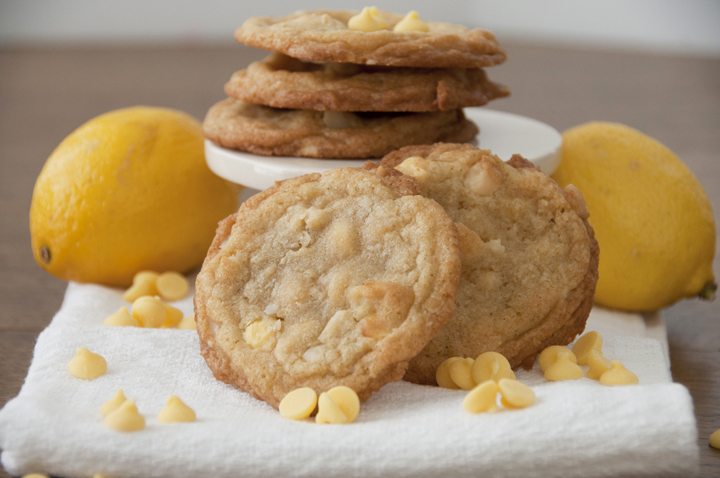 Things I love…
My husband.
My family.
God.
Friends.
Buffalo Chicken Wing Dip
Peanut butter.
Christmas.
Christmas music.
My cozy house.
Cruises.
Shopping.
Disney World.
Italian Food.  I can eat it for every meal.
Thunderstorms.
Vibrant rainbows after a thunderstorm.
80's music.
90's music.
Country music.
(Can you tell I love music?!)
My bed after a getting back from vacation.
Birthdays.
Groundhog day.
Cats, Giraffes, Bunnies, Deer, Birds.
Homemade macaroni and cheese.
Guess clothing & accessories.
Astronomy – stars, moon, planets.
Mexican food.
Thai food.
Babies.
The smell of these cookies baking in the oven.
Cookies, in general.
These cookies with a cold glass of milk!
I hope you liked my list!  I wanted to try something different since I'm sure you're sick of hearing my random stories about nothing 🙂 These cookies are so fun with the lemon chips.  If you can't find lemon baking chips, you can substitute white chocolate chips.  The lemon flavor in these cookies isn't the main component at all, so they will still be amazing, I promise you that. If you have your heart set on lemon, you can always add lemon zest or swap half of the vanilla with lemon extract!  Get creative 🙂  These are not the big and fluffy type of cookie, as you can see in the photo.  The macadamia nuts (as are all nuts) are on the oily side and therefore don't produce the big, fat cookies.  I used roasted and salted macadamia nuts – the salty flavor mixed with the sweet of the lemon morsels and cookie dough is a tasty combination.
The cookies are slightly crisp on the outside with a soft and chewy interior, full of chunks of macadamia nuts and lemon flavor.  Because of this crisp outside, these are best eaten the first or second day!  Enjoy!
Lemon Chip Macadamia Nut Cookies
Ingredients
3 cups flour
½ tsp baking soda
1 tsp salt
2 sticks unsalted butter, softened
1½ cups granulated sugar
1 cup brown sugar, packed
2 eggs, room temperature
1½ tsp vanilla
2 cups lemon baking chips (can use white chocolate instead)
1 cup Macadamia nuts, chopped
Instructions
Preheat oven to 350 degrees and line a cookie sheet with parchment paper or silicone baking mat.
Whisk flour, baking soda and salt together in a large bowl and set aside. In the bowl of a stand mixer (or use hand mixer) fitted with a paddle attachment, cream butter and sugars until smooth and fluffy.
Add eggs, one at a time, fully incorporating each one before adding the next. Add vanilla and mix.
Slowly mix in the dry ingredients to wet ingredients in small batches, fully incorporating into the batter.
Remove bowl from mixer and fold in lemon chips and Macadamia nut chunks. Drop by rounded spoonful onto your cookie sheet and bake for 10-11 minutes until the tops are golden brown.
Cool on a wire baking rack.