Gluten Free Almond Chocolate Chip Cookies
Healthy, Gluten Free and Paleo Almond Chocolate Chip Cookie recipe sweetened with maple syrup. The almond flavor pairs perfectly with the dark chocolate chips!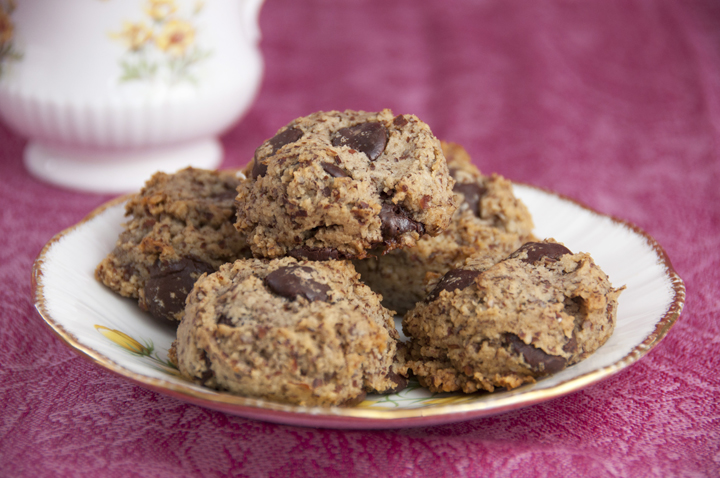 I used almond meal to make these delicious cookies and they are honest-to-God the best gluten free dessert I've had in a long time.  You will LOVE these!  In case you don't know, almond meal and almond flour are both finely ground almonds and there is no official difference between the two products as far as I can tell in my research. The terms seem to be used interchangeably, but almond flour is often much more finely ground than almond meal and has a more uniform consistency.  For most recipes, you can use almond meal or almond flour, regardless of which is specifically called for in that particular recipe and get good results.  There are a some cases, however, where you should take into account the consistency of the product you're working with.  Almond meal is not as finely ground and works great for scones, cookies and muffins, while almond flour is finely ground and essential for fine-textured cakes, French macaroons, etc.  There's your baking lesson for the day!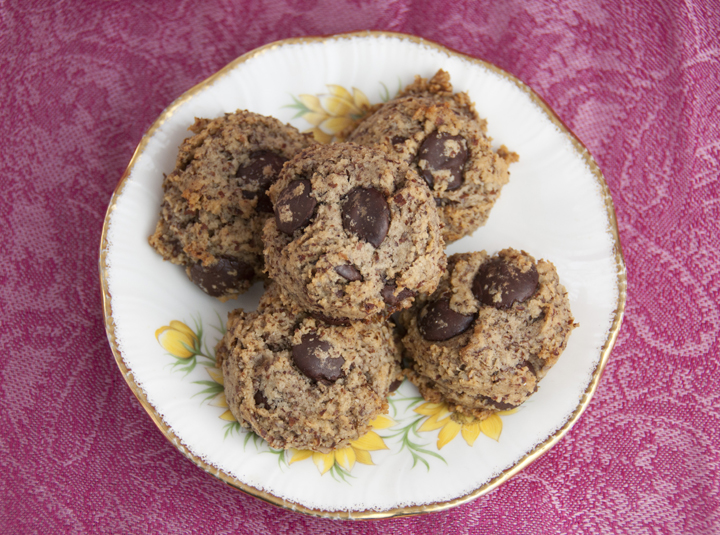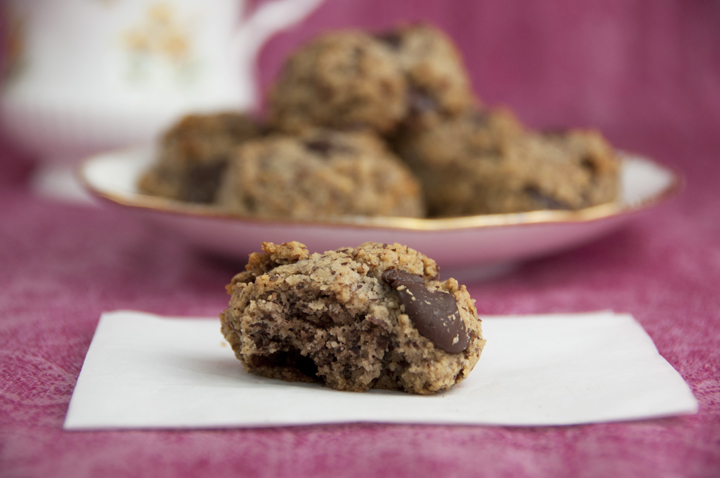 UPDATE:  The winner of the Bob's Red Mill nut flours is:
#167 – Margaret: "I liked Wishes and Dishes on Pinterest!"
Congratulations, Margaret!  Thank you to everyone who entered.
When it comes to healthy whole grains, Bob's Red Mill really is the best!  The very gracious folks over at Bob's Red Mill sent me a variety of their amazing nut flours to try out and give away to one of you lovely readers.  They make a variety of wonderful food products for people who strive to eat better and live a healthier lifestyle.  At any given time in our home, we have had countless products from them ranging from their steel cut oats to their flours and cereal blends.  You will love their nut flours!  They are awesome to bake with and you can feel better about what you are eating when they are made with these products.  They do not use any GMOs (genetically modified organisms) in their products which is always nice!  Also, for those who eat gluten-free, Bob's offers a variety of gluten-free products.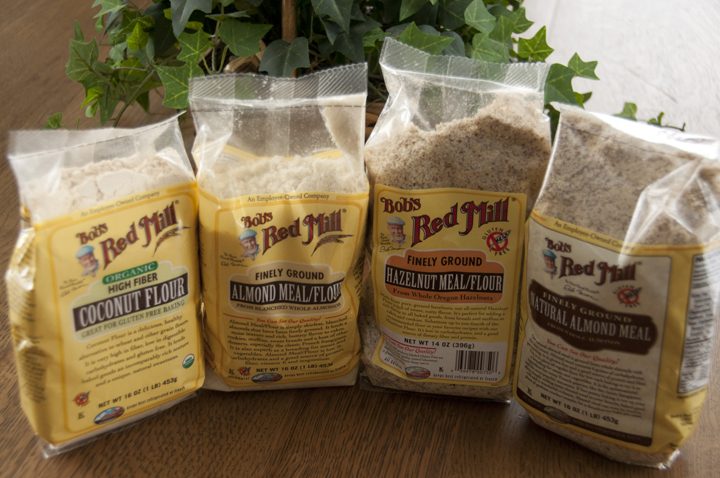 Here is the recipe for delicious cookies I made from a recipe they provided on their package of almond meal.  I changed it slightly…
Gluten Free Almond Chocolate Chip Cookies + a GIVEAWAY!
Ingredients
3 cups Bob's Red Mill® Almond Meal
1 tsp Baking Soda
½ tsp Sea Salt
¼ cup Coconut Oil (measure once it's melted. Can substitute melted butter)
¼ cup real Maple Syrup
1 whole Egg
2 Egg Whites
1 tsp Vanilla Extract
1 cup Dark Chocolate Chips (I use Ghiradelli)
Instructions
Preheat oven to 375°F. Line two baking sheets with parchment paper.
Combine almond meal, baking soda and sea salt and set aside.
Mix coconut oil and maple syrup in a mixer or by hand until creamy but not fully incorporated, about 5 minutes.
Add whole egg, egg whites and vanilla extract and mix for 2 additional minutes.
Slowly add dry ingredients to egg mixture and mix briefly.
Add chocolate chips and mix until well combined.
Place large rounded tablespoons onto prepared baking sheets, about 1-inch apart. Flatten slightly, to approximately 1-inch thickness – these cookies do not spread in the oven at all so make sure you do this step or they will just keep their ball shape.
Bake until set and golden, about 15 minutes. Makes 25 – 30 servings.
GIVEAWAY DETAILS
Thanks to Bob's Red Mill, one lucky Wishes and Dishes reader will win a gift box of the products pictured above (hazelnut flour, almond meal, almond flour, coconut flour)!  Many thanks to them for providing the review and giveaway product. Giveaway is open to U.S. readers only.
HOW TO ENTER THE CONTEST

To enter to win, simply leave a comment on this post and answer the following question:
"What is your favorite healthy dessert?"
You can receive up to FIVE additional entries to win by doing the following:
1.  Subscribe to Wishes and Dishes by email.. Come back and let me know you've subscribed in an additional comment on this post.
2.  Follow @wishesndishes on Twitter. Come back and let me know you've followed in an additional comment on this post.
3.  Follow Wishes and Dishes on Pinterest. Come back and let me know you became a fan in an additional comment on this post.
4.  Become a fan of Wishes and Dishes on Facebook. Come back and let me know you became a fan in an additional comment on this post.
5.  Follow Wishes and Dishes on Instagram.  Come back and let me know you've followed in an additional comment on this post.
Deadline: Sunday, March 30th at 11:59 (EST). I'll announce the winner on Monday 3/31.  Good luck!
Winner: The winner will be chosen at random using Random.org and announced at the top of this post.  I will email the winner and if he/she does not respond within 48 hours, another winner will be selected.
Disclaimer: Bob's Red Mill gave me samples of these products for review purposes and is also mailing the same package I received to the winner of the giveaway.  My opinions remain entirely my own.