Kitchen Fails of 2013
It was another year of the occasional disaster in the kitchen of Wishes and Dishes. 
For all those who think I'm some master chef who hits perfection with each and every recipe, think again.  Honestly, I only documented a few of my fails but there were many, many that were not pictured (I'm not sure why sometimes it slips my brain to whip out the camera when I have a disgusting mess of food sitting in front of me??!!) HA HA!
Please enjoy these complete fails and utter disasters in my kitchen and I promise that next year I will think to take more pictures of my failures 🙂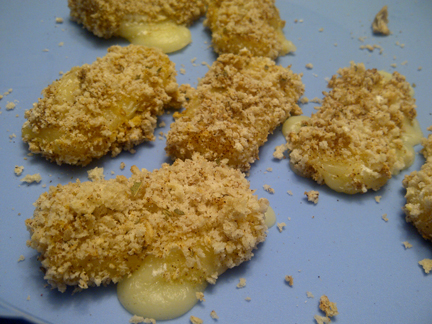 Never again will I attempt homemade mozzarella sticks (can you even tell that's what these are supposed to be?).  I even froze the cheese sticks ahead of time as the directions stated to do and they still were a melty mess and definitely qualified for the kitchen disasters category.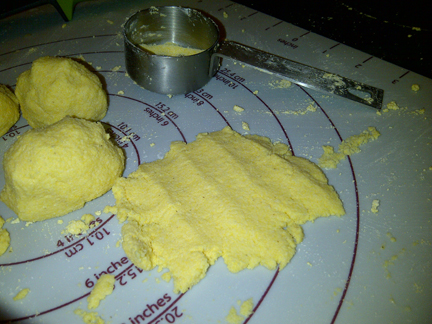 This appetizing looking concoction was my attempt at homemade corn tortillas.  Mr. Wishes and I came home from a wonderful trip to California and had gotten addicted to the amazing California burritos we had every day for (almost) every single meal while we were there.  Since real quality and authentic tortillas are pretty hard to come by here in upstate, NY we figured how hard would it be to just MAKE them?!  Hard….very hard.  I still am not quite sure what went wrong, but I have to figure out another use for that big bag of cornmeal 🙂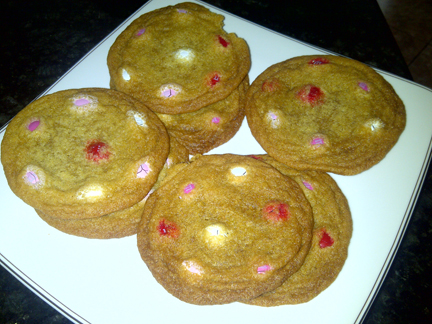 These beauties right here were cookies I made to take to my very FIRST night joining a church small group.  I was clearly trying to impress them with my flat, ugly, burnt around the edges Valentine's day M&M cookies.  I still don't know what went wrong, which is the reoccuring theme in this post.  It's always fun when you are meeting a new big group of people who know you are a food blogger and show up with cookies looking like this 🙂  I'm sure they didn't have any expectations for me or anything!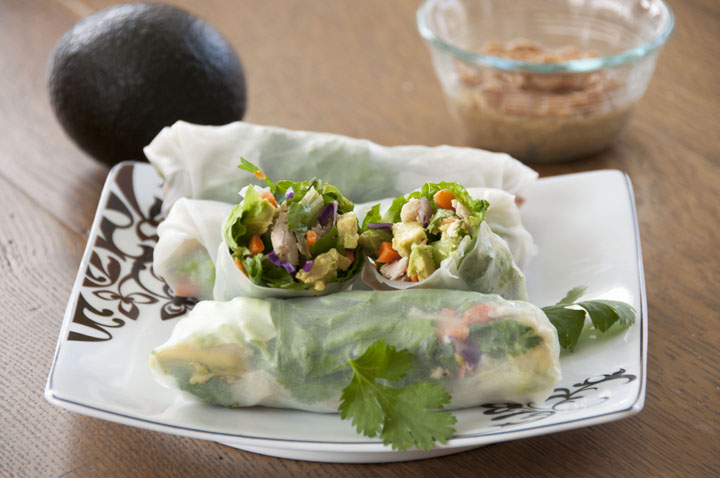 These look pretty right?  Well, that's because this was the pre-disaster photo.  I neglected to take a photo of the actual disaster, unfortunately for you.  This was a recipe I created for an Avocados from Mexico campaign I was part of.  Mr. Wishes came up with the brilliant idea that I should do "avocado spring rolls – 2 ways" and deep fry some of them to give readers the option to eat them fresh OR fried.  I did everything I thought I was supposed to do in order to fry one and ended up with the rice wrapper stuck to the bottom of the frying pan and oily, nasty veggies.  Oh, not to mention the oil spit everywhere in my kitchen to the point where it sounded like bombs going off in my kitchen and I was screaming!  Somehow I managed not to get burned at all but, to this day I am still finding oil splatters to clean up from that day.
Not Pictured:
Macademia Nut Cookies that Mr. Wishes walked in the door and said "did you make me pancakes?!"  I think my baking soda had seen better days maybe.
Pulled Pork Shepherd's Pie – one word: "yuck".   I tried to create my own shepherd's pie and it was super dry 🙁
Christmas Sugar Cookies – note to self: don't try to do 18 things at once while you are baking…there will be burnt cookies in your near future!
I hope you all enjoyed a good laugh!  Have a great weekend!