Jalapeño Cheeseburger Party Buns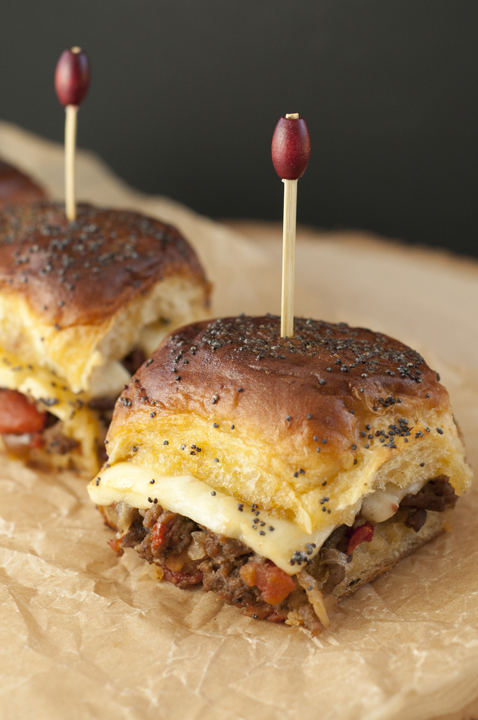 Recipe type:
Appetizer, Main Course
1 pound ground beef
½ tsp salt
1 tsp pepper
1 teaspoon cumin
1 teaspoon paprika
1 package dry onion soup mix
2 cloves garlic, minced
1 (10-oz) can Ro-Tel Diced Tomatoes and Green Chilies, drained
2 tbsp BBQ sauce
1 tsp apple cider vinegar
½ cup (8 tablespoons) butter
1 tbsp mustard
1 tbsp Worcestershire sauce
2 tbsp brown sugar, packed
2 tsp poppy seeds
12 slices cheddar or American cheese
12 dinner rolls (I used King's Hawaiian Jalapeño rolls)
Preheat oven to 350 degrees F.
Spray a 9x13 glass baking dish with non-stick cooking spray.
On the stove top, heat a large skillet over medium-high heat. When the pan is hot enough, add the ground beef and season with salt, pepper, cumin, paprika, and the dry onion soup mix.
Add the minced garlic, stir and continue stirring occasionally until beef is no longer pink.
Stir in the drained tomatoes/chilies, BBQ sauce and apple cider vinegar until fully incorporated. Cook for just a couple of more minutes and remove from heat. Drain any excess liquid.
Place bottom halves of buns (after you separate them, but put them close together) in your prepared 9x13 pan. There will be extra room on the edges of the pan - that's OK. Bake these for 5 minutes or so to keep them from getting soggy after adding the topping (optional).
Top with beef mixture and then with the sliced cheese. Place the top halves of the buns over all to form the burgers.
Mix all of the ingredients for the glaze (butter, mustard, Worcestershire, brown sugar, poppy seeds) in a medium sauce pan over medium heat until butter is melted and ingredients are fully combined.
Pour the glaze carefully and evenly over the buns before baking.
Bake at 350 degrees for 20-25 minutes (check at 20 to make sure the tops aren't getting too done but you want the cheese to be fully melted). Enjoy!
Recipe by
Wishes and Dishes
at https://wishesndishes.com/jalapeno-cheeseburger-party-buns/