Holiday-Spiced Pear Cobbler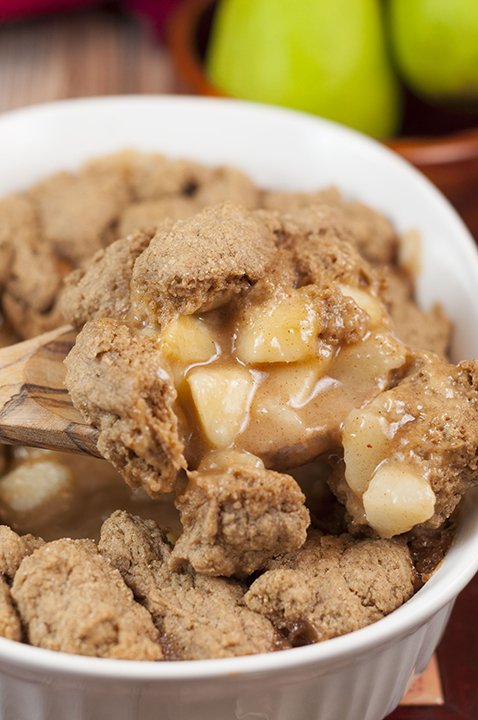 3 tablespoons unsalted butter
4 medium pears, peeled and chopped into about ½-inch pieces
¾ cup granulated sugar
¼ cup all-purpose flour
½ teaspoon ground cinnamon
¼ teaspoon salt
½ teaspoon vanilla extract
1 & ½ cups all-purpose flour
½ cup firmly packed light brown sugar
1 teaspoon baking powder
1 teaspoon ground cinnamon
¼ teaspoon ground ginger
¼ teaspoon ground allspice
⅛ teaspoon ground nutmeg
pinch of salt
¼ cup unsalted butter, cold and cut into ½-inch cubes
¼ cup milk
Preheat oven to 350°F.
Melt the butter in a large skillet over medium heat.
Add the peeled/chopped pears, sugar, flour, cinnamon, and salt, and stir to combine.
Stir frequently and continue cooking until the sugar has dissolved and the mixture is bubbly (let it bubble for 2-3 minutes or until it has thickened). Try not to eat it all with a spoon.
Remove from heat.
Stir in the vanilla.
Transfer the filling to a 1 or 1.5 quart baking dish. Set it aside while you make the topping.
Combine the flour, brown sugar, baking powder, cinnamon, ginger, allspice, nutmeg, and salt in a mixing bowl.
Add the cut up butter; mix with a pastry blender or a fork until the butter is about the size of peas.
Add about 3 tablespoons of the milk, and continue mixing the dough. Gradually add the remaining milk, a little at a time, and mix until the dough comes together.
Drop the dough by tablespoonfuls over the top of the filling.
Place the baking dish on a lined, rimmed baking sheet in case the cobbler bubbles over.
Bake 30 to 35 minutes, or until the topping is browned and the filling is bubbly. Mine was done at 30.
Serve warm with a scoop of vanilla ice cream (optional)!
Recipe by
Wishes and Dishes
at https://wishesndishes.com/holiday-spiced-pear-cobbler/