Caramel Apple Cheese Ball
Quick and easy Caramel Apple Cheese Ball recipe works for a holiday appetizer idea, snack OR dessert! This sweet and salty treat would be perfect for a potluck or party.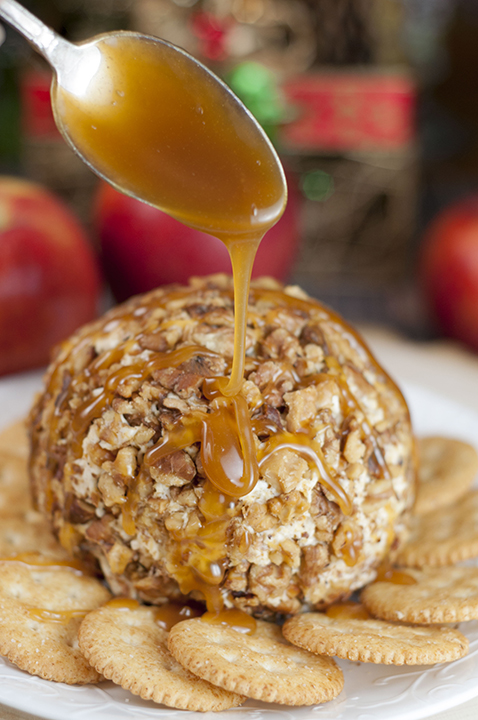 This is no ordinary cheese ball, folks. The unexpected flavors of sweet and salty in every bite of this Caramel Apple Cheese Ball had everyone at our family Thanksgiving party raving about it.
I know it's too late to make this for Thanksgiving this year, but if you have a Christmas party or New Year's Eve party at work or are having friends over for a holiday season get-together, you MUST make this cheese ball! I also have a holiday giveaway to tell you about in this post, so make sure you enter before time runs out!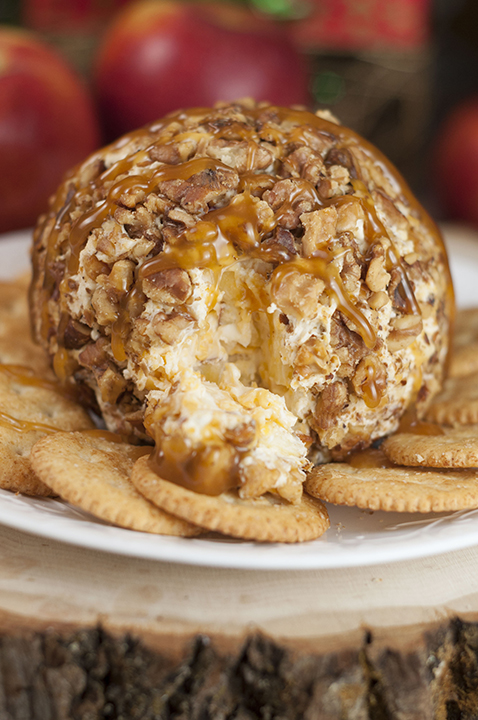 I like to call this an appetizer, but I could seriously make this bad boy my entire meal. The texture of the apples throughout the cheese ball make it extra special. I used an Envy apple in this recipe.
Envy has emerged as the apple with everything: beautiful skin, sweet flavor, amazing crunch, and a bright, tender flesh that remains white, even after being cut open.
Normally I have to work so quickly when dealing with sliced up apples for fear of them turning brown in no time at all. This didn't happen when making my Caramel Apple Cheese Ball! Aside from all of that, the red color of their apples is so vibrant and beautiful!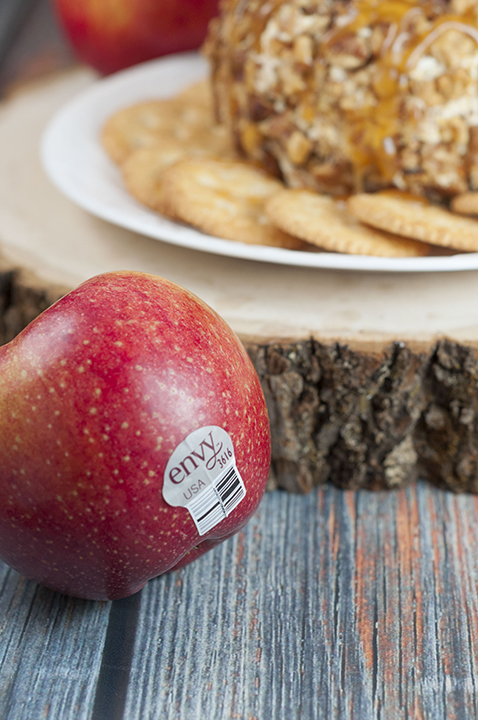 Envy has a handpicked team of talented, caring growers who simply fell in love after one bite and have planted trees in prime growing regions. Their growing regions include Washington state, the northeast coast of New Zealand, and Chile where they bask in long, sundrenched days and crisp, cool evenings.
Having multiple regions where they are grown minimizes transportation costs, increases availability to be almost year-round, and increases freshness, quality and shelf life. All of this is what produces the amazing texture and flavor of their apples! Best of all – they store well and are GMO free.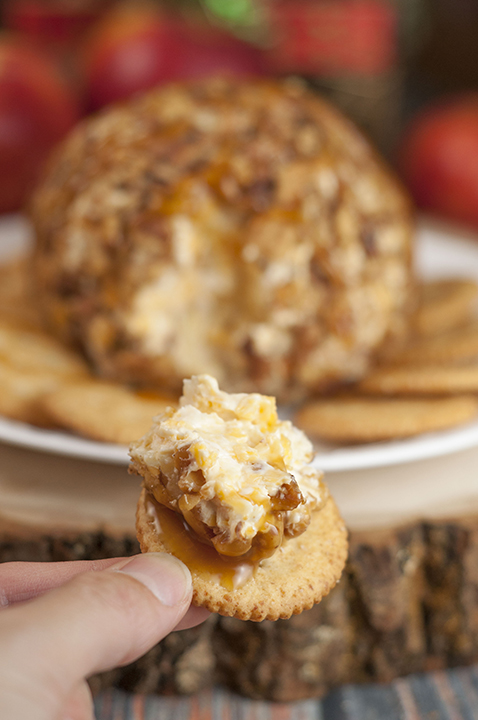 You can enjoy Envy apples in this Caramel Apple Cheese Ball (which I highly recommend), or simply sliced up on top of a salad, served on a platter with an assortment of cheese or eaten plain for a quick, filling, nutritious snack.
You will also love my Cranberry Walnut Cheese Ball which you should totally check out. That cheese ball is another favorite of mine. I also have a recipe for Fresh Apple Pie Dip that you can use up some of those apples in.
This Caramel Apple Cheese Ball is extremely addictive. Have you tried my Snickers Caramel Apple Dip? This is even more addictive than that. You have been warned!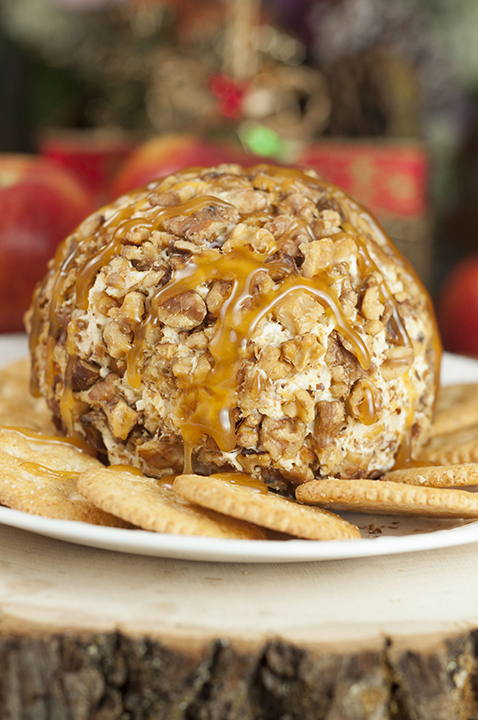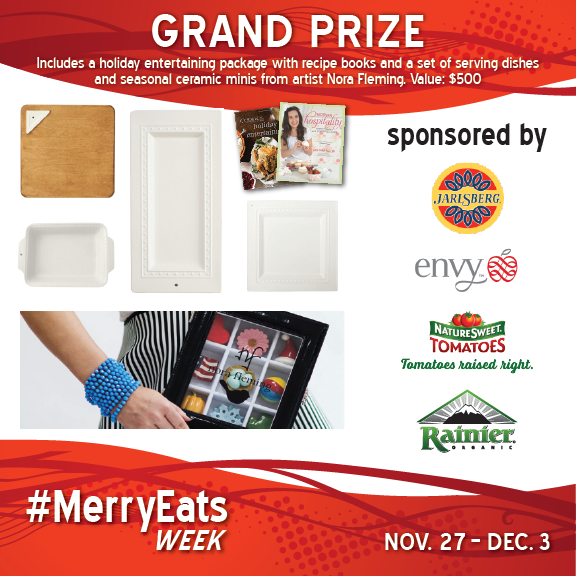 GIVEAWAY DETAILS
Myself, Jarlsberg Cheese, Envy Apples, NatureSweet Tomatoes, Rainier Fruit, and some amazing food bloggers are giving away a holiday entertaining package for our very special #MerryEats week!
It includes Cook's Illustrated Holiday Cookbook and our very own Whitney Miller's Modern Hospitality along with a host of serving dishes and seasonal minis from artist Nora Fleming! This serving ware is perfect for every holiday and entertaining event and her ceramic mini's allow you to transform your serving dishes for every holiday. The value of this prize package is $500! 
Scroll down a bit to fill out the EASY form to in order to enter! The giveaway runs through 12/3.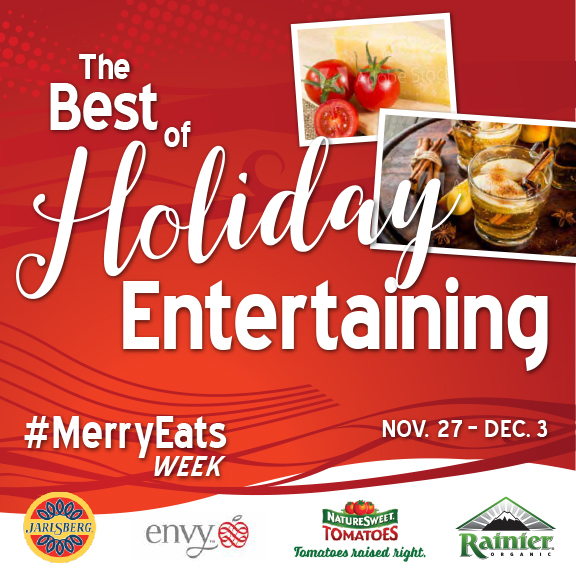 Caramel Apple Cheese Ball
This quick and easy Caramel Apple Cheese Ball recipe works for a holiday appetizer idea, snack OR dessert! This sweet and salty treat would be perfect for a potluck or party.
Instructions
Toast walnuts in the oven or in a skillet on the stovetop over medium-high heat just until browning starts, stirring often; about 5 minutes. Do not let them get too dark.
Remove and let them cool completely. Chop or crush walnut into small pieces using a rolling pin (or anything else you have on hand).
In a medium mixing bowl, stir together softened cream cheese and cheddar cheese until well incorporated.
Mix in diced apple, nutmeg and caramel until ingredients are evenly incorporated. Use hands to roll into a ball shape.
Spread walnut pieces on a plate or cutting board, and roll cheese ball to evenly coat the outside. Drizzle top with extra caramel sauce and serve with crackers. Enjoy!
a Rafflecopter giveaway
Disclaimer: Thank you to Envy Apples for sponsoring this conversation. All opinions remain 100% my own, as always. Thank you for allowing me to share the brands and products I use regularly and love.

Recipe source: adapted from platingpixels.com