Cherry Cobbler
Nothing says summertime quite like cherry cobbler.
This is our first summer in our new house and we've been working a lot in our yard on the weekends.  About a month ago while we were out there, much to our surprise, Mr. Wishes and I learned that we had fruit trees right in our backyard.  It was the fall when we bought our house, so we didn't really pay attention to what kind of trees we had.  It was a happy surprise when our three fruit trees starting blooming this summer!  We have a cherry tree, a plum tree (at least that's what it's looking like so far), and a peach tree.  Mr. Wishes' exact words when he discovered the cherry tree were, "I'm in heaven".  That guy loves his cherries.
I made this cobbler with our fresh-picked cherries from our tree.  I didn't follow a recipe and kind of just improvised as I went so I was a little nervous how it would turn out but it came out really good.  As you can see, the crust was nice and golden on top, soft but not soggy at all.   This is an excellent way to use up your fresh cherries!  It does require a little work to pit the cherries, but nothing major, and the ingredients are probably things you already have on hand.
The cobbler is very good warm or cold (if you find you have leftovers).  I like it best when it has been out of the oven for about 20-30 minutes and is still slightly warm, then served plain or with vanilla ice cream on top.  Leftovers can be stored covered in the refrigerator for 1-2 days after baking.
Enjoy!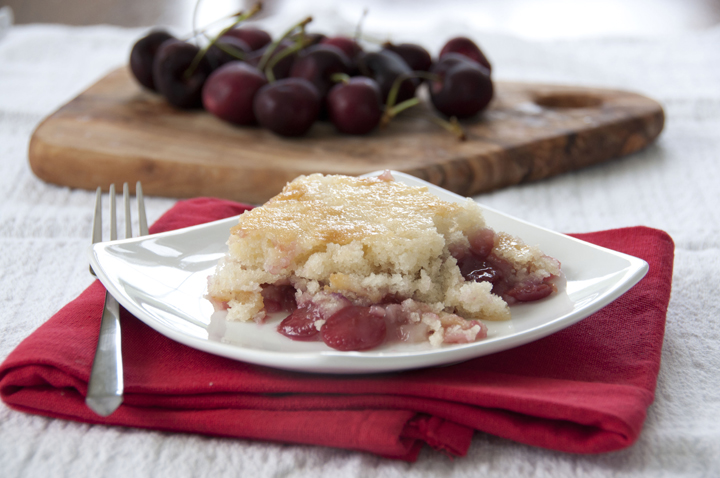 INGREDIENTS:
3 tablespoons butter, melted
1 cup all-purpose flour
1/4 teaspoon salt
1 teaspoon baking powder
1/2 cup milk
3/4 cup white sugar
1 and 1/2 tablespoons cornstarch
3/4 cup boiling water
3 1/2 cups fresh cherries, pitted (you can also use frozen, mine were sweet cherries)
3/4 cup additional white sugar

DIRECTIONS:
Mix 3/4 cup sugar, butter or margarine, flour, salt, baking powder, and milk together. Place pitted cherries in the bottom of a 9 inch square pan. Spread dough over cherries.
In a small bowl, combine the other 3/4 cup sugar and cornstarch. Stir in boiling water. Pour mixture over the dough.
Bake at 350 degrees F for 45 minutes. Serve warm!