Key Lime Pie Oreo Truffles
Key Lime Pie turned into Key Lime Pie Oreo Truffles and made with Golden Oreos. Easy recipe and delicious!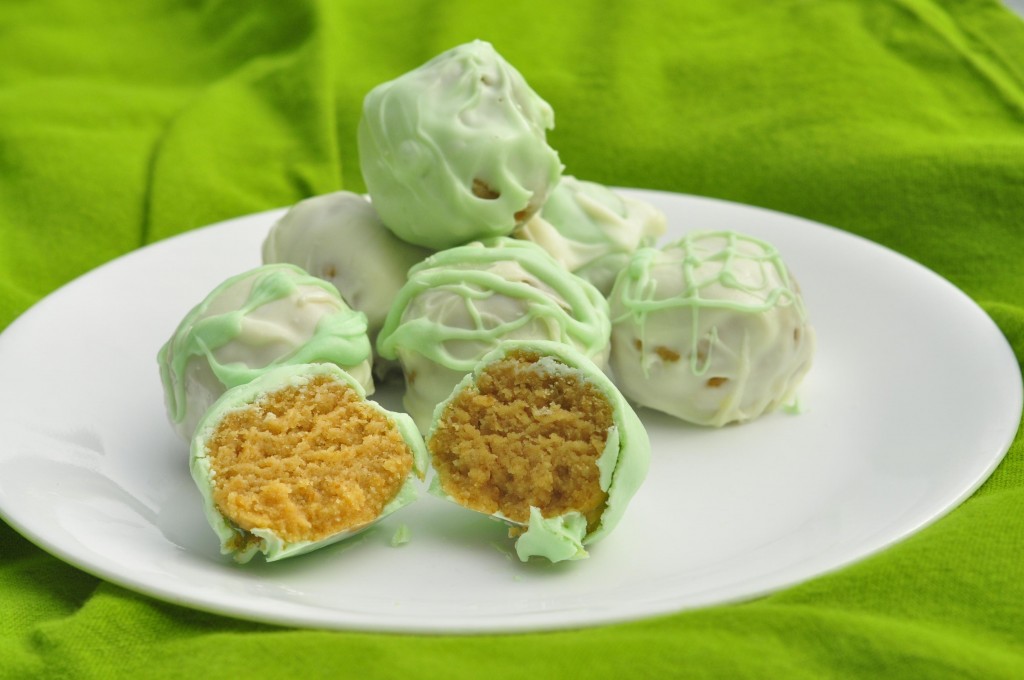 So temporarily living down here in Miami since March has really put me in a Key Lime state of mind.  They really push their Key Lime everything down here…it's pretty much impossible to go to a restaurant that isn't featuring some sort of key lime dessert like these Key Lime Pie Oreo Truffles.
As I talked about in my post about our trip to Key West, I tried a white chocolate covered key lime pie on a stick that was to die for.  That area is known for their sinfully sweet key lime pie and that was the inspiration behind me creating these Key Lime Pie Oreo Truffles.
If you have ever made oreo truffles you know how easy and yummy those are… I thought maybe if I used Golden Oreos, graham cracker crumbs and cream cheese that would make these unique, so I gave it a go over Memorial Day weekend.
I took full advantage that weekend of being home and having a kitchen.  Living out of a hotel can be tough on a food blogger!  It's a rough life, I tell ya.  I'm sure you're all feeling very sorry for me right now?
Anyhow, these are definitely so much better than the usual, plain old oreo truffles, in my opinion (don't get me wrong – I LOVE regular oreo truffles!)! These Key Lime Pie Oreo Truffles taste just like key lime pie so if you love key lime pie you'll be a fan of these!
The "key" ( ha ha I'm so funny) ingredient at hand is Nellie and Joe's Famous Key West Lime Juice.  My hubby and I spotted this randomly one day in the drink mixers section of our grocery store.  This is good stuff.
It is made with both key limes and Persian limes and has a very soft pleasant taste…it is not bitter at all.  You can also squeeze fresh key lime juice.
Another option is to use a combination of regular lime juice and lemon juice (equal amounts of both to equal the 3/4 cup), but it may not be quite as sweet.  Nellie & Joe's is the best!  Leftover juice can be used for BBQ marinades, dressings, margaritas, etc.

Summer just calls for the light and refreshing taste of citrus, don't you think?!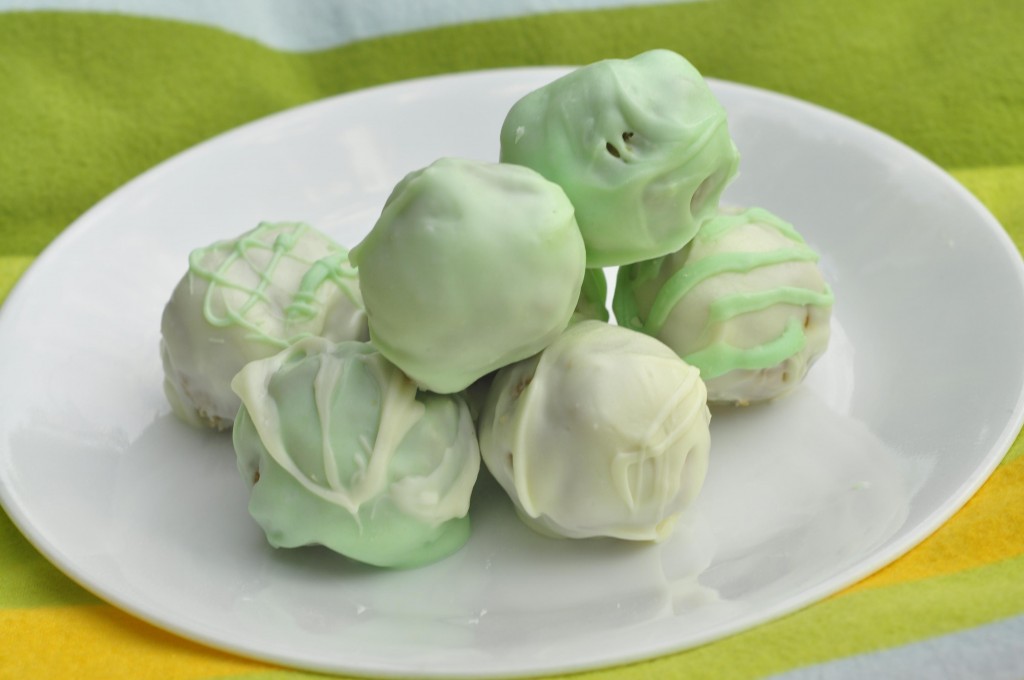 Key Lime Pie Oreo Truffles
Ingredients
One 8 ounce package cream cheese, softened to room temperature
3 cups graham cracker crumbs (I used a mini food processor or buy the crumbs in a box)
4 cups (1 lb, 2 oz pkg) Golden Oreos, crushed (I used a mini food processor to crush)
¾ cup all-purpose flour
¾ cup Nellie and Joe's Key Lime Juice
2 pounds white chocolate candy discs or white chocolate chips, melted
*colored sprinkles or coarse sugar would be a great for garnish (optional)
Instructions
In the bowl of an electric mixer, beat the cream cheese until smooth.
Beat in the Oreo and graham cracker crumbs, lime juice and flour.  Stick them in fridge for 30 minutes or so until they become firm.
Line a cookie sheet with foil.  Roll dough into balls with the palm of your hands and place on the cookie sheet.  Put in the freezer for 30-45 minutes.
Dip into melted white chocolate and decorate with green sugar, green frosting, white chocolate dyed green, graham cracker crumbs, colored sprinkles,...anything you wish!