Holiday Eggnog Fudge
This Smooth and Creamy Holiday Eggnog Fudge recipe is your favorite holiday beverage turned into the perfect Christmas dessert for your holiday parties! You'll love the sprinkle of nutmeg on top!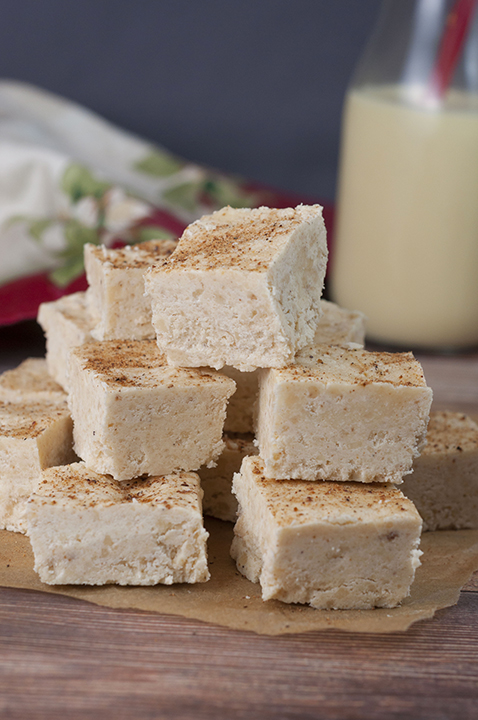 I absolutely LOVE Christmas. I may or may not have been celebrating for over a month now and my Christmas tree went up a few days before Halloween. Yeah, I'm a little bit crazy. I just love to enjoy the season for as long as I can because I'm always sad when it's over. Why not soak up as much time as I can of the most wonderful time of the year? If this Holiday Eggnog Fudge doesn't get you in the mood for the holidays, I don't know what will.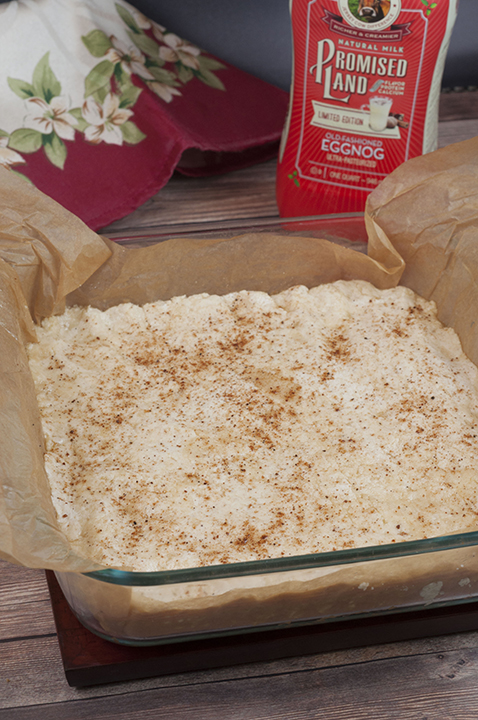 I have such an amazing opportunity to partner with Promised Land Dairy as part of their #FarFromOrdinaryMilk program and sample their all-natural Limited Edition Old-Fashioned Eggnog. I used their eggnog in this Holiday Eggnog Fudge and I couldn't stop eating it. The fudge turned out beautifully! I grew up absolutely hating milk as a kid, so it's a miracle how I enjoy eggnog at all given the creamy, thick texture. These days, I'm absolutely loving it and now look forward to it each Christmas.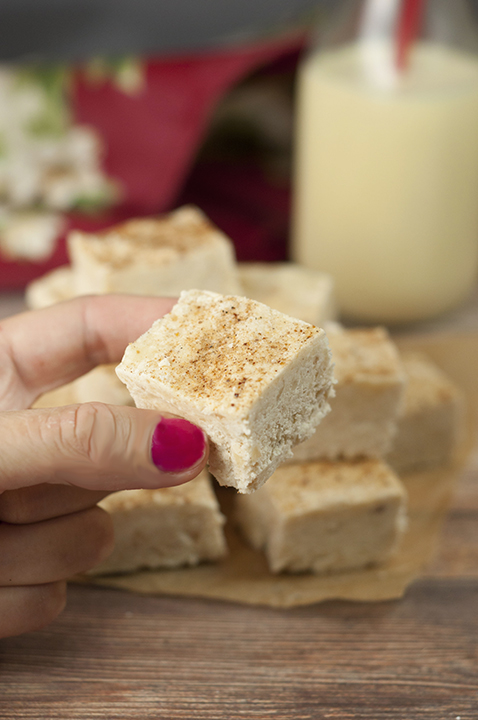 Promised Land Dairy produces milk sustainably and makes a variety of delicious milk products made from Jersey cows (chocolate, strawberry, pumpkin spice, and more), but I have to say that their eggnog with it's hint of spice is one of my new favorites. Guess what? Their products are free of artificial colors, flavors and hormones. Eggnog is not just for drinking, but it is perfect for incorporating into holiday desserts by adding irresistible flavor. I baked up this Eggnog Crumble Coffee Cake last year and it was one of the best cakes I have made for the holidays.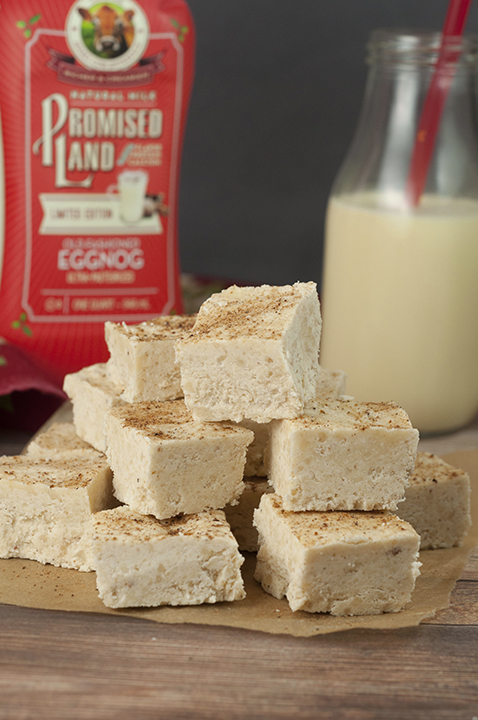 This Holiday Eggnog Fudge is super rich, but delicious. It's easily transportable and makes for the perfect homemade gift for Christmas. This is a bit softer than the fudge you're used to and creamier, as well. All of the ingredients pair so well together and this is great to bring to your holiday parties. If you're wondering about the guests who don't like drinking eggnog, I feel confident that they will still love this fudge. Just convince them to take one bite and they'll be sold!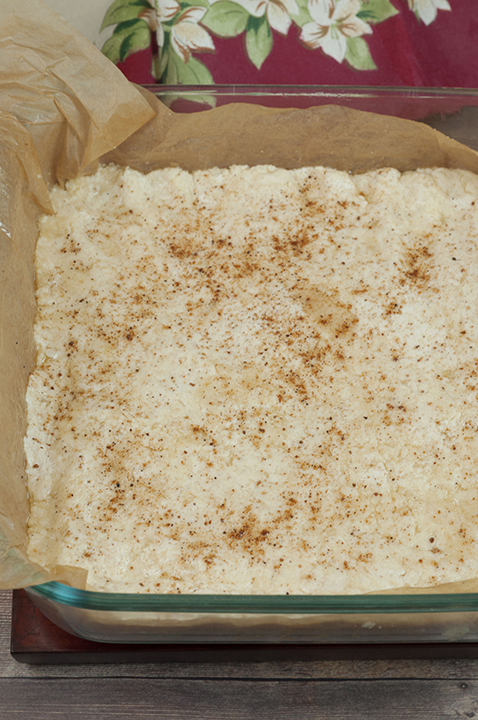 If you know any crazy people who aren't too fond of chocolate (OK, I used to be one of those people), they will LOVE this fudge. My life was forever changed once I took my first bite of this fudge. I'm not dramatic at all….really. I just want to hide in a closet somewhere and eat the entire pan of this fudge myself. This is a no judgement zone, right?
Be sure to find out where you can buy this Old-Fashioned Eggnog as well as other Promised Land Dairy products here! The eggnog is only available through December so make sure you find it soon!
If you're looking for more fudge recipes to enjoy for the holidays, check these out:
White Chocolate Cocoa Pebbles Fudge – adding cereal to fudge? Yeah, it's a thing.
Caramel Peanut Caramel Fudge – loaded with chocolate, caramel, and butterscotch – this is sure to be a holiday favorite!
Creamy Chocolate Holiday Fudge – traditional, perfectly creamy holiday fudge for fudge purists.
Here is my "how to" video with step-by-step instructions on how to make this Holiday Eggnog Fudge!
Holiday Eggnog Fudge
Prep time:
Cook time:
Total time:
This Smooth and Creamy Holiday Eggnog Fudge recipe is your favorite holiday beverage turned into the perfect Christmas dessert for your holiday tables!
Ingredients
½ cup unsalted butter
¾ cup Promised Land Dairy Old-Fashioned Eggnog
2 cups white sugar
2 cups (good-quality) white chocolate chips
1 (7 Ounce) jar marshmallow crème/fluff
2 teaspoons vanilla extract
½ teaspoon ground nutmeg
Instructions
Line a 9x9 baking dish with foil or parchment paper. Grease with butter or non-stick cooking spray.
In a large saucepan, combine butter, sugar, and eggnog. Bring to a boil over medium-high heat.
Stir frequently and boil until the temperature reaches 234-238 degrees (or "soft ball" stage) on a candy thermometer (if need be, research the way to detect the temperature if you don't have a candy thermometer).
Remove from heat and stir in white chocolate chips until melted.
Working quickly, stir in marshmallow creme, vanilla extract, and nutmeg until thoroughly mixed.
Evenly spread into prepared greased baking dish. Smooth out the top as much as you can.
Sprinkle with more grated nutmeg (optional, but gives it some color).
Cut into squares once it is cooled/set. Enjoy!
Disclaimer: 
Thank you to Promised Land Dairy for sponsoring this conversation as part of their #FarFromOrdinaryMilk program.  All opinions remain 100% my own, as always.

Recipe source: adapted from tasteofhome.com