Grilled Stuffed Eggplant Boats
 These delicious Grilled Stuffed Eggplant Boats can be served as an appetizer or a main course and are fun for a summer grilling recipe.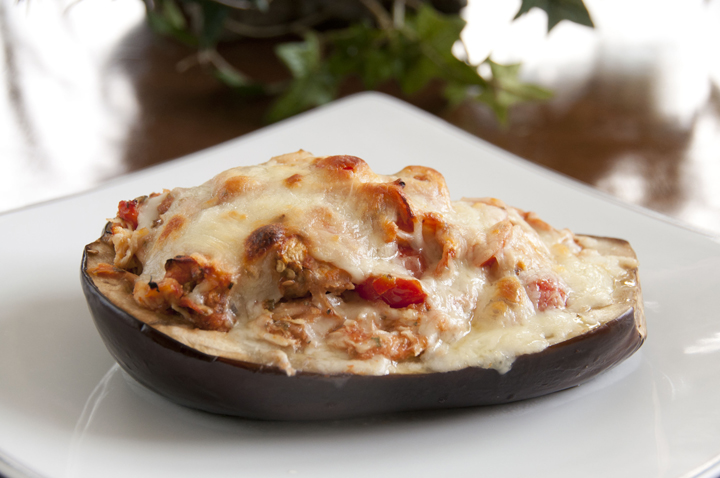 I hope everyone is having a great week and enjoying their summer!  It is finally feeling like July here this week with temperatures in the high 80's and lots of humidity – just the way I like it 😉  I figure if it's gonna be summer it might as well be sweltering and the three H's (hazy, hot, humid) otherwise what's the point?  We have enough cold months here in NY that I try to enjoy the heat as much as I can. We put a brand new gazebo outside on our patio that is ideal for this weather because you can be outside but be out of the direct sun – one might say I've been spending way too much time out there.  One might be right.
I have a unique grilling recipe I'm sharing with you today.  It is pretty much like a stuffed eggplant parmesan and I think you will be a big fan.  This is a wonderful dinner if you want to do something else on the grill other than the usual burgers or hot dogs and this is of course a lot healthier.  I really haven't experimented too much with eggplant at all in the past and this was honestly the first time I've ever cooked with it.  I have the "before" pictures below so you can see the process….
 I don't usually like eating eggplant that is not breaded and fried, but this was fantastic and so much easier to make.  A great, light summer meal that everyone in the family will most likely enjoy.  Of course, it's to die for with all that melted cheese on top.  Who can resist that?!
Grilled Stuffed Eggplant Boats
These delicious Grilled Stuffed Eggplant Boats can be served as an appetizer or a main course and are fun for summer grilling.
Ingredients
1 cup cooked rice OR the insides from one eggplant, cubed (as much as will fit) OR a combo of rice and insides of eggplant
1 can 8 oz tomato sauce
½ teaspoons each oregano, basil, parsley fresh or dried
1 teaspoon garlic powder or 3 cloves minced fresh garlic
pinch cayenne pepper
2 chopped fresh plum tomatoes
Garnish with shredded blend of mozzarella and/or provolone cheese
¼ cup grated cheese
extra virgin olive oil
1 or 2 tablespoons chopped green pepper or use jar roasted peppers
Optional: add ½ cup cooked meat of choice -cooked hamburger meat, chopped cooked chicken, cut up ham, loose sausage cooked or pepperoni.
Instructions
On a cutting board, cut the eggplant lengthwise in half.
With a sharp knife carve out each middle leaving the bottom and sides around ½ inch thick all around.
In a medium size bowl mix everything together including the meat, if using, but not the cheese.
Fill the boats with the rice or cubed eggplant mixture. Top with shredded mozzarella and provolone cheese. Drizzle with olive oil.
Place on a large greased piece of foil and pull the sides of the foil up around the boats. Grill on low until fork tender, around 35 minutes.
If baking in the oven, bake in a preheated 350 degree hot oven on a foil lined cookie sheet and drizzle egg plants tops with olive oil.
Recipe source:  adapted from pegasuslegend-whatscookin.blogspot.com