Grilled Stuffed Eggplant Boats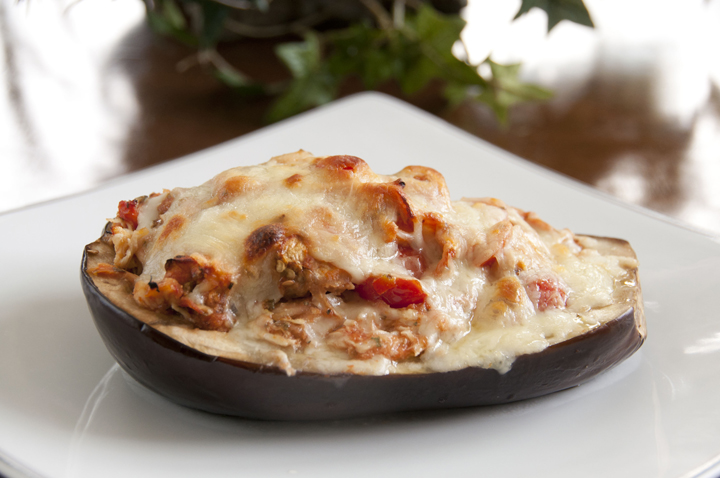 1 cup cooked rice OR the insides from one eggplant, cubed (as much as will fit) OR a combo of rice and insides of eggplant
1 can 8 oz tomato sauce
½ teaspoons each oregano, basil, parsley fresh or dried
1 teaspoon garlic powder or 3 cloves minced fresh garlic
pinch cayenne pepper
2 chopped fresh plum tomatoes
Garnish with shredded blend of mozzarella and/or provolone cheese
¼ cup grated cheese
extra virgin olive oil
1 or 2 tablespoons chopped green pepper or use jar roasted peppers
On a cutting board, cut the eggplant lengthwise in half.
With a sharp knife carve out each middle leaving the bottom and sides around ½ inch thick all around.
In a medium size bowl mix everything together including the meat, if using, but not the cheese.
Fill the boats with the rice or cubed eggplant mixture. Top with shredded mozzarella and provolone cheese. Drizzle with olive oil.
Place on a large greased piece of foil and pull the sides of the foil up around the boats. Grill on low until fork tender, around 35 minutes.
If baking in the oven, bake in a preheated 350 degree hot oven on a foil lined cookie sheet and drizzle egg plants tops with olive oil.
Recipe by
Wishes and Dishes
at https://wishesndishes.com/grilled-stuffed-eggplant-boats/