Crispy Southwest Chicken Wraps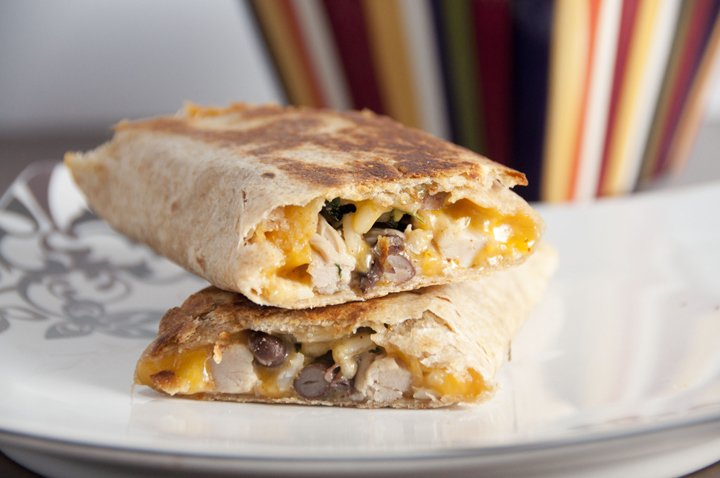 1 cup cooked rice, warm or at room temperature
1 cup cooked, shredded chicken (or other leftover meat, like shredded pork or beef)
1 can black beans, rinsed and drained
1 green onion, finely sliced (white and green parts)
½ red or green pepper, diced
¼ cup fresh cilantro, chopped
juice of 1 lime
½ tablespoon chili powder
1 teaspoon ground cumin
½ teaspoon garlic salt
2 cups shredded cheese (I use a combination of Monterey jack and sharp cheddar)
Sour cream (optional)
6 burrito-sized flour tortillas
Mix rice together with chili powder, cumin and garlic salt.
Add remaining ingredients except for cheese and sour cream. Sprinkle cheese over tortillas, leaving ½-inch border around edges, then arrange chicken and rice mixture down the center of each tortilla. (Optional: I like to dollop little bits of sour cream over the cheese before arranging chicken and rice mixture down the center – it makes the wraps delightfully creamy.)
Roll stuffed tortillas, leaving edges open and slightly flatten the wraps with the palm of your hand. Spray seam-side of the wrap lightly with cooking spray.
Heat a large non-stick skillet (or griddle) over medium heat for 1 minute.
Arrange wraps, seam-side down, in pan or griddle and cook until golden brown and crisp, about 2-3 minutes per side. Cooking them seam-side down first helps seal the long edge so they don't fall apart.
Transfer to a plate and repeat with remaining wraps. Serve warm.
Recipe by
Wishes and Dishes
at https://wishesndishes.com/crispy-southwest-chicken-wraps/