Spicy Chicken Rigatoni
Spicy Chicken Rigatoni recipe is just like my favorite pasta dish at a beloved Italian restaurant.  Creamy

Alfredo and marinara sauce combine with chicken and peas to make the perfect, easy Italian meal with just the right amount of heat!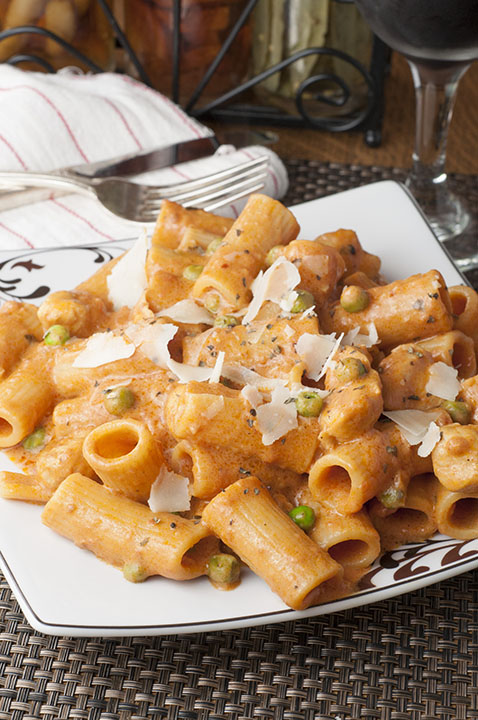 Being over a week into September now, I'm starting to crave the flavors of fall and comfort food.  Nothing screams "comfort food" to me like pasta with a rich, creamy sauce like this spicy chicken rigatoni!
Before I talk about the recipe today, I have something way more important to share with you.  This September (Hunger Action Month), Food Bank For New York City kicks off their 11th annual Go Orange to End Hunger™ campaign which is presented by Barilla® pasta!
This campaign is a citywide call to action for all New Yorkers to get involved in support of the 1.5 million individuals who rely on Food Bank For New York City and their network of member charities.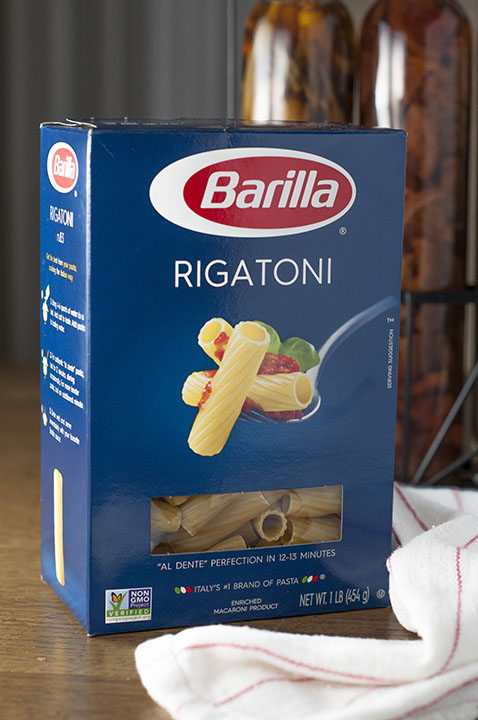 Did you know that 1 in 5 New Yorkers is food insecure?  I don't know about you, but that is shocking to me.
I love that Barilla® is joining up with Food Bank For New York City to rally New Yorkers to volunteer, donate, and advocate for those in need.  Together, we can have a big impact on hunger.  Barilla® will "Go Orange" through tomorrow, September 9th, and "Share The Table™" with more than 1,500 New Yorkers who typically rely on soup kitchens and food pantries.
Next week (week of September 12th), Barilla® will rally everyone across all five boroughs to "Go Orange With Barilla."   They will be donating 500,000 meals to Food Bank For New York City for those in need!
They will also be giving way 20,000 "Recipe for Wonderful" pasta dinner kits to New Yorkers to raise awareness and inspire other New Yorkers to do their part in this important mission.  For each New Yorker who donates, advocates or signs up to volunteer on-site, Barilla® will donate another pasta serving – up to 1 whole ton of pasta!  How cool is that?
If that's not motivation to get involved, I don't know what is!  They will also donate for every use of the hashtag #GoOrangeWithBarilla so get on social media and start hashtagging for this great cause!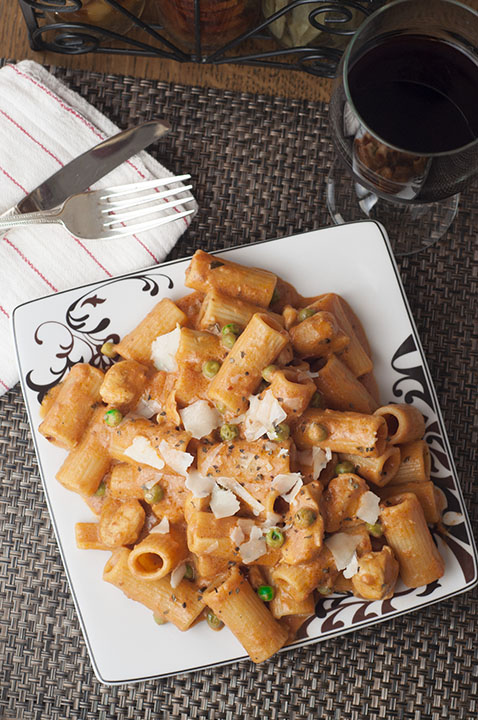 I'm partial to Italian food, being Italian and all, and wanted to share one of my favorite recipes with you today:  Spicy Chicken Rigatoni! Anytime my husband and I are in the vicinity of a favorite Italian-American restaurant of ours, it's an absolute necessity to hit it up.
Our favorite meal there is the Spicy Chicken Rigatoni and I was on a mission to recreate it at home with the same flavor combination that we love.  I make this meal often and thought it's about time you had the recipe, as well.
Like I said earlier, I am Italian and can't just go to the store and buy any ol' pasta.  My dad taught me better than that!
My pantry is always stocked with Barilla® pasta because it truly is the best and makes a huge difference in how my dishes turn out as far as taste and texture!  Serve this Spicy Chicken Rigatoni with a nice salad and some garlic bread. Italian dinner perfection!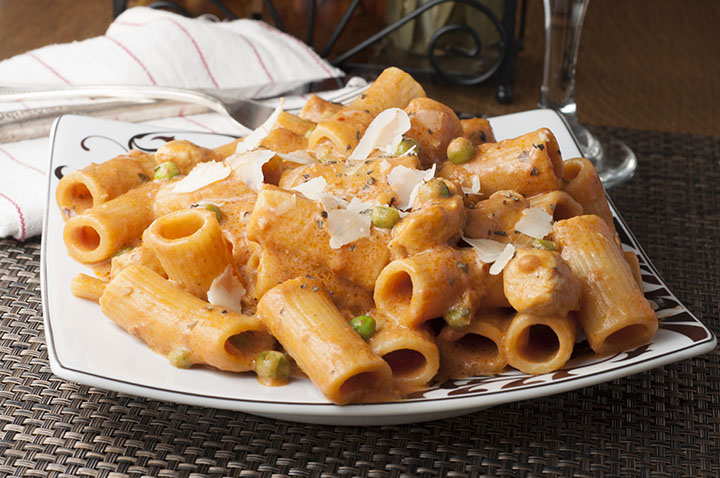 Barilla® believes in giving people food you would give your own kids and that everyone should be able to enjoy the simple things we take for granted, like being around the dinner table with our families.  They understand that this basic need is not always possible, which is why they support the Food Bank for New York City to help end hunger in this month of September!
A great thing about pasta is it's inexpensive and easy to incorporate into dinners your whole family will love.  It's definitely a pantry staple for me!  As part of the Mediterranean Diet, a correction portion of pasta combined with healthy fats, lots of veggies and lean proteins, can help you consume the nutrients your body needs.
I encourage you to make this soon as a really easy meal idea. You can also check out my from Jessica's post of easy meal ideas if you're asking yourself the question of what should I make tonight for dinner.
Please join myself, Barilla®, and thousands of people across the country in taking action to raise awareness of hunger in NYC!  You can find out more information here. #GoOrangeNYC
Make sure you also follow along with Barilla® by finding them on social media!
Spicy Chicken Rigatoni
Prep time:
Cook time:
Total time:
Spicy Chicken Rigatoni recipe is just like my favorite pasta dish at Buca di Beppo. Creamy Alfredo and marinara sauce combine with chicken and peas to make the perfect, easy Italian meal with just the right amount of heat!
Ingredients
2 boneless skinless chicken breasts, cut into chunks
2 tablespoon minced garlic
1 tablespoon crushed red pepper flakes
½ teaspoon freshly ground black pepper
¼ teaspoon salt
2 tablespoons olive oil
2 cups Alfredo sauce (see recipe below or use store-bought)
2 cups Barilla® marinara sauce
Alfredo Sauce:
½ cup butter
1- 8oz package cream cheese softened and cut into cubes
1 cup heavy cream
⅓ cup fresh Parmesan cheese, grated
3 cloves of minced garlic
½ teaspoon black pepper
½ teaspoon dried parsley
½ cup peas
1 lb Barilla® rigatoni pasta, cooked al dente, drained
2 tablespoons butter
Freshly shaved Parmesan cheese, for garnish
Instructions
In a large skillet on medium-high heat, heat the olive oil. Sauté garlic and red pepper flakes for 2 minutes being cautious not to let garlic burn.
Add in your chunks of chicken breast, black pepper and salt, and cook until chicken until no longer pink.
Add in marinara sauce and stir; add in Alfredo sauce. Let the sauces simmer together for about 8-10 minutes.
To the sauce and chicken mixture, add two tablespoons butter and ½ cup peas. Stir for a minute or two until the butter melts.
Combine the chicken and sauce mixture with cooked pasta. Garnish with fresh Parmesan cheese, and a pinch or two of red pepper flakes. People can add more to their individual servings, if desired. Enjoy!
To make the Alfredo Sauce:
In a sauce pan over medium heat, melt butter, being careful not to let it burn.
Add in softened cream cheese cubes and stir until cream cheese has melted.
Slowly poor in 1 cup heavy cream and whisk vigorously for a few minutes to prevent from clumping.
Add in Parmesan cheese and stir until it is well incorporated.
Stir in garlic, black pepper and dried parsley.
Keep stirring for a few minutes, then let the sauce simmer on low for a 2-3 minutes to thicken up a bit.
This is a sponsored conversation written by me on behalf of Barilla. The opinions and text are all mine.