Creamy Italian Chicken and Zucchini Skillet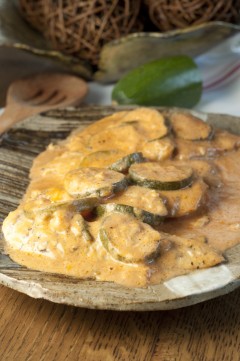 1 pound chicken cutlets (4 or 5 cutlets)
3 tablespoons olive oil
¼ tsp salt
¼ tsp pepper
½ tsp Italian seasoning
1 zucchini, cut into rounds about ½ inch thick
2 cloves garlic, chopped
½ cup chicken stock
1 cup heavy cream
14.5 ounce can tomato sauce
½ cup Parmesan cheese, grated
⅓ cup Garlic & Herb flavored soft cheese (I used President Cheese brand)
Heat skillet over medium high heat.
Add olive oil to the pan. Pat the chicken cutlets dry with a paper towel, then season them with salt, pepper, and Italian seasoning.
When oil is hot, add chicken breasts and cook 4-5 minutes.
Flip chicken breasts and cook another 4-5 min until chicken is cooked through. Don't overdo it or chicken will end up dry.
Remove chicken breasts from pan and place on a plate; set aside.
Add zucchini and garlic to skillet. Saute for about 1 minute on each side, turning zucchini over with a fork.
Add chicken stock to skillet and bring to boil over medium heat, about 2 minutes. Stir frequently, scraping up any chicken or zucchini pieces stuck to the bottom of the pan.
Stir in cream, allow to simmer for about 4 minutes.
Add tomato sauce to the skillet. Allow to simmer for 1-2 minutes.
Reduce heat, add cheeses, stir. Return chicken to pan and allow to simmer until ready to serve and chicken is heated through.
Serve over pasta or rice - this recipe makes plenty of sauce to cover it. Enjoy!
Recipe by
Wishes and Dishes
at https://wishesndishes.com/creamy-italian-chicken-and-zucchini-skillet/