Coffee French Toast Ice Cream Sandwiches
Coffee French Toast Ice Cream Sandwiches are French Toast-flavored ice cream in the middle of two delicious coffee-flavored brown sugar cookies and are drizzled with maple syrup.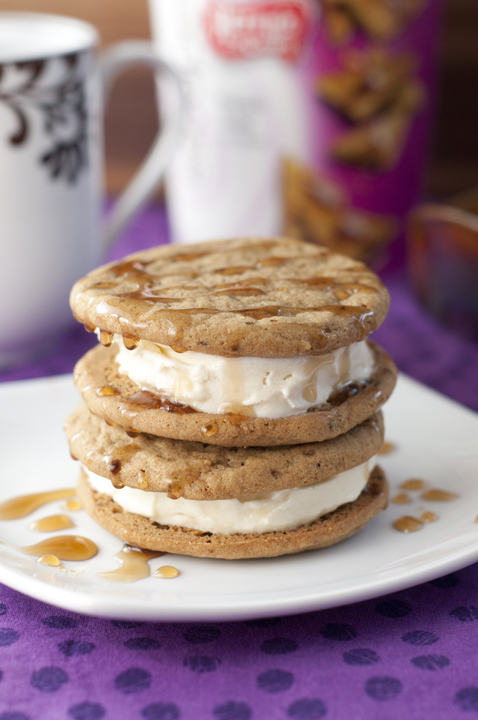 Memorial day weekend is the official start of summer, right?  Or did I make that up?  Well, let's go with it and start ice cream season right away.  I am super proud of my new cookie and ice cream invention.  I was brainstorming a couple of weeks ago and trying to come up with a good ice cream sandwich using French Toast ice cream that was in my freezer.  I decided nothing would compliment French toast flavor better than coffee (the cookies) and maple syrup (poured over the top).  It's all the breakfast flavors I love in one ice cream sandwich!  You can even put a square of butter on top before eating to make them more like French toast (Kidding! Too far….).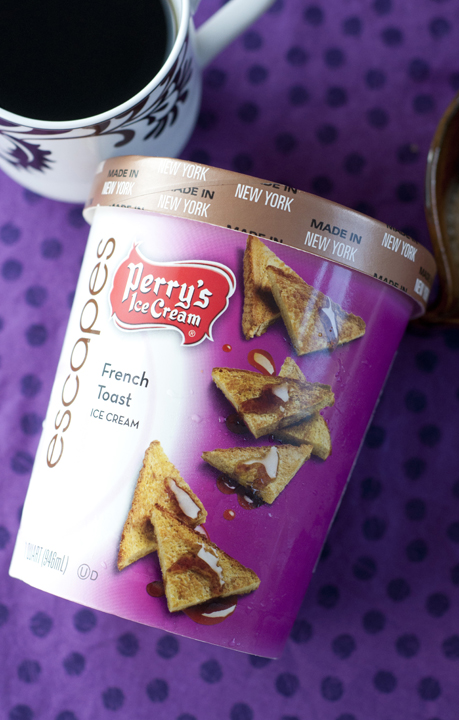 Perry's Ice Cream sent me a huge variety of their brand new "Escapes" flavors.  I am part of their "Inside Scoopers" program which pretty much makes me the luckiest ice cream lover in the entire world.  They have truly outdone themselves with these "Escapes" – they are absolutely, positively ADDICTING!  My favorites were (in particular order) the new Peanut Butter Cookie, French Toast, Fireball (because I have a weird obsession with those little cinnamon candies and Fireball has them all throughout) and the Rocky Mountain Raspberry.  I used the French Toast flavor in these little treats and I was in ice cream sandwich heaven.  Perry's is the best.  They are not paying me to say this.  I honestly and truly believe this and they are the only ice cream brand that I ever buy at the store.
What is the best part about these Coffee French Toast Ice Cream Sandwiches?  These babies have coffee in them and the flavor of ice cream is french toast – that makes them perfectly acceptable to down one for breakfast! Children, do not quote me on this.  Enjoy!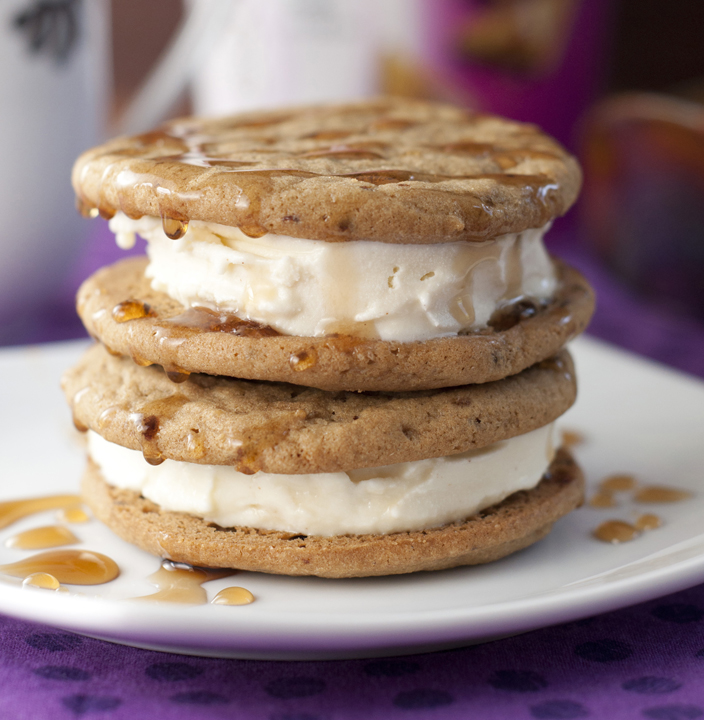 Coffee French Toast Ice Cream Sandwiches
Prep time:
Cook time:
Total time:
Coffee French Toast Ice Cream Sandwiches recipe are French Toast-flavored ice cream, coffee-flavored brown sugar cookies and drizzled with maple syrup.
Ingredients
½ cup (1 stick) butter, softened
1 cup light brown sugar
3 tablespoons granulated sugar
1 large egg, room temperature
2 teaspoons vanilla extract
1¾ cups all-purpose flour
½ teaspoon baking powder
½ teaspoon baking soda
½ teaspoon salt
2 teaspoons instant coffee powder/granules
Perry's French Toast Ice Cream (or ice cream of your choosing)
Maple syrup, for drizzling
Instructions
Preheat oven to 300 degrees F.
Cream the butter with the sugars using an electric mixer on medium speed until fluffy, approximately 30 seconds. Beat in the egg and the vanilla extract for another 30 seconds.
In a separate mixing bowl, sift together the dry ingredients and beat into the butter mixture at low speed for about 15 seconds. Stir in the coffee powder until incorporated.
Using a 1-ounce scoop or a 2-tablespoon measure, drop cookie dough onto a greased cookie sheet about 3 inches apart. Gently press down on the dough with the back of a spoon or bottom of a clean glass to spread out into a 2-inch circle (these bake up flat, not thick). Bake for 18-20 minutes or until nicely browned around the edges but still soft in the middle.
Let cookies cool before forming the ice cream sandwiches.
Allow ice cream to sit at room temperature for about 10 minutes to soften. Place 1 big scoop of ice cream onto the bottom of one cookie. Place another cookie on top of the ice cream and squeeze together to push ice cream slightly to the edges. Eat right away or freeze. If eating right away, place sandwiches on plates and drizzle with a bit of maple syrup.
To freeze, wrap individual cookie sandwiches in plastic wrap, then place in a resealable plastic bag. Enjoy!