Pulled BBQ Chicken
Slow cooking, lovely smelling, super tender, sandwich goodness.
I love my crock pot and find it absolutely irresistible.  There is nothing I love more than dumping a few  ingredients into the pot, turning it on and coming home a few hours  later with dinner waiting for me.
I'm becoming quite the fan of pulled pork lately, but  since I didn't have any pork on hand I opted to make  pulled chicken.  I came across this recipe on my friend Dana's AMAZING blog – 
Clean Out Your Pantry
.  It turned out awesome!  The  chicken was very tender, and the sauce it cooked in was very tasty.  I  used the chicken to make sandwiches, but it would also be great on baked  potatoes or can be used to make a BBQ chicken pizza (or even BBQ chicken nachos – which is my next mission in my little blog life).
I recommend a side dish of sweet potato fries and some sort of veggie (if you're in to that kinda thing).  I served this on yummy whole grain rolls since Mr. Wishes requested more "healthy" food for the time being.  He did admit he is already regretting his decision after he saw the "brown" rolls in place of his beloved white bread.  What can I say?  I just do as I'm told 🙂
Now grab a fork – you will inescapably make a huge mess!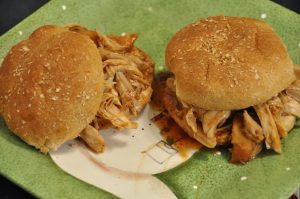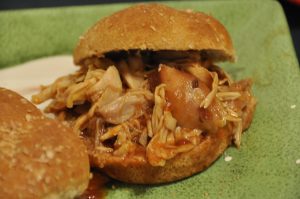 INGREDIENTS:
Pulled Chicken:about 3 lbs chicken drumsticks (I cut skin off prior to cooking)
1/2 cup red wine vinegar
1/2 cup ketchup
1 cup BBQ sauce (I used Sweet Baby Ray's)
PREPARATION: 
Place all ingredients in your crock pot (mine is a 5 quart).
Cook on low for about 4 hours (my crock pot cooks fast, so make sure chicken is cooked).
Once cooked through, remove the meat from bones using a fork.
Mix in a bowl with additional sauce left in crock, and any extra bbq sauce, to your liking.
Serve on  rolls or bread (or alone, if you prefer).
Enjoy! 
   Recipe Source:  cleanoutyourpantry.blogspot.com