Chicken Parmesan Meatballs
Take the ingredients from a chicken parm recipe and turn it into easy-to-make ground chicken parmesan meatballs. Delicious!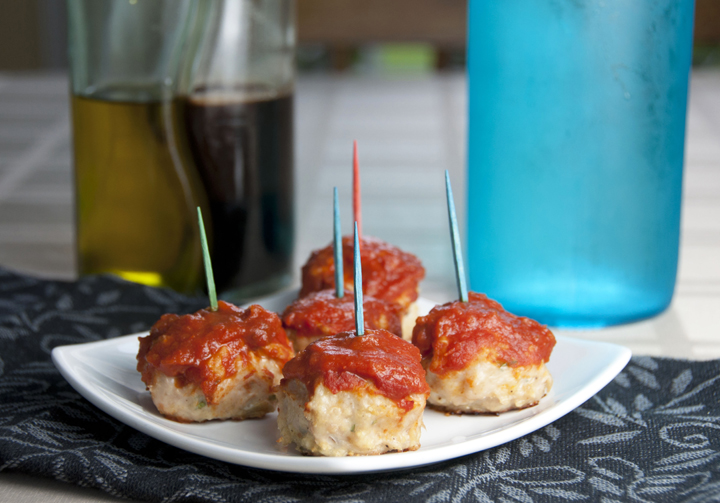 These mini chicken parm meatballs are so cute, aren't they?  I don't even normally like chicken parmesan but I definitely gobbled these bad boys right up.  I have a really strange aversion to chicken paired with red sauce.  I have always had this peculiar notion where I very strongly feel that chicken and red sauce should never go together.  Chicken belongs with some sort of white sauce or a buttery wine sauce.  Anyone else agree?  No?  I never ever ordered chicken parmesan at a restaurant and here I am making a version of it at home.  Hooray for the new and adventurous me!
These meatballs would be a great appetizer at a dinner party or a pot luck but I made them for our main course one night and they were perfect paired up with my garlic smashed potatoes.  Your guests will LOVE you for serving these at a party.  These meatballs were moist, tender, and best of all – HEALTHY and more lean than most meatballs because they are made with ground chicken!  Chicken parmesan ingredients converted into meatballs!  It's the best way to eat it, in my opinion.
You can even use ground turkey if you can't find ground chicken at your grocery store or if you just prefer it (have you tried these delicious Asian turkey meatballs yet?  Those are another favorite meatball recipe of mine).  Oh, and if you stuff these babies inside a roll, then top them with some mozzarella cheese, and make meatball subs I don't think you'd regret that decision…
Enjoy and have a great day!
Chicken Parmesan Meatballs
Take the ingredients from a chicken parm recipe and turn it into easy-to-make ground chicken parmesan meatballs. Delicious!
Ingredients
1¼ lb ground chicken
½ cup breadcrumbs
2 tablespoons chopped onion
1 tablespoon chopped parsley
½ cup Parmesan cheese
¾ teaspoon salt
¼ teaspoon black pepper
1 garlic clove, minced
1 large egg, lightly beaten
zest of half a lemon
marinara sauce or pizza sauce
Instructions
Preheat oven to 400 F. Line a large rimmed baking sheet with aluminum foil, and spray the foil with nonstick cooking spray.
In a medium bowl, stir together the breadcrumbs, onion, parsley, Parmesan, salt, pepper, garlic, egg, and lemon zest until well combined. Add the ground chicken and use your hands to gently mix together with the other ingredients (don't overmix or they will turn out tough). Using about ¼ cup of the mixture for each one (I used my ice cream scoop to keep them all the same size), form the meatballs by rolling the mixture into a ball with your hands. Arrange the meatballs on the prepared baking sheet.
Brush the top of each meatball with a little of the marinara or pizza sauce. Bake for about 14-15 minutes, or until the meatballs are golden brown and cooked through (they should register 165 F on an instant-read thermometer). When you take them out of the oven, brush the tops of the meatballs with a little more of the marinara sauce before serving.
To make ahead: Cook the meatballs then allow them to cool to room temperature. Place on a baking sheet and freeze until solid, then transfer to a resealable plastic bag. When ready to eat, defrost the meatballs in the refrigerator then reheat for 15 minutes in a 350 F oven.
Recipe source: adapted from traceysculinaryadventures.com