Chocolate Dipped Coconut Macaroons
Chocolate Dipped Coconut Macaroons have a sweet and chewy texture, dipped in sweet melted chocolate for the ultimate holiday dessert experience. This recipe is so easy to make!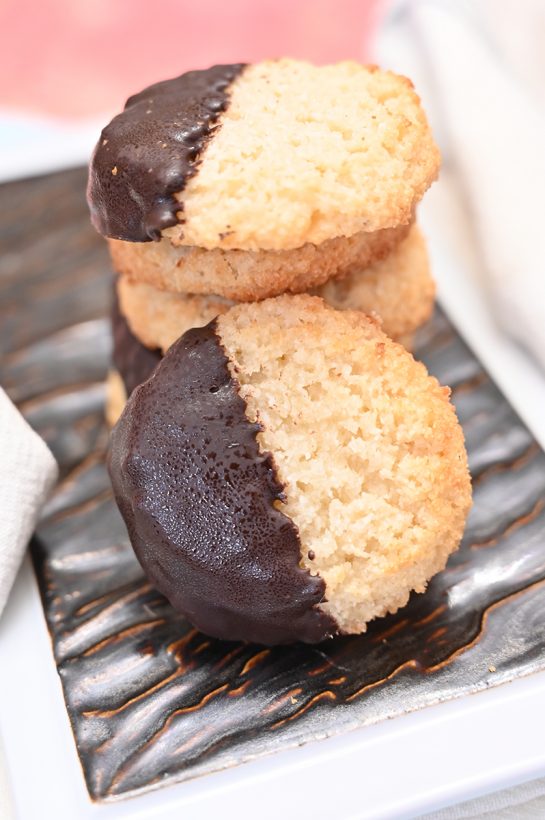 Dipped in the richest chocolate ever. I've never liked regular or chocolate dipped coconut macaroons growing up! Never ever ever. Lots of evers here. I'm never known to be dramatic, right?
I always thought macaroons they were boring and kind of dry and lacked flavor and were very much a grandma cookie. Sorry to all of you grandmas out there. But honestly, what's wrong with a Grandma cookie? I mean, I LOVE these Chocolate-Covered Almond Biscotti and that is the epitome of a Grandma cookie!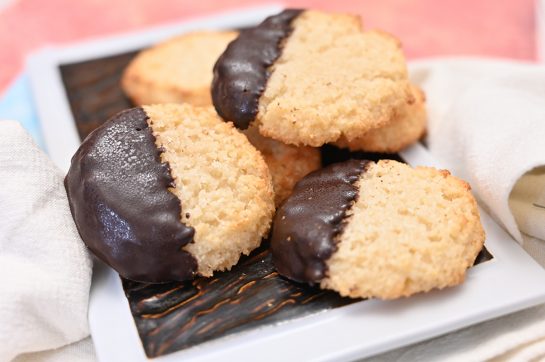 Since I've started doing elderly things anyway lately, like eating desserts with nuts and enjoying pecan pie and pecan pie bars and craving lemon cookies like these Italian Lemon Drop Cookies, I figured, why not?! Let's try some chocolate dipped coconut macaroons.
Speaking of grandmas, macaroons will forever remind of Mr. Wishes grandmother who passed away in 2012. Actually, a lot of cookie baking this time of year reminds of me of her, like these Chocolate Chip Almond Biscotti. She was the ultimate cook and baker and there is no better than her and never will be. I make Grandma's Italian Lasagna still to this day and would love to get my hands on all of her recipes one of these days soon.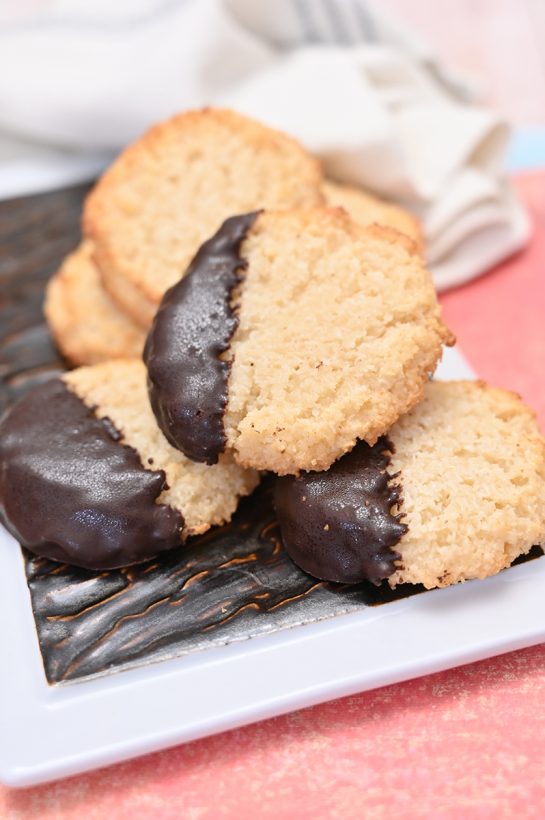 Although I can't match her goddess-like baking or cooking skills, I try to keep some of the holiday baking traditions going. Her and her dear friend, Ruth, used to make these Italian Almond Macaroons for all of the holidays. They are seriously the greatest cookie ever!
Right now the way to my heart is Chocolate Dipped Coconut Macaroons (and my Italian Ricotta "Peach" Cookies) and if you want to bring me a plate of either one of them soon I won't be sad about it. I'm a little bit concerned how I will fit in my pants after the holidays, but I will just have to worry about that when the times comes.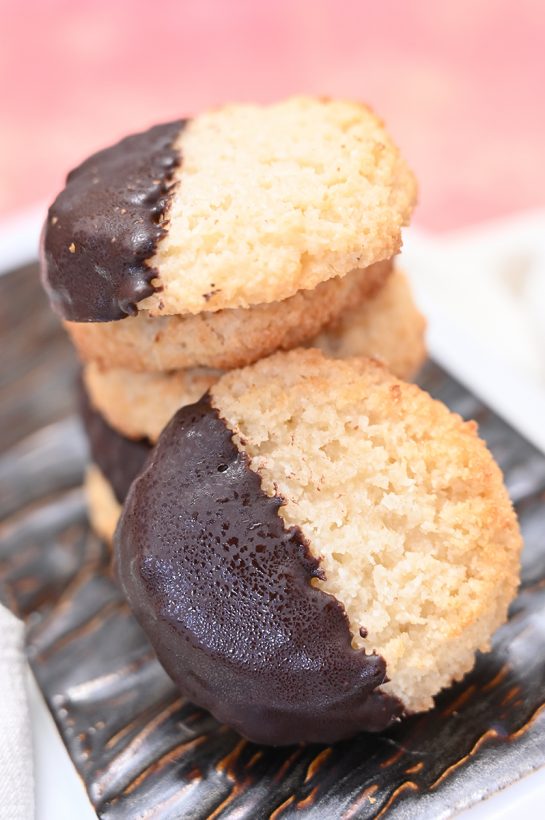 Chocolate Dipped Coconut Macaroons
Prep time:
Cook time:
Total time:
Chocolate Dipped Macaroons have a sweet and chewy texture, dipped in sweet melted chocolate for the ultimate holiday dessert experience. This recipe is so easy to make!
Ingredients
2 ⅔ cups flaked coconut (7 ounces)
⅔ cup sugar
⅓ cup all-purpose flour
¼ teaspoon salt
3 egg whites
½ teaspoon almond extract
2 ounces semisweet OR dark chocolate, chopped
½ teaspoon shortening
Instructions
Preheat oven to 325F.
Line a large cookie sheet with parchment paper or silicone baking mat; set aside.
In a mixing bowl stir together coconut, sugar, flour, and salt.
Using a wooden spoon, stir in egg whites and vanilla extract.
Drop coconut mixture by rounded teaspoons 2 inches apart onto the prepared cookie sheet. Bake for 20-25 minutes or until edges are golden brown. Remove from oven.
Transfer to a wire rack to cool.
In a heavy, medium saucepan heat and stir chocolate and shortening over low heat until melted and smooth. Dip half of of each cookie in melted chocolate.
Place cookies on parchment or waxed paper and let dry. Enjoy!