Chocolate-Covered Almond Biscotti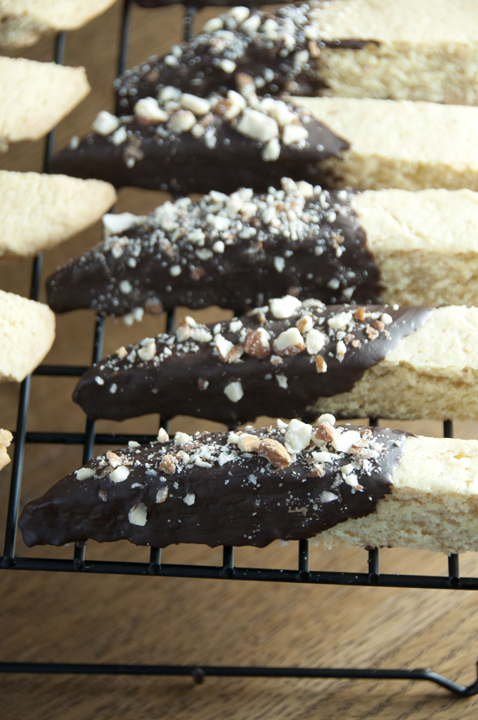 Recipe type:
cookie, dessert
⅓ cup butter
¾ cup white sugar
2 eggs
1 teaspoon vanilla extract
½ teaspoon almond extract
2 teaspoons orange zest
2¼ cups all-purpose flour
1½ teaspoons baking powder
⅛ teaspoon ground nutmeg
¼ teaspoon salt
1 cup semisweet chocolate discs (for melting)
¾ cup toasted almonds, crushed (measured after crushing)
Preheat the oven to 325 degrees F (165 degrees C). Grease and flour a large baking sheet.
In a large bowl, cream butter and sugar until light and fluffy. Beat in eggs, vanilla, almond extract, and zest. Combine flour, baking powder, nutmeg, and salt. Stir into the creamed mixture until just blended. Mix in almonds. Divide dough into two pieces. Form into long flat loaves about ½ inch tall and 12 inches long. Place the loaves 2 inches apart on the prepared baking sheet.
Bake in preheated oven for 25 minutes, or until a light golden brown. Cool on a wire rack for 5 minutes.
With a serrated knife, cut diagonally into slices about ½ inch thick. Lay the slices flat on the baking sheet. Bake for 12 additional minutes, turning over once halfway through. Transfer to a wire rack to cool.
Place chocolate into a small, microwave-safe bowl. Melt chocolate in the microwave, stirring every 20 to 30 seconds until smooth or just follow directions on bag.
Dip or use a spatula to spread chocolate onto one side of each cookie. I found it easier to use spatula to get it nice and even.
Sprinkle immediately with almond pieces - before the chocolate hardens.
Let stand at room temperature until set. Store biscotti at room temperature in an airtight container.
Recipe by
Wishes and Dishes
at https://wishesndishes.com/chocolate-covered-almond-biscotti/