Pasta with Vodka Blush Sauce & Chicken
Rochester, New York's grocery claim to fame is as the home of Wegmans. It is a northeast grocery store chain that originated right here in our city! It is AWESOME and ENORMOUS and has some high-end products. Their selection of merchandise is vast and beyond compare to other grocery stores. Few cities in the U.S can rival the diversity of choices and products that we "Rochesterians" accept as a matter of course.
Wegmans really is my kind of store; I love the people, I love the experience, I love going often…..I honestly think I have more on days than I have off days (is that sad?). It is the only grocery chain I have ever enjoyed lingering in. They really have the most diverse and abundant product list of all the chains. I especially adore their international food section and their unusual homeware selection.
I really like Wegmans' Menu magazine. The recipes I have tried so far are very good. I qualify my statement because of their simplicity and lowest-common-denominator approach to cooking. The menu is a venue for Wegmans' store-brand products. For this particular recipe, the vodka blush sauce is purchased from the prepared foods section. No skill. No simmering to cook the alcohol off. Just open a package and dump into a pan. That easy! No worries if you are not on the east coast – I did also include a link to an easy vodka blush sauce recipe if you are not one of the blessed ones to live near one of these stores.
I practically share a backyard with the one nearest to me – it's less than 2 minutes to drive there – heavenly. My love affair for Wegmans will never cease.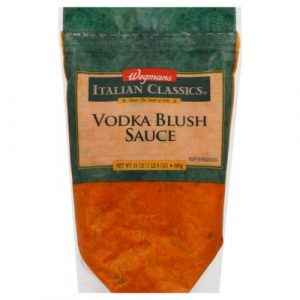 INGREDIENTS:  
1 lb pasta, cooked per pkg directions
1 pkg (24 oz) Italian Classics Vodka Blush Sauce (prepared foods) , or make from scratch
1 Tbsp olive oil
1 pkg fennel garlic marinated chicken breasts, or any 2 marinated boneless/skinless chicken breasts
1 Tbsp basting Oil
1 Tbsp butter
4 tsp shredded Parmigiano-Reggiano, divided

PREPARATION: 
 If using pre-prepared sauce, simmer sauce on LOW in small saucepan, stirring occasionally. If making homemade sauce, here is a simple recipe you can use for Vodka Blush Sauce, or use your own favorite recipe.  (Leave out the proscuitto in the recipe I linked to since we are adding chicken to the dish.)

Heat olive  oil in large pan on MEDIUM-HIGH, until oil faintly smokes; add chicken.
Turn over when chicken changes color one-quarter of way up and seared side has turned light brown, 3-4 min.
Reduce heat to MEDIUM; cook chicken 10-12 min, until internal temp reaches 165 degrees (check by  inserting thermometer halfway into thickest part of chicken).
Add basting oil and butter to pan; swirl. Baste chicken with spoon, 1-3 min.
Transfer to clean platter.
Toss pasta with warm sauce. Divide evenly on plates; top with sliced chicken. Sprinkle each serving with 1 tsp cheese.
Enjoy!