Chili Verde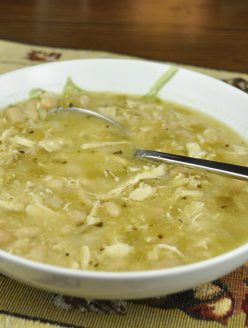 1 tablespoon vegetable oil
½ cup onion, chopped
2 cloves garlic, minced
½ Tablespoon ground cumin
1-4.5 ounce can chopped green chilies
4 pickled jalapeno rings, minced
2 chicken breasts, cooked and shredded
1 can northern beans, drained and rinsed (or any white bean will do)
2 cups chicken broth
dash oregano
salt & pepper
green Tabasco sauce, to taste
1 tablespoon cornmeal
¼ cup milk
In a large pot, saute onion in oil on medium low heat until onions are translucent. Add garlic and cumin, and stir until fragrant, ~1 minute.
Add all ingredients from green chilies to Tabasco sauce into the pot and bring to a boil. Reduce heat to low and simmer for 20 minutes.
Stir cornmeal and milk together, add to pot and continue to simmer for another 10 minutes.