Chicken Parmesan Meatballs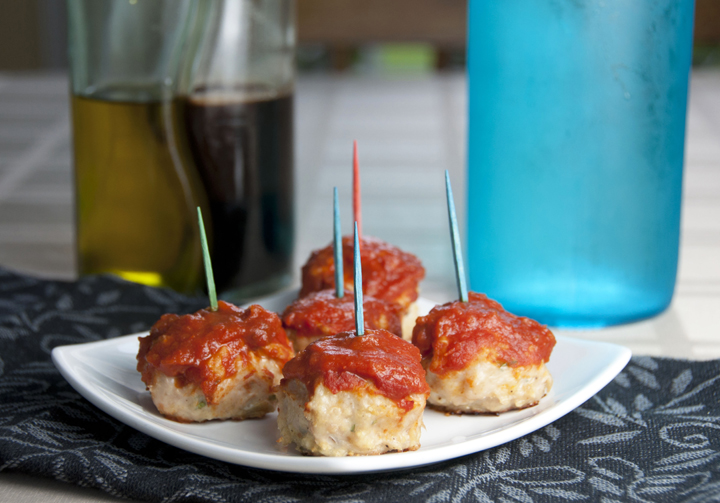 1¼ lb ground chicken
½ cup breadcrumbs
2 tablespoons chopped onion
1 tablespoon chopped parsley
½ cup Parmesan cheese
¾ teaspoon salt
¼ teaspoon black pepper
1 garlic clove, minced
1 large egg, lightly beaten
zest of half a lemon
marinara sauce or pizza sauce
Preheat oven to 400 F. Line a large rimmed baking sheet with aluminum foil, and spray the foil with nonstick cooking spray.
In a medium bowl, stir together the breadcrumbs, onion, parsley, Parmesan, salt, pepper, garlic, egg, and lemon zest until well combined. Add the ground chicken and use your hands to gently mix together with the other ingredients (don't overmix or they will turn out tough). Using about ¼ cup of the mixture for each one (I used my ice cream scoop to keep them all the same size), form the meatballs by rolling the mixture into a ball with your hands. Arrange the meatballs on the prepared baking sheet.
Brush the top of each meatball with a little of the marinara or pizza sauce. Bake for about 14-15 minutes, or until the meatballs are golden brown and cooked through (they should register 165 F on an instant-read thermometer). When you take them out of the oven, brush the tops of the meatballs with a little more of the marinara sauce before serving.
Recipe by
Wishes and Dishes
at https://wishesndishes.com/chicken-parmesan-meatballs/