30 Minute Homemade Soft Pretzels
30 Minute Homemade Soft Pretzels taste like you spend all day on them but this recipe comes together in only a half hour!  Perfect when you need your soft pretzel and cheese fix fast.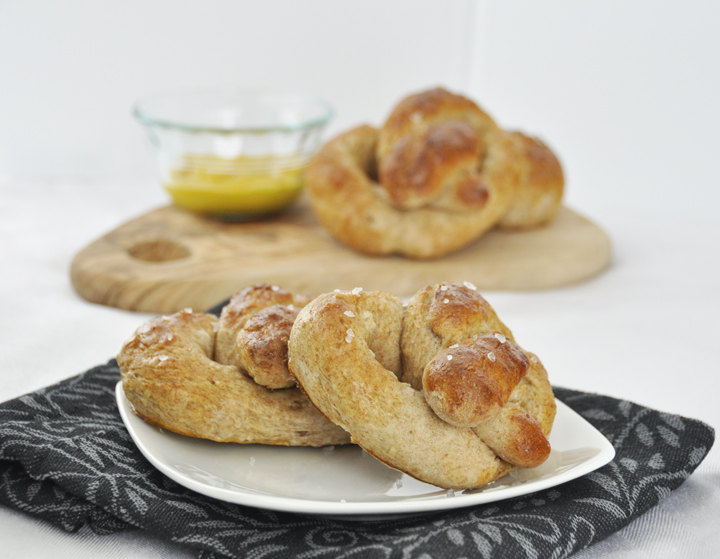 I might have a little obsession with the soft pretzels you can get at the mall.  Whenever I walk past an Auntie Ann's I always have a hard time not giving in to the heavenly smell.  I just love the cinnamon sugar pretzel bites and the almond sugar pretzels.  They are irresistible!  I don't have them that often, but on the special occasion where I decide to indulge, I bask in the soft bounce of the dough as I take a bite and the crunch of the course salt on top.
  I knew I had found a gem when I saw a soft pretzel recipe that only takes 30 minutes from start to finish!  I had made soft pretzels once before, and while they were worth every minute, they were a bit tedious to make.  I figured these 30 Minute Homemade Soft Pretzels would be a lot of fun to try out.  I was a little worried that the homemade version would never live up to the real thing….well, news flash!  As with many other foods, homemade wins again.
Pair these pretzels with your favorite cheesy dipping sauce, cinnamon butter or honey mustard…pick your poison!  I also made these with whole wheat flour to make them a bit healthier but you can also use regular all-purpose flour.  These beauties make a wonderful snack for any night of the week.
30 Minute Homemade Soft Pretzels
Prep time:
Cook time:
Total time:
Thirty Minute Homemade Soft Pretzels taste like you spend all day on them but this recipe comes together in only a half hour!
Ingredients
1 and ½ cups warm water (lukewarm)
1 packet active yeast (2 and ¼ teaspoons)
1 teaspoon salt
1 Tablespoon granulated sugar
4 - 4.25 cups whole wheat flour + more for the counter surface to knead (can also use all-purpose flour)
1 large egg
course sea salt for sprinkling
Instructions
Preheat oven to 425F degrees. Line baking sheet with parchment paper or silicone baking mat and set aside.
Dissolve yeast in the warm water. Stir with a spoon until mixed pretty well, about 1 minute. It's OK if clumps of yeast remain.
Add salt and sugar; stir until combined. Slowly add in flour, 1 cup at a time.
Mix with a wooden spoon until dough gets thick.
Continue to add more flour until dough is no longer sticky. Poke the dough with your finger - if it bounces back, it is ready to knead.
Turn the dough out onto a floured surface. Knead the dough for about 5 minutes and form into a ball. With a sharp knife, cut ball of dough into ⅓ cup sections. This measurement does not have to be exact - the size of the pretzel is completely up to you.
Roll the dough into a rope with an even diameter (so it will bake evenly). My ropes were about 18-20 inches long, but it all depends on how big you want the pretzels.
Once you have your long rope, take the ends and draw them together so the dough forms a circle. Twist the ends, then bring them towards yourself and press them down into a pretzel shape.
In a small bowl, beat the egg and pour into a shallow bowl or dish (a pie dish works). Dunk the shaped pretzel into the egg wash (both sides). Place on prepared baking sheet and sprinkle with sea salt.
Bake for 10 minutes at 425F degrees. Turn the oven to broil for the last 5 minutes to brown the tops. Be sure to watch closely to avoid burning!
Allow to cool slightly and enjoy. Best served warm. Pretzels may be stored in an airtight container or zipped top bag for up to 4 days (will lose softness). You can also freeze them.
Recipe source:  Sallysbakingaddiction.com