Cheez-It Crusted Jalepeño Popper Dip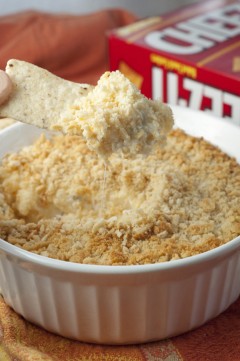 1 (8 ounce) package cream cheese, room temperature
½ cup mayonnaise
½ cup cheddar cheese, shredded
½ cup parmigiano reggiano (parmesan), grated
1 (4 ounce) can sliced jalapenos (pickled), drained and chopped
2 jalapeno peppers, chopped (optional - for more heat)
½ cup Sharp White Cheddar Cheez-It Grooves, crushed (measured after crushing)
Crush the Cheez-Its using a food processor.*
Mix the cream cheese, mayonnaise, cheddar cheese, parmigiano reggiano and jalapenos in a bowl and pour into a baking dish (Size depends on if doubling recipe or not. Mine fit in a 24 oz. casserole dish when not doubled).
Sprinkle the crushed Cheez-Its over the dip.
Bake in a preheated 350F oven until the sides are bubbling and the Cheez-It topping has turned golden brown on top, about 20 minutes.
*You can smash them in a ziploc bag with a meat tenderizer or rolling pin if you prefer, but I recommend 15-20 seconds in the food processor.
Recipe by
Wishes and Dishes
at https://wishesndishes.com/cheez-it-crusted-jalapeno-popper-dip/