Hearty Chicken Pumpkin Soup
This easy pumpkin soup is made with chicken, pumpkin puree, chicken stock, and fresh vegetables  Cream and cheese are stirred in at the end for added richness.  The perfect fall soup!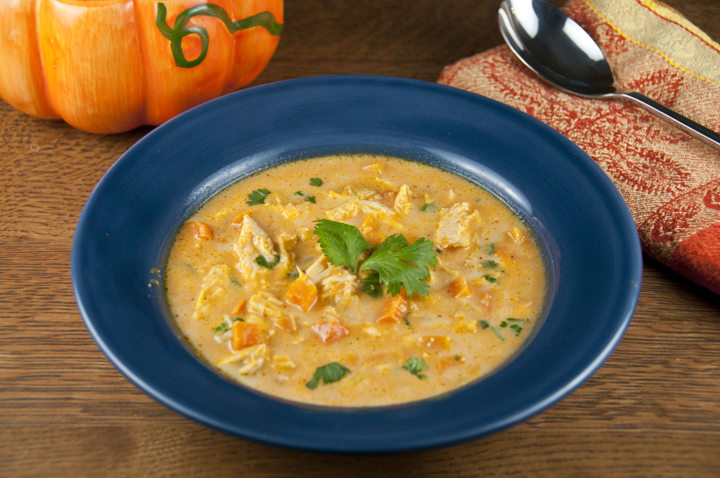 I'm ALL about this delicious soup that I'm sharing with you today.  I honestly think it should be the official soup of fall.  I avoid all things fall until I just can't hold out any longer – I love summer way too much so I'm never in a hurry to jump into all things fall.  That being said, once I give in, I'm always happy that I did (and I feel OK giving in when it's officially the beginning of fall this week).  So, I made my first batch of pumpkin cookies today and now I'm sharing this soup.  I think it's safe to say that summer is over here on Wishes and Dishes. 
Pumpkin is at it's best when it's whipped into this creamy, cold-weather soup.  This soup is seriously good stuff.  The pumpkin flavor is pretty subtle and it can stand it's own as a dinner.  My favorite thing about this soup is the addition of the chicken which makes it more of a filling meal, along with the veggies, and eliminates the need for side dishes, etc.  This goes great with a side of crusty bread, beer bread, corn bread muffins, etc.  These flavors just WORK.
This easy pumpkin soup can be made with canned or homemade pumpkin puree.  Enjoy!

Note: I've also made this in the crock pot, stirring in the cheese and heavy cream toward the end of the cooking time until it's warmed up, and it turned out great that way, too!  I would give it 3 hours on low since everything is cooked and just needs to be warmed through.
Hearty Chicken Pumpkin Soup
Prep time:
Cook time:
Total time:
This easy soup is made with chicken, pumpkin puree, chicken stock, and vegetables Cream and cheese are stirred in for added richness. Perfect fall soup!
Ingredients
5 tablespoons extra virgin olive oil
1 cup chopped onion
1 cup diced celery
1 cup diced carrots
3 tablespoons minced garlic
3 cups cooked shredded chicken breast
32 ounces reduced sodium chicken broth
15 ounce can pumpkin puree
½ cup heavy cream
1½ teaspoons salt
½ teaspoon freshly ground black pepper
¼ teaspoon garlic salt
¼ cup finely chopped fresh cilantro
1 cup shredded sharp cheddar cheese
Instructions
Heat olive oil in large dutch oven or pot over medium heat.
Add onion, celery and carrots, stirring and cooking for about 15 minutes, until softened.
Stir in garlic and cook for 1 minute.
Add chicken, chicken broth, pumpkin, cream, salt, pepper, garlic salt and cilantro.
Stir to combine. When hot, stir in cheese to melt. Taste and season accordingly with additional seasonings if desired.
 Recipe source:  adapted from picky-palate.com