Bolthouse Farms Juice Review
My review of Bolthouse Farms Juice as far as health benefits and drinking it as a healthy alternative to other juices.

Bolthouse Farm drinks have become a staple in our kitchen for the past few years.  My husband and I always keep a variety in our refrigerator at all times.  They have a wide array of grab and go breakfast smoothies, juices, and protein drinks that are packed with nutrients, are all-natural, have no added sugar, and are great to grab as breakfast or a snack when you are short on time!  Each beverage is packed with flavor and nutrition.  For instance, the Orange + Carrot juice offers 300% more Vitamin A than orange juice alone. The breakfast smoothies each contain 10-grams of protein, 2.5 grams of fiber, and 15 percent of the required daily value of calcium!
I'm a HUGE fan of their juice, which means a lot coming from me since I'm one of those people that normally dislikes food/drinks that are healthy for me. I've tried just about all of the flavors of Bolthouse Farms and each is unique and flavorful in it's own way.  The C-Boost smoothie is one that we consistently buy and a personal favorite of mine.  I not only love it for it's taste, but it is especially nice when we feel a sickness coming on and stop it in it's tracks by pumping up our immune systems.  It is really soothing on a sore throat.  An 8-ounce serving of this fruit smoothie provides 1200 percent of your recommended daily vitamin C!  It's a sweet blend of mango, red apples, and cacerola cherries that are all rich in vitamin C and antioxidants.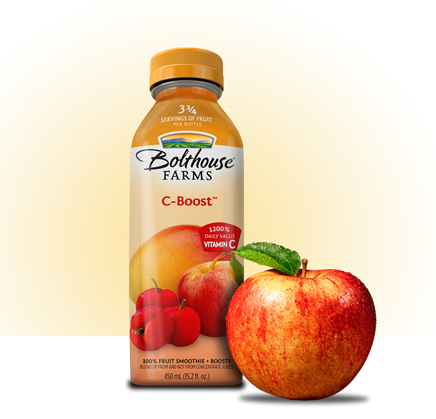 I'd have to say my all-time favorite is the Green Goodness fruit smoothie.  I have to admit that the unappetizing shade of green made me think twice about this one, but it's actually remarkably good!  This is a case of "don't judge a book by it's cover" as it has a face only a mother could love 🙂 This is a blend of 20 different ingredients including apple, pineapple, banana, broccoli, mango, kiwi and spinach which give it an abundance of Vitamins A, C, B6 and B12.  To me, it is very fruity in taste and the main flavor I pick up on is apple.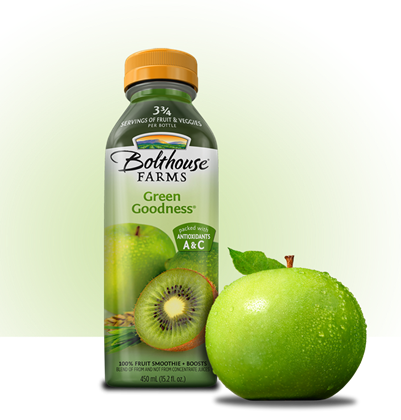 Recently, Bolthouse Farms was nice enough to send me two samples of their smaller-sized juices to try out and review: their 100% carrot juice and there Berry Boost smoothie. (Normally my husband I buy the larger size bottles).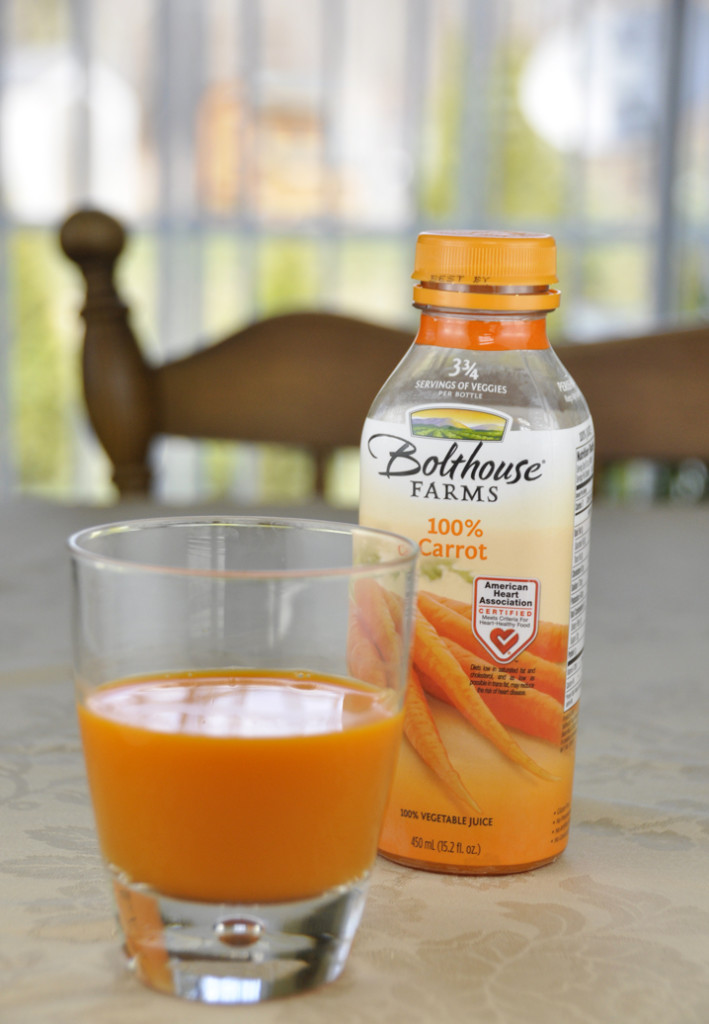 I definitely liked the carrot juice.  It has a nice, smooth texture and a sweet, fresh flavor.  If you're not used to pure vegetable juice, you might not be ready for something like this.  It was, however, a bit sweeter tasting than I expected it to be.  Each bottle contains the juice of 8 carrots, and each serving (there are 2 servings in a bottle ) contain 3 3/4 servings of veggies.  This juice is a great way to adds some vegetables to your daily diet, add a boost to your breakfast, or enjoy it when you are hungry for a snack.  The ingredients were as they should be- one ingredient – 100% carrot juice and no added sugars.  It's always nice to know what I am getting when drinking a juice like this and can feel good about it having no preservatives and no artificial flavor.  Carrot juice is an excellent source of pro-vitamin A, vitamins C, D, E, K, B1 and B6.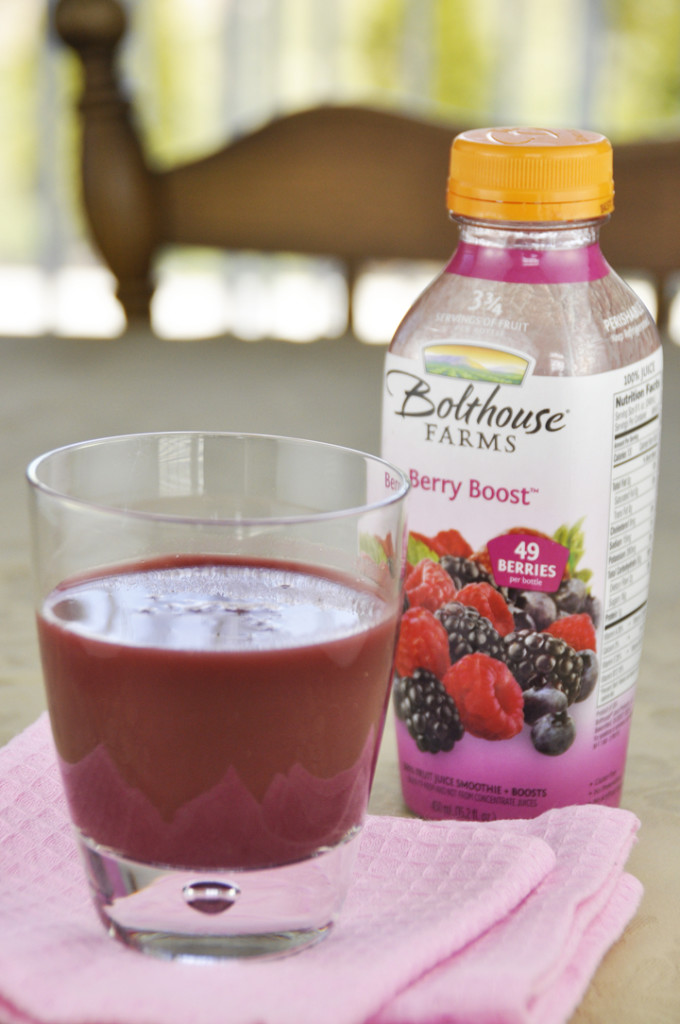 Berry Boost has five different berries with plenty of Vitamins A, C and E.  This juice is very healthy and extremely flavorful.  It combines a sweet and fruity taste with an almost bitter berry,  but the flavors are combined perfectly so it's not too sweet nor too bitter.  It is very smooth and naturally sweetened…when you are drinking it you don't even realize how healthy it is.  This smoothie is infused with a lot of antioxidants which are great for you.  If you like berries, you will love this flavor!
These drinks can be a bit pricey to have regularly, but they do go on sale once in a while so we always stock up when they do.  It might not be a replacement for all the nutrients you would get with juicing but they do give you decent nutrients. Compared to the price of a juicer and how many times I would really use it if I get one, I guess $3.99 isn't bad for all the good stuff that is packed into these bottles of juice with out the cleaning up of a juicer/buying of all the fruits and veggies.
Disclaimer:  I received a complementary samples of Bolthouse Farms Berry Boost and Carrot Juice, but was not paid to write this review and all opinions are 100% my own.