Orange-Glazed Eggnog Quick Bread
This Orange-Glazed eggnog bread recipe is a moist bread with a sweet orange eggnog glaze is a delicious dessert served with coffee or for Christmas breakfast!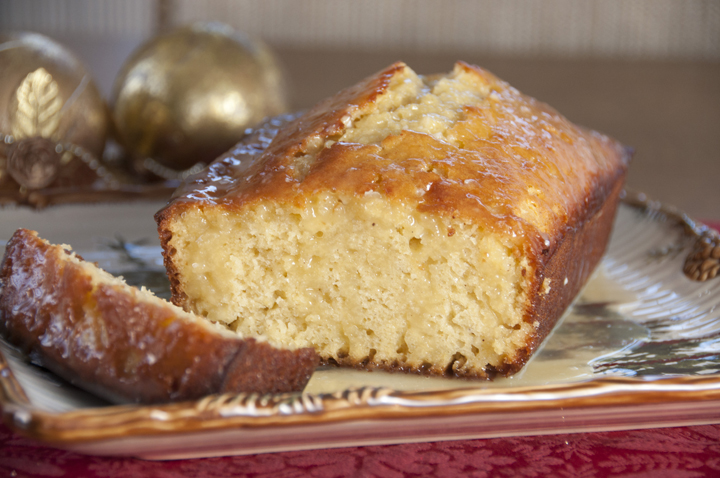 Christmas is coming so soon and what screams "Christmas" more than desserts made with eggnog?! This is the BEST holiday quick bread and would make a great Christmas morning breakfast.  It really doesn't even need the glaze because it is so moist, but the orange eggnog glaze definitely put it over the top as far as looks and taste.  This recipe would also be good as muffins, mini muffins, or mini loaves!
Bolthouse Farms recently came out with their seasonal flavors of beverages and I was sent a bottle of each to try out for myself.  Bolthouse is bringing on the holiday spirit with three limited-edition drinks that celebrate the flavors of my beloved Christmas season.  Launching last month, the new Bolthouse Farms Holiday beverage offerings include Pumpkin Spice Latte, Peppermint Mocha and Holiday Nog.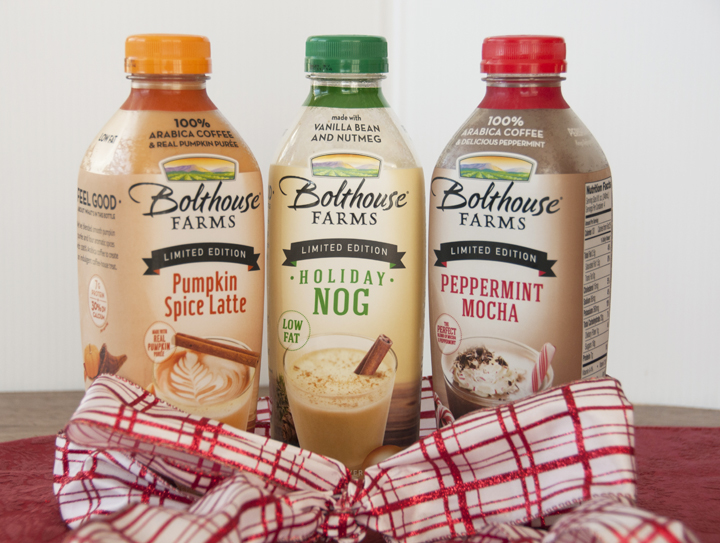 It's probably a good thing that eggnog is not available year-round as it is not too friendly to your health.  The smart and practical people at Bolthouse Farms have thought of this and presented us with their healthier version entitled "Holiday Nog". The name itself is a little disconcerting, as it would signify that their version was filled with some strange soy-based egg-flavored health store substitution. BUT, rest assured, I checked the ingredients and they seemed right for real eggnog: milk, egg yolk, nutmeg, vanilla – all of the necessary ingredients are there.  When I am craving eggnog, I will definitely continue to enjoy their Holiday Nog in attempt to lessen my chances of fatally overdosing on normal eggnog's way too deliciously delicious goodness 😉  Of course, this version is not quite as thick and creamy as eggnog, but the healthy part is a worth while trade-off.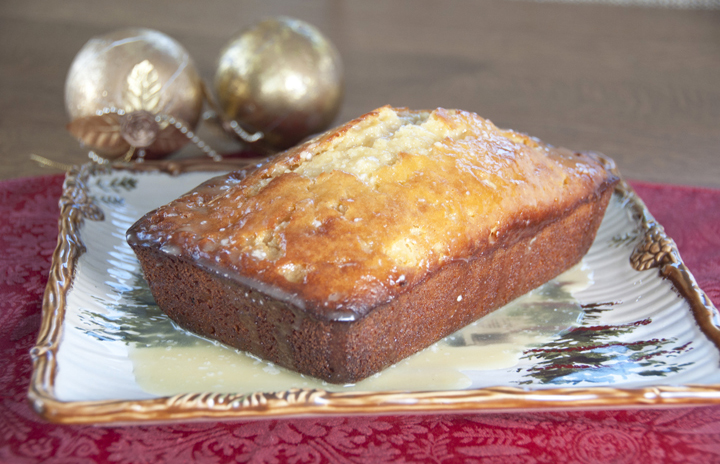 All three drinks would be amazing in baked goods, pancakes/waffles, added to other drinks (smoothies, shakes, cocktails), or used simply as a coffee creamer!  Of course, in my opinion, I think you should run into the kitchen and make this eggnog quick bread!
Orange-Glazed Eggnog Quick Bread
Prep time:
Cook time:
Total time:
This eggnog bread with an orange eggnog glaze is a delicious dessert served with coffee or for Christmas breakfast.
Ingredients
Bread:
2 eggs, beaten
1 cup Bolthouse Holiday Nog (or regular eggnog)
2 teaspoons orange flavored extract
1 cup white granulated sugar
1 teaspoon vanilla extract
½ cup unsalted butter, softened
2¼ cups all-purpose flour
2 teaspoons baking powder
½ teaspoon salt
¼ teaspoon ground nutmeg
Glaze:
¾ cup powdered sugar
3 tablespoons Bolthouse Holiday Nog (or regular eggnog)
1 teaspoon orange extract:
Instructions
Bread:
Preheat oven to 350 degrees F. Grease bottom only of a 9x5-inch loaf pan.
Blend together the eggs, eggnog, orange extract, sugar, vanilla and butter in a bowl.
Sift together the flour, baking powder, salt and nutmeg in a separate bowl.
Add dry mixture to eggnog mixture and stir just enough to moisten (don't over-mix for best results); pour into prepared pan.
Bake for 50-60 minutes, or until a tester inserted in the center comes out clean (mine took the full 60 minutes). CHECK it after 50 and cover loosely with tin foil so the top doesn't brown too much. When done, cool for 10-15 minutes, and remove from pan. Cool completely on a wire rack and pour glaze over the top after you transfer it to a serving plate.
Serve or wrap tightly in plastic wrap and/or foil, and store in refrigerator.
Glaze:
In a small bowl, combine all glaze ingredients and pour over the bread.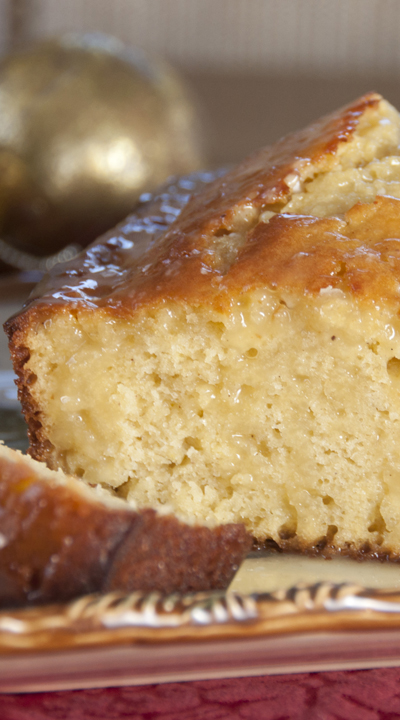 Here's a breakdown of the flavors I was sent!
• Pumpkin Spice Latte
A seasonal favorite that is popular this time of year, but this latte has loads of nutrition!  This drink  is a vitamin-rich, low-fat treat made with real pumpkin puree, a blend of four spices and 100% Arabica coffee.  Each serving is a great source of calcium and includes 7g of protein and 130 calories per cup. Nice!
• Peppermint Mocha
The combination of peppermint and dark chocolate is a holiday favorite of many people….now you can enjoy it guilt-free! These two favorite flavors area combined with 100% Arabica coffee for an excellent source of calcium and  7g of protein in each serving.  This is good hot OR cold!
• Holiday Nog
This very popular Holiday Nog is made with natural milk, natural eggs, vanilla bean and nutmeg and is what I used in this recipe I'm sharing today.  It is a a low-fat treat that offers a better-for-you take on the classic eggnog. With 83 percent less fat and 60 percent fewer calories per 8-oz. glass, how can you go wrong?!  It's great to use in baking or holiday mixed drinks!
All of these seasonal Bolthouse Farms holiday drinks were so tasty! The Holiday Nog would probably be good turned into traditional eggnog as well with alcohol.
Disclaimer:  I received complimentary samples of Bolthouse Farms Holiday Juices, but was NOT paid to write this review and all opinions are 100% my own, as always.