Banana Cashew Smoothie (Dairy Free)
Happy Friday! Does anyone have any big plans for the weekend?  I plan on doing a whole lot of resting to try to kick this cold as soon as possible.
I've definitely been on a smoothie kick lately and trying combinations that are way outside of my normal smoothie-zone.   For instance, I've been making "green monster" smoothies with spinach in them.  I'm one of those weird people who would much rather drink my fruits and veggies than actually eat them.  I even got my hubby on board with them and he'll drink them after he works out.  I love how healthy, filling and easy smoothies are!
Besides being a great snack, cashews blend well in smoothies and provide a rich creamy consistency that I love.  Cashews are one of the healthier nuts you can eat and contain less fat than many other nuts.  They are rich in copper, manganese, tryptophan, magnesium, phosphorus, and healthy fats.  The fats they do contain are primarily unsaturated fat.  The monounsaturated fats in cashews promote good heart health and can even help lower cholesterol levels.
Oh, and with this smoothie there are no worries for those that are lactose sensitive (like me!).  You won't find any milk in this one.
Now, if I can only get over this nasty cold so I can actually start tasting food again!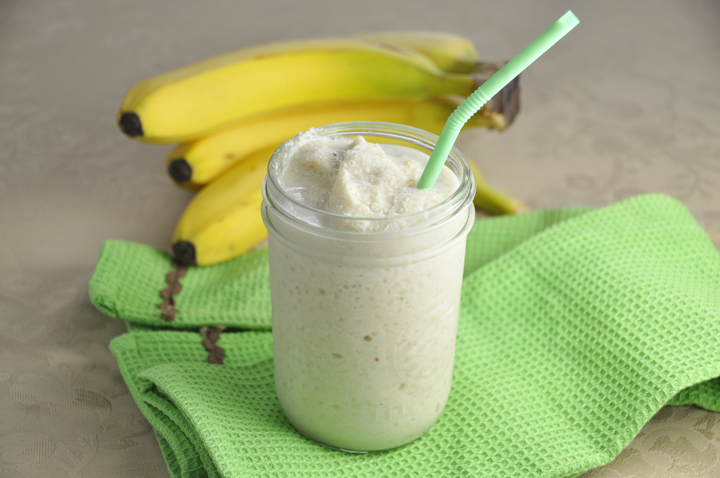 INGREDIENTS:
*Serves 1, double for 2 servings or if you want one large smoothie*
1/2 cup water
1/4 cup raw unsalted cashews
1 cup ice
1/2 banana, peeled and cut into chunks
1 Tbsp pure maple syrup (or to taste, I added 1 and 1/2 Tbsp)
DIRECTIONS:
Combine the water and cashew in a blender or closed container and refrigerate it for at least 6 hours or overnight to allow cashews to soften. Do not drain the water.
Add ice, banana & maple syrup to blender or food processor along with the cashews and water they have been soaking in. Blend for approximately 1 minute or until smooth and frothy.
Note: I saved some of this smoothie for a later time and it was even better the next day!