Gluten Free Blueberry Hand Pies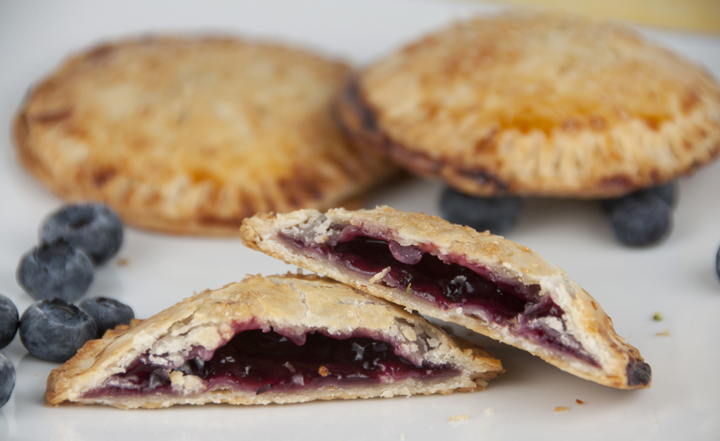 1 package Bob's Red Mill Gluten Free Pie Crust
8 ounces frozen blueberries
2 tablespoons sugar
2 tablespoons corn starch
1 egg
1 teaspoon water
3 tablespoons turbinado sugar (can use regular, but course sugar is better)
Prepare pie crust according to directions on the package. This package makes enough for 2 9-inch pie crusts. If you don't have time to make your own pastry crust, then use 2 refrigerated 9-inch pie crusts for making the hand pies.
Preheat the oven to 425°F.
Line a baking sheet with parchment paper or a silicone baking mat.
In a medium bowl, stir the frozen blueberries, sugar and corn starch together.
Roll out the chilled pie crusts on a floured surface until it's about ⅛″ thick.
Cut 3¼ inch circles out.
Re-roll scraps and cut out more rounds.
In a small bowl, beat the egg and water together to make an egg wash.
Brush the egg wash lightly over half of the circles.
Scoop a heaping tablespoon of blueberries into the center the egg washed circles.
Gently and slightly stretch out the other circles.
Using a fork, poke a few holes in the circle and place them on top of the blueberry topped circles. Press down the sides. Place them on the baking sheet.
Brush the pies with egg wash and sprinkle with turbinado sugar (or regular sugar).
Bake for about 14-17 minutes or until golden brown.
Serve warm.
Recipe by
Wishes and Dishes
at https://wishesndishes.com/blueberry-hand-pies-gluten-free-a-giveaway/