Snickerdoodles
Snickerdoodles are so underrated.  This recipe is easy and is the best snickerdoodle cookie recipe I have tried so far.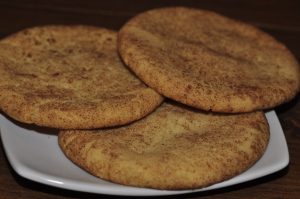 If I could have only one cookie for the rest of my life it might be snickerdoodles. It works out superbly that they are Nick's favorite cookie, as well. This way I can bake a batch of them and tell him I'm making them just for him… when really I'm making them for myself. I'm so devious :o)
I always make them with my largest cookie scoop so they turn out like bakery cookies. Also, this way you can eat two cookies that are the size of your head and still feel proud of yourself that you showed so much self-control and only ate "two cookies". I love the way I think!
Next time you're in the mood to bake, don't forget about snickerdoodles! And not just because they don't require any ingredients besides staples, but because they're delicious!
INGREDIENTS:
2 3/4 cups all-purpose flour
1 teaspoon baking soda
1/2 teaspoon fine salt
1/2 cup shortening
8 tablespoons (1 stick) unsalted butter, softened
1 1/2 cups sugar, plus 3 tablespoons
2 large eggs
1 tablespoon ground cinnamon
PREPARATION:

Preheat the oven to 350 degrees.
Sift the flour, baking soda, and salt into a bowl.
With a handheld or standing mixer, beat together the shortening and butter.
Add the 1 1/2 cups sugar and continue beating until light and fluffy, about 5 minutes.
Add the eggs, 1 at a time, beating well after each addition. Add the flour mixture and blend until smooth.
Mix the 3 tablespoons sugar with the cinnamon in a small bowl.
Roll the dough, by hand, into 1 1/2-inch balls. Roll the balls in the cinnamon sugar. Flatten the balls into 1/2-inch thick disks, spacing them evenly on unlined cookie sheets. Bake until light brown, but still moist in the center, about 12 minutes. Cool on a rack.
Recipe Source: "Emeril Live"