Beer Brat Bites
Grilled Beer Brat Bites appetizer recipe for any party simmered in a malty beer sauce with soft, nearly caramelized flavor that tastes delicious!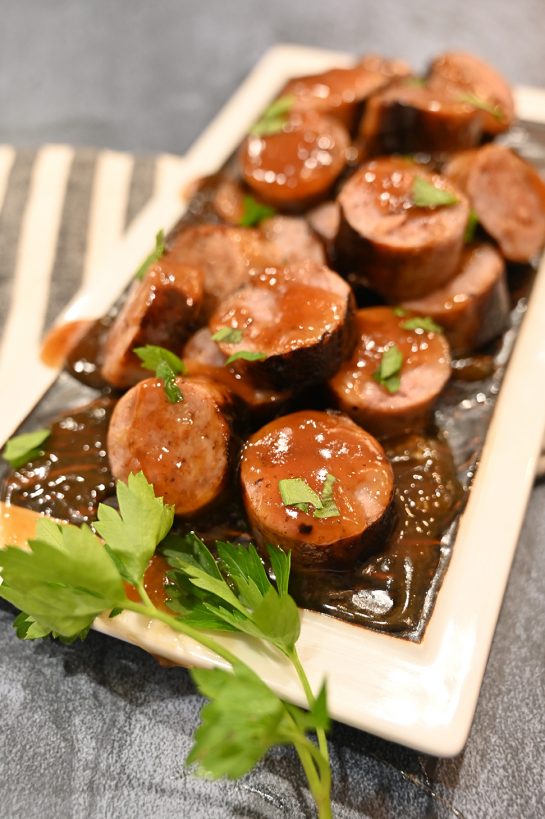 Beer brat bites are a delicious and super easy staple that is made with very simple ingredients. They are great for the summer, but also as a holiday appetizer because of the rich, flavorful sauce.
These beer brat bites would be awesome at a football party or the perfect potluck dish to pass! Beer and brown sugar, am I right? You seriously cannot go wrong with this combo of flavors.
With some experimentation, I found that using a flavorful, low-bitterness beer to simmer the brats in worked out best. Use any beer you like to drink and you should be fine. One of the few things that bratwurst enthusiasts (yes, those people seem to exist) love to do more than eating brats is to argue about the best way to cook them and debate who makes the best brat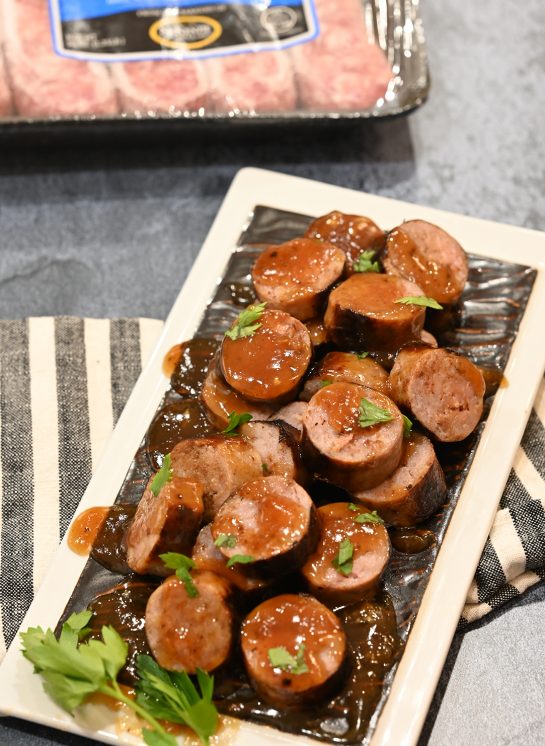 A darker beer in this recipe gives the bratwurst sauce a much richer flavor, but a standard commercial lager is a little milder for those who aren't huge beer enthusiasts like the one I used in my Crock Pot Pulled Cheesesteak Chicken. It really is just a matter of preference and what you like.
It may seem a bit peculiar to some of you to put beer in a sauce, but I promise you that it works. I mean, have you tasted my Beer Cheese Fondue Dip? The beer for this particular recipe is actually the perfect finishing flavor for a sauce that is slathered on bratwurst.
If you're throwing a party, you can even prepare the brats ahead of time. Simply heat them back up on the grill or in the grill pan later on when you're ready to serve them to give them that signature grill taste.
If you're a beer brats fan and can't get enough, be sure to try my Grilled Beer Brats with Mango Lime Salsa. I don't even know what else to tell you about these bites of pure decadence and flavor. But we are finally almost out of hibernation season, so we're alllllll good.
Enjoy!

Beer Brat Bites
Prep time:
Cook time:
Total time:
Beer Brat Bites appetizer recipe for any party simmered in a malty beer sauce with soft, nearly caramelized flavor that tastes delicious!
Ingredients
1 package Bratwurst Sausages
1 12 ounce bottle beer (any kind you like to drink)
½ cup dark brown sugar
1 tablespoon Dijon mustard
2 tablespoon chopped fresh parsley
2 teaspoons cornstarch
Instructions
While the sausages are cooking, make the sauce.
Pour the beer and brown sugar in a pot over medium high heat; bring to a boil.
Lower the heat and simmer for 10 minutes or until mixture reduces and is thickened. Whisk in the Dijon mustard until well incorporated.
Whisk the cornstarch with 1 tablespoon cold water and pour into the beer mixture to thicken. Bring the beer to a boil and cook for 1 minute, stirring constantly.
Slice the sausages into 1 inch pieces and add them to the pot with the sauce; toss to coat. Sprinkle with parsley (if desired) and serve warm.