Baked Parmesan Asparagus Fries with Creamy Lemon Dipping Sauce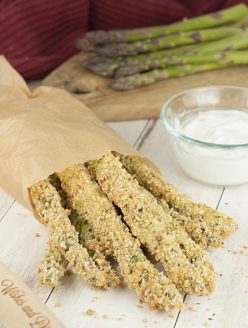 Recipe type:
Appetizer, Side Dish
1 lb thin asparagus stalks, trimmed
2 large eggs, whisked
⅓ cup all purpose flour
non-stick cooking spray
½ cup shredded parmesan cheese
2 cups seasoned panko bread crumbs
salt & pepper
½ cup mayonnaise
2 ½ tablespoons lemon juice
1 teaspoon thyme OR two teaspoons fresh minced thyme
1 tablespoon Italian parsley fresh, minced
1 large scallions/green onions, minced
½ teaspoon salt
ground black pepper, to taste
Preheat oven to 375°F.
Line a baking sheet with parchment paper or silicone baking mat.
Spread panko crumbs in one layer across the lined baking sheet. Spray panko crumbs surface with cooking oil spray.
Bake panko crumbs for about 4-5 minutes or until golden - be sure not to let them burn. Remove from oven and let cool.
Turn oven up to to 425°F.
Mix in ½ cup parmesan cheese with the breadcrumbs while still on the baking pan. Then spread out mixture evenly across baking sheet again in one layer.
Line a separate baking sheet with parchment paper or non-stick baking mat.
In a large bowl/pan long enough to fit asparagus, pour in whisked eggs. In a separate container long enough to fit asparagus, pour in flour and season four with salt and pepper.
Coat asparagus lightly in egg. Shake off excess egg and then lightly coat asparagus in flour. Shake off excess flour. Coat asparagus in egg again and shake off excess egg.
Place asparagus in panko mixture (that is still on the baking sheet) and press panko crumbs onto the asparagus.
Set coated asparagus onto empty lined baking sheet.
Bake for 10-12 minutes at 425 degrees, or until asparagus is cooked on the inside and the outside coating is nice and crispy, flipping asparagus halfway through cooking.
Serve with the lemon dipping sauce OR your favorite dipping sauce/ketchup/BBQ sauce.
Add all ingredients into a small bowl and whisk together.
Cover with plastic wrap and refrigerate for at least 30 minutes or overnight to allow the flavors to blend.
Store for up to one week in the refrigerator.
Recipe by
Wishes and Dishes
at https://wishesndishes.com/baked-parmesan-asparagus-fries-with-creamy-lemon-dipping-sauce/