Ginger-O Cheesecake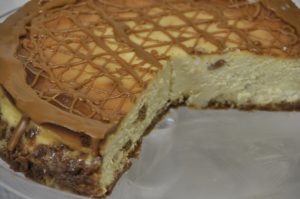 Crust:
1½ cup Gingerbread cookie crumbs (finely chopped)
2 tablespoons melted butter
Filling:
32 oz of cream cheese
1 cup granulated sugar
½ cup sour cream
2 teaspoons vanilla
5 eggs
5 gingerbread cookies, chopped
(helpful tips are below recipe)
Crust: Mix cookies and butter and press into bottom of pan and 1½ inches up sides of pan.
Line with parchment paper or grease sides of pan before adding crust.
Filling: (Periodically scrape down sides of bowl to prevent cream cheese lumps)
Beat cream cheese on low until fluffy.
Add sugar and continue beating.
Add eggs one at a time and beat until blended.
Add vanilla and beat.
Add sour cream and beat.
Stir in cookies with a spoon.
Pour batter into pan.
Preheat oven to 475 degrees.
Bake for 12 minutes at 475 degrees.
Turn temperature down to 350 degrees.
Bake for 50-60 minutes.Refridgerate for several hours or overnight.
I melted the Biscoff spread pictured above and drizzled it over the cheesecake. Hides any imperfections! That spread is amazing and is found on the peanut butter aisle at Wegmans!