Spinach Salad with Mandarin Oranges
This recipe was given to me by my aunt Betsy for a Spinach salad with sweet mandarin oranges and crunchy toasted almonds.  This is one of my favorite salads!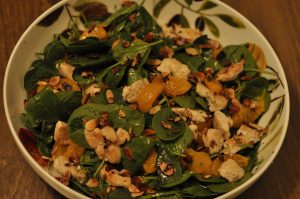 The people who say they don't like salad just haven't tasted a good one.
This is an easy meal for the middle of the work week. My aunt Betsy made me a cookbook for my bridal shower a few years ago and it encompasses all of her families' favorite recipes. This recipe, in particular, is a favorite of ours and is a great light, healthy meal……and quick!
Also, confession time….I don't really like any leafy green vegetables….at all. I did, however, thoroughly enjoy this salad and I wholeheartedly believe that you will, too!
I added chicken on top of the salad to make it more of a meal. I took one large chicken breast, cut it into bite-size pieces, and cooked it up in the pan on medium heat after I removed the sauteed almonds. If you are fortunate enough to live near a Wegman's grocery store, I recommend the pre-marinated lemon-garlic chicken. It tastes great with this salad.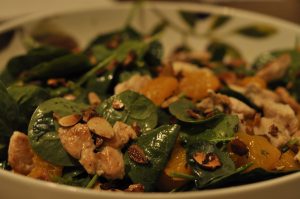 Spinach Salad with Mandarin Oranges
Ingredients
2 10-ounce bags of spinach salad
1 cup slivered almonds
2 tablespoons sugar, divided (can substitute with raw honey to be on the healthier side)
4 teaspoons red wine vinegar
1 can mandarin oranges, drained (save a little juice and add to "dressing" later, if you wish)
¼ teaspoons pepper
⅓ cup olive oil
2 tablespoons dried parsley flakes
¼ teaspoons salt
dash Tabasco sauce (optional)
1 large chicken breast (optional)
Instructions
Spray saute pan with cooking spray (or use 2 tablespoons olive oil).
Add almonds and 1 tablespoon sugar.
Saute almonds low heat until lightly browned.
Take out of pan immediately and put aside.
Whisk together oil, vinegar, 1 tablespoon sugar, salt, pepper, Tabasco, and parsley.
Toss spinach with dressing just before eating and add almonds and oranges on top.