2 Minute Blender Limeade
Refreshing 2 Minute Blender Limeade recipe, also known as Brazilian Lemonade, is perfect and refreshing for a hot summer day.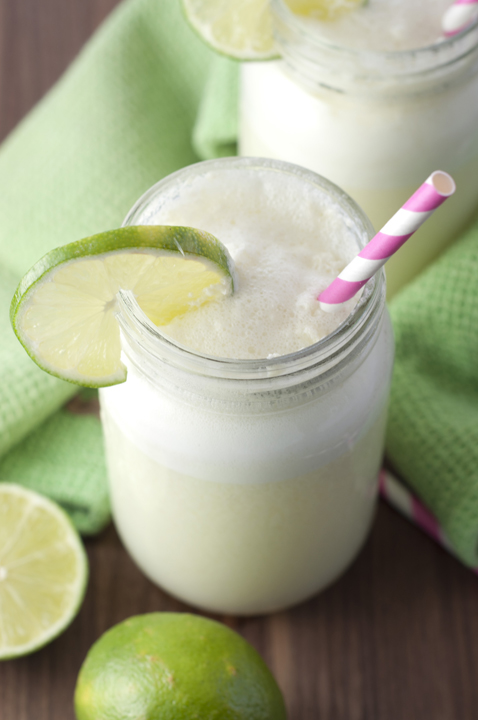 One of my favorite things to do in the summer is sit on my back patio, bring my work out there with me, and sip on a cold drink.  Normally, my go-to is plain lemonade or mango lemonade from Wegmans.  I switched things up a couple of weeks ago and made this 2 Minute Blender Limeade.  "Where has this been all my life?" was my initial reaction.  It's amazing and really hits the spot!  Sadly, I have never ever had homemade limeade before.  Fresh limeade is a delicious alternative to lemonade during the hot summer months (or whenever the mood strikes you) and you must give it a try before summer is over!  It is light, refreshing, and not overly sweet.
I love making blended drinks in the summer when it's 8 million degrees out (here is my collection of my favorites I recently rounded up in this post).  Sometimes ice water just won't cut it, ya know?  Most of the time it does, but not all.  I know I'll get a comment or two about how this isn't a real "Brazilian" recipe so I'll save everyone the time by saying that I don't claim it to be exactly 100% authentic Brazilian lemonade.  In fact, when I looked it up, I learned that the Brazilians actually call it "limonada suica" (which means "Swiss lemonade").  Whatever you want to call it, this drink will take you to your happy place.  If you don't drink it all at once, you can make the rest into popsicles!  Make sure you use super fresh limes for the best taste.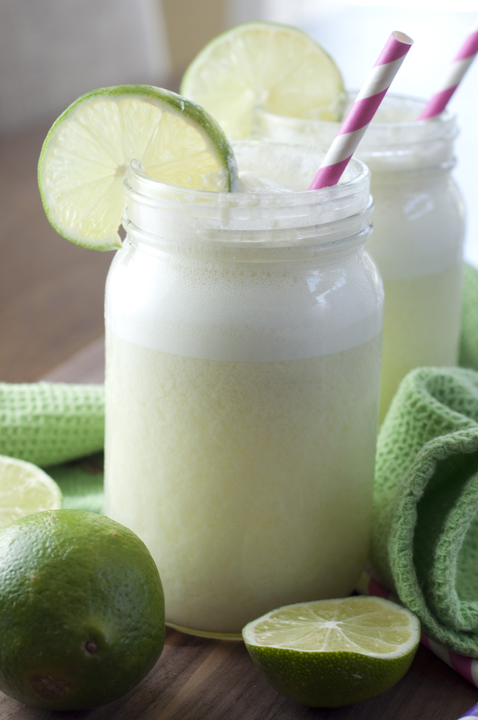 The best part about making this 2 Minute Blender Limeade is that you don't need a super powered blender to whip it up. Any decent blender should do the trick.  Speaking of blenders, are you in the market for a new one?  There's a new powerful and durable blender by Hamilton Beach I wanted to tell you about today called the Wave~Action® Blender.  It quickly and easily makes smoothies or shakes, and it's also great for making soups, sauces, or salsa.   This baby blended up the rinds from the limes in no time at all.  I'm always skeptical that a blender will be able to handle certain tasks, but I knew this one, with it's 700 watt peak power motor, would get the job done!  If it can fully crush ice without leaving chunks, it's all right in my book.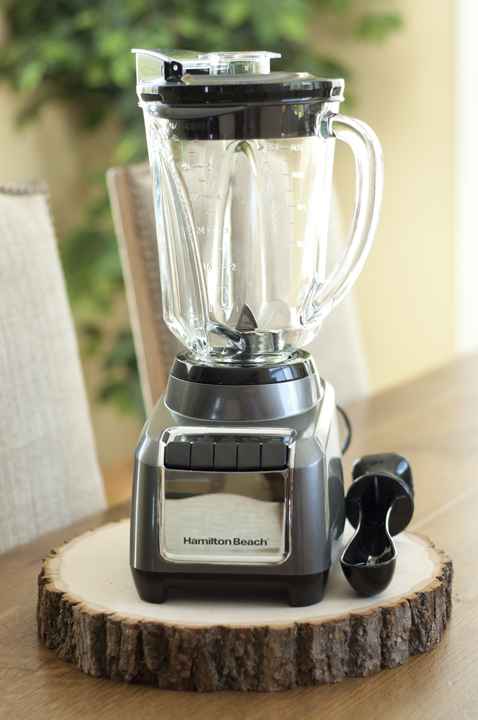 The unique Wave~Action System is designed to continually force the mixture down into the blades for consistently smooth results. I also love how my usual mess is alleviated thanks to the easy-pour spout that eliminates drips.  Less mess = thankful and happy Ashley.
Another unique feature with this blender is the stir spoon that is used to mix thicker foods.  I love it because I can just keep the spoon in a convenient place near the blender and use it whenever I need it.  To simplify blending, four buttons clearly indicate which function is designed to perform a particular task.  You can quickly and easily select which button to press depending on what you are making, from blending up milkshakes and crushing ice to options for preparing food such as puree, dice, chop, and grind.  It makes it completely fool-proof and you have the chance to win one today!
More Wave-Action Blender Facts:
It pulls mixture into the blades for smooth results
48 oz. glass jar that is dishwasher safe
Ideal for smoothies, shakes & icy drinks
Lid with pour spout & filler cap
Three-year limited warranty for your peace of mind
Stir spoon included for thicker foods & mixtures
BPA-free in food zones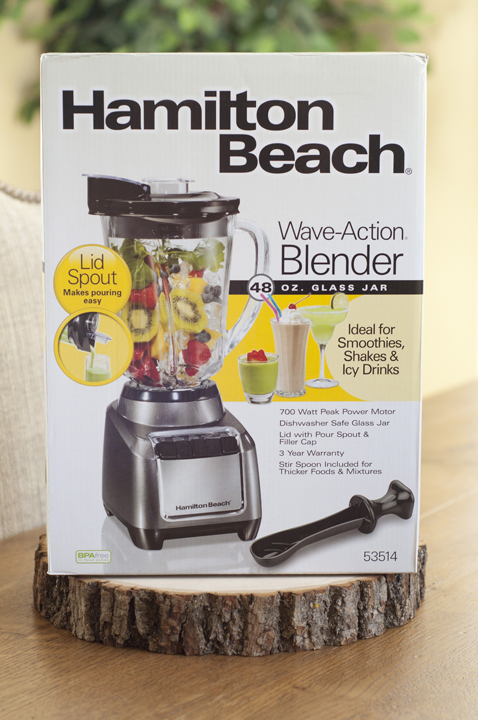 GIVEAWAY DETAILS
Thanks to the generous people over at Hamilton Beach, one lucky Wishes and Dishes reader is going to receive their own Wave-Action Blender!  Make this lovely 2 Minute Blender Limeade and also scroll on down for your chance to win and to see how easy it is to enter via the form. If you aren't the lucky winner, this blender is available on their website!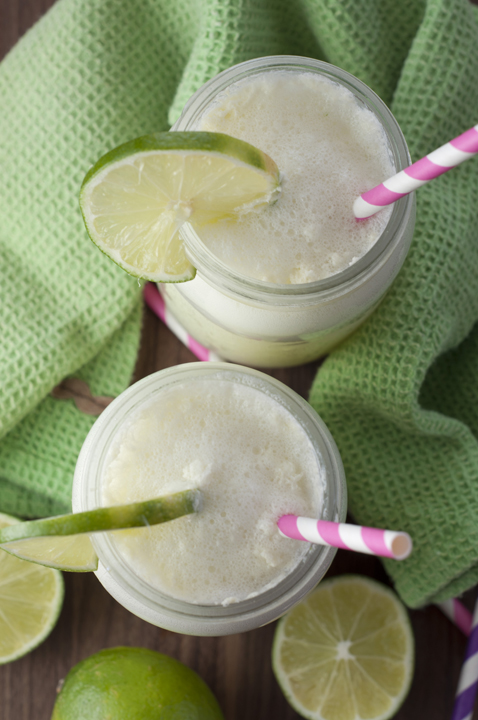 Note:  it's fine if you have more liquid than what is called for in the recipe. The amount of liquid depends on the size and juiciness of your limes – not all 2 cups of the liquid will strain out because of all the pulp.  Be sure to taste the finished blended drink to make sure it is sweet enough.
2 Minute Blender Limeade + GIVEAWAY!
Refreshing 2 Minute Blender Limeade recipe, also known as Brazilian Lemonade, is perfect and refreshing for a hot summer day.
Ingredients
2 large limes, thin skinned
2 cups water
1 cup cold water
½ cup sugar
4 tablespoons sweetened condensed milk
Ice
Instructions
Cut the limes in half and squeeze out the juice. You should have approximately ½ cup juice (add some bottled juice if you need it). Keep the rinds and set the juice aside.
In a blender, combine the juiced rinds with 2 cups of water. Blend for one minute until the mixture is coarsely mixed and frothy (about five pulses, maybe 10-20 seconds is plenty, anything longer cause the mix to be bitter.). Strain the mixture through a fine-mesh strainer set over a liquid measuring cup or bowl, pressing on the solids to extract all the juice. You should have about ¾ cup liquid, more or less (see "note" in above post). Stir in the reserved lime juice. You can go ahead and discard the pulp in the strainer.
To the blender, add the cold water, sugar, lime juice mixture, and sweetened condensed milk. Blend for 10-20 seconds. Add ice as desired: I added probably about 2-3 cups of ice - enough to make it cool and frosty but not thick like a smoothie. Blend until smooth. Add more sweetened condensed milk or sugar to taste, if needed. Serve immediately.
Deadline: Thursday, August 13th at 11:59 p.m. (EST). I'll announce the winner on Friday 8/14. Good luck, everyone!
Winner:  Must be a U.S. resident to enter.  The winner will be chosen at random using Random.org and announced in this post. I will email the winner and if he/she does not respond within 48 hours, another winner will be selected.
Disclaimer: Hamilton Beach provided me with this blender to facilitate this post and is providing the giveaway product. The words and opinions expressed in this review are strictly 100% my own, as always.

Recipe source:  adapted from melskitchencafe.com