Tomato Tortellini Soup
Happy Friday!   Mr. Wishes and I celebrated our 4th wedding anniversary yesterday and went out to dinner at a new Italian restaurant we had never been to before called "Six-50".  It was really good food and a fun atmosphere.  I had a spinach and artichoke grilled chicken sandwich on ciabatta bread and pasta salad on the side.  It was very tasty and nice and light!  It was the perfect night besides the fact that I picked out a card for Mr. Wishes that said "you've made me the happest MAN in the world"….oops!  I guess I better pay better attention when card shopping.  At least we got a good laugh out of it! 🙂
Now we are taking off again today…..this time we're going to California!  I'm so excited to visit our friends Nick and Micah and see everything San Diego has to offer and I will most definitely be making a stop at the zoo at some point.  Tomorrow we are going to Micah's graduation beach party and camping out overnight in tents.  Wish me luck as I am not a very good camper!  Then Sunday we are going to a Padres game (at my request).  I needed some baseball in my life and I love visiting stadiums that I've never been to before.
Leave it to me to post a soup recipe when the weather is just getting warmer, but really I think that soup is good any time of the year.  This soup was quick to make and delicious overall.  You can substitute canned diced tomatoes for the sun-dried if you are not big on sun-dried tomatoes.  Also, I used a bag of frozen tortellini instead of smaller refrigerated package to give it some additional heft but you can do whatever you like best.  Serve this soup with sliced Italian bread or beer bread (like I did!).  I will be adding this to my recipe rotation.
Have a great weekend!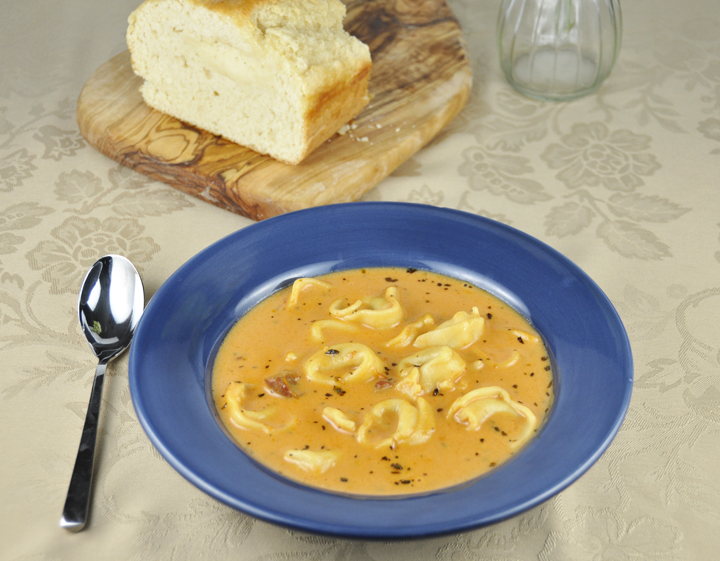 INGREDIENTS:
1 (9 oz) package frozen or refrigerated cheese tortellini (can use more to make it heartier)
2 cans (10.75 oz each) condensed tomato soup
2 cups vegetable broth
2 cups milk
2 cups half and half cream
1/2 cup oil-packed sun-dried tomatoes, chopped (found near the canned tomatoes at the grocery store)
1 teaspoon onion powder
1 teaspoon garlic powder
1 teaspoon dried basil
1/2 teaspoon salt
1/2 cup shredded Parmesan cheese
DIRECTIONS:
Cook tortellini according to package directions.
Meanwhile, in a Dutch oven or a large stock pot, combine the soup, broth, milk, cream, tomatoes and seasonings. Heat through, stirring frequently. Drain tortellini; carefully add to soup. Stir in cheese. Sprinkle each serving with additional cheese, if desired. Yield: 10 servings (2-1/2 quarts).