Tomato Tortellini Soup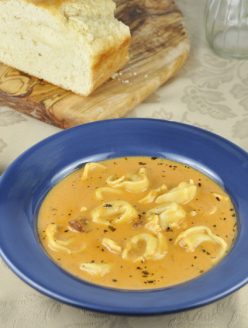 Recipe type:
Dinner, Lunch
1 (9 oz) package frozen or refrigerated cheese tortellini (can use more to make it heartier)
2 cans (10.75 oz each) condensed tomato soup
2 cups vegetable broth
2 cups milk
2 cups half and half cream
½ cup oil-packed sun-dried tomatoes, chopped (found near the canned tomatoes at the grocery store)
1 teaspoon onion powder
1 teaspoon garlic powder
1 teaspoon dried basil
½ teaspoon salt
½ cup shredded Parmesan cheese
Cook tortellini according to package directions.
Meanwhile, in a Dutch oven or a large stock pot, combine the soup, broth, milk, cream, tomatoes and seasonings. Heat through, stirring frequently.
Drain tortellini; carefully add to soup. Stir in cheese. Sprinkle each serving with additional cheese, if desired.