A super moist, rich, simple, one layer carrot cake recipe made from scratch with chopped pecans and topped with cream cheese frosting.  This is great for Easter or to celebrate your favorite carrot cake loving person in your life!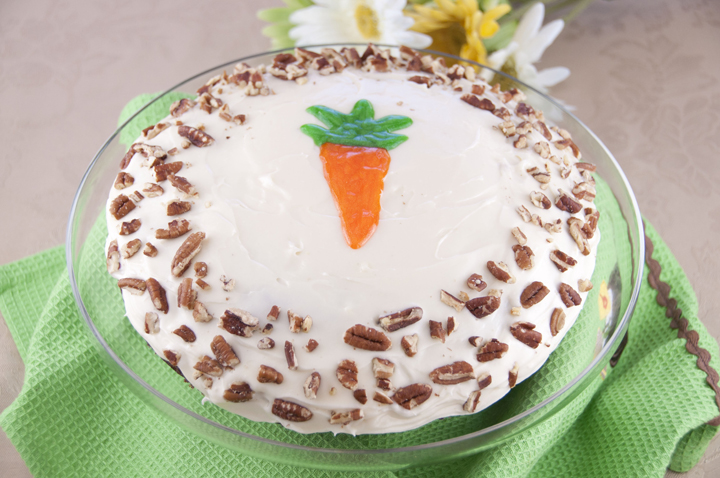 Happy Carrot Cake Friday to all!  Well, we finally made it through the week and I'm looking forward to the weekend like it's nobody's business.  We are going kayaking with some friends on the bay later on and it's supposed to be a beautiful day so I'm really excited.  I haven't been kayaking since last summer when we were in Syracuse visiting my brother and have missed it.  What are your plans for the weekend?
I absolutely ADORE a good, moist carrot cake and made one for the first time at home a couple of months back.  Yes, I've been holding out on you with this wonderful carrot cake recipe and perfectly sweet cream cheese frosting.  Call me weird, but I would pick a good ol' moist carrot cake over almost any other kind of cake at any given time… including chocolate ::::gasp:::::!  There, I said it.  I love my Giant Carrot Cake Cookie Cups, as well!
I do have a sick obsession with desserts, in general, but every now and then I love to do some crazy thing like add vegetables to my baked goods.  That's the great thing about carrot cake….you can feel healthy eating it because carrots are so good for you.  Truly, it's guilt free.
I love my carrot cake slightly on the denser side with a chockful of shredded carrots and chopped nuts and this cake gave me just that.  As soon as I saw this recipe on Sally's Baking Addiction I knew that I would absolutely love this one!  The addition of the Greek yogurt is fabulous: it adds a lot of moisture and prevents the cake from drying out.
It's also simple to make for a cake that is made from scratch because it avoids all of the busy work of layering and frosting.  You ONLY frost the top of this cake.  Easy peasy!  If you're in the carrot cake kind of mood, make sure you try out this Cream Cheese Frosted Carrot Cake Loaf made from scratch by my friend Melissa! I'm also loving these Carrot Cake Bars!
Moist Carrot Cake
A super moist, rich, simple, one layer carrot cake recipe made from scratch with chopped pecans and topped with cream cheese frosting. This is great for Easter or to celebrate your favorite carrot cake loving person in your life!
Ingredients
Carrot Cake
1 cup light or dark brown sugar, packed
¾ cup vegetable oil (or melted coconut oil, or canola oil)
¼ cup Greek yogurt (plain or vanilla)
3 large eggs
2 teaspoons vanilla extract
2 cups all-purpose flour
1 teaspoon baking soda
2 teaspoons ground cinnamon
¼ teaspoon ground nutmeg
½ teaspoon salt
2 cups very finely grated carrots
¾ cup pecan pieces
Cream Cheese Frosting
8 ounces cream cheese, softened to room temperature
½ cup unsalted butter, softened to room temperature
2 cups powdered sugar
2 Tablespoons heavy cream
2 teaspoons vanilla extract
⅛ teaspoon salt
Instructions
Preheat oven to 350F degrees.
Spray 9 or 10 inch springform pan well with nonstick cooking spray. (Don't use a regular circle or square pan, as the cake may rise above and make a mess of your oven). Set aside.
Take out the cream cheese to soften for the frosting if you haven't already done so.
Make the carrot cake: In a large bowl with a handheld or stand mixer on medium speed, combine the brown sugar and oil.
Beat in the yogurt until fully combined - about 60 seconds. Mixture will be gritty and thick.
Add the eggs, one at a time, beating well after each addition.
Mix in the vanilla. Set aside.
In a separate bowl, combine the flour, baking soda, cinnamon, nutmeg, and salt.
With a spatula, stir the dry ingredients into the wet ingredients until just combined and all flour is incorporated into the mixture - do not overmix.
Fold in the finely shredded carrots and pecan pieces.
Pour into prepared springform pan.
Bake cake for 32-38 minutes or until toothpick inserted in the center comes out clean. Do not overbake, which will dry out cake! Be careful to check the cake at 30 minutes, then again at 32. My cake took exactly 32 minutes.
Allow cake to cool completely before frosting.
Make the frosting: beat the softened cream cheese and butter together on medium speed for 2-3 minutes until soft, creamy, and thoroughly combined.
Add 2 cups of powdered sugar and beat until thick and combined.
Add 2 Tablespoons heavy cream and 2 teaspoons vanilla extract.
Beat on medium speed for 2 more minutes.
Add more powdered sugar (if needed) until desired thickness is reached.
Add salt, which cuts the sweetness a little.
- Craving more?
Sign up for the Wishes & Dishes Newsletter
for a fresh serving of content delivered every week to your inbox! And stay in touch on
Facebook
,
Twitter
,
Pinterest
and
Instagram
for all of the latest updates!