Moist Carrot Cake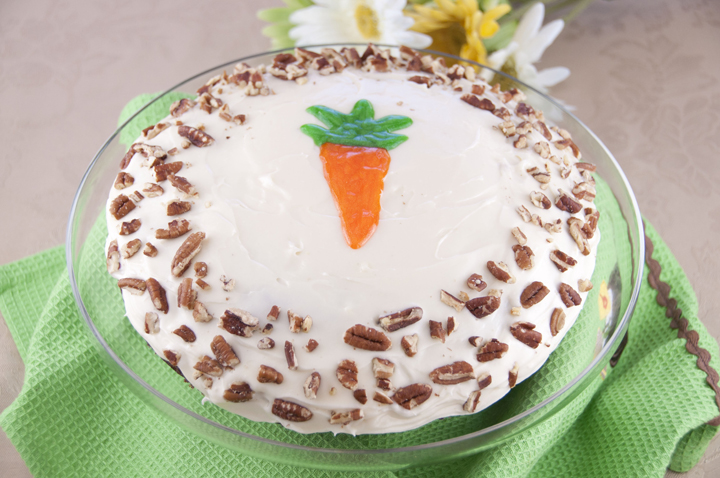 Carrot Cake
1 cup light or dark brown sugar, packed
¾ cup vegetable oil (or melted coconut oil, or canola oil)
¼ cup Greek yogurt (plain or vanilla)
3 large eggs
2 teaspoons vanilla extract
2 cups all-purpose flour
1 teaspoon baking soda
2 teaspoons ground cinnamon
¼ teaspoon ground nutmeg
½ teaspoon salt
2 cups very finely grated carrots
¾ cup pecan pieces
Cream Cheese Frosting
8 ounces cream cheese, softened to room temperature
½ cup unsalted butter, softened to room temperature
2 cups powdered sugar
2 Tablespoons heavy cream
2 teaspoons vanilla extract
⅛ teaspoon salt
Preheat oven to 350F degrees.
Spray 9 or 10 inch springform pan well with nonstick cooking spray. (Don't use a regular circle or square pan, as the cake may rise above and make a mess of your oven). Set aside.
Take out the cream cheese to soften for the frosting if you haven't already done so.
Make the carrot cake: In a large bowl with a handheld or stand mixer on medium speed, combine the brown sugar and oil.
Beat in the yogurt until fully combined - about 60 seconds. Mixture will be gritty and thick.
Add the eggs, one at a time, beating well after each addition.
Mix in the vanilla. Set aside.
In a separate bowl, combine the flour, baking soda, cinnamon, nutmeg, and salt.
With a spatula, stir the dry ingredients into the wet ingredients until just combined and all flour is incorporated into the mixture - do not overmix.
Fold in the finely shredded carrots and pecan pieces.
Pour into prepared springform pan.
Bake cake for 32-38 minutes or until toothpick inserted in the center comes out clean. Do not overbake, which will dry out cake! Be careful to check the cake at 30 minutes, then again at 32. My cake took exactly 32 minutes.
Allow cake to cool completely before frosting.
Make the frosting: beat the softened cream cheese and butter together on medium speed for 2-3 minutes until soft, creamy, and thoroughly combined.
Add 2 cups of powdered sugar and beat until thick and combined.
Add 2 Tablespoons heavy cream and 2 teaspoons vanilla extract.
Beat on medium speed for 2 more minutes.
Add more powdered sugar (if needed) until desired thickness is reached.
Add salt, which cuts the sweetness a little.