Peanut Butter Fudge Puddles that are the perfect cookie for Christmas or any holiday cookie tray.  I make these for dessert all year 'round!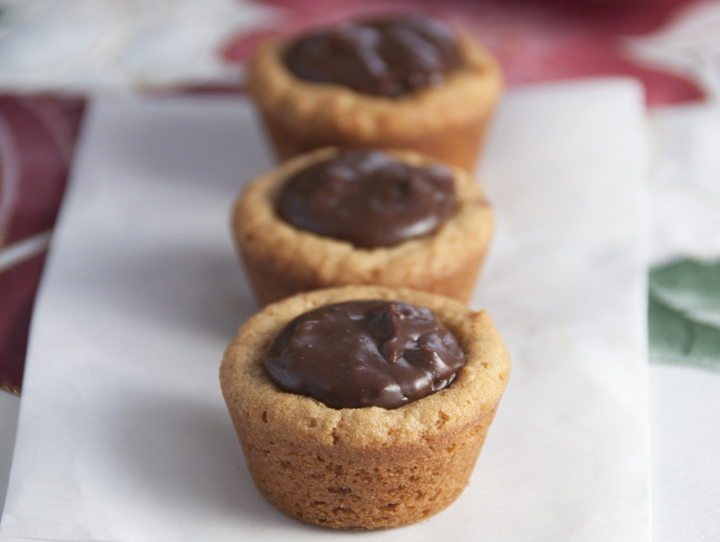 I have never made fudge puddles before but they have been on my radar for a while now as I knew they would make for the perfect Christmas cookie.  I highly recommend these – they are not only delicious, but extremely visually appealing, as well.  They look so fancy and like you spent a lot of time making them, when they were really very easy and required very little effort.
The chocolate fudge center is very rich and just plain awesome.  Also, the peanut butter flavor doesn't stand out too much, but that could be a good thing depending on your taste

So, what are your favorite cookies to make for the holidays?  If you can squeeze in one more round of baking before Christmas day, squeeze these in.  I can tell you one thing – these will become a staple in our household, and not just for Christmas.  Nope – I'll be making these babies all year 'round.
Note:  If the chocolate filling gets a little thick, microwave for 10-15 seconds and it should loosen up enough for you to resume filling the cookie cups.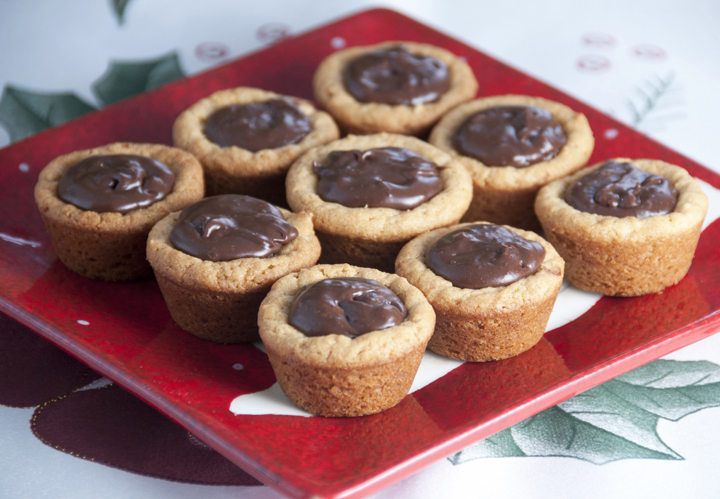 Peanut Butter Fudge Puddles
Peanut Butter Fudge Puddles are the perfect cookie for Christmas or any holiday cookie tray. I make these for dessert all year 'round!
Ingredients
1/2 cup unsalted butter, softened
1/2 cup creamy peanut butter
1/2 cup white sugar
1/2 cup packed brown sugar
1 egg
1/2 teaspoon vanilla extract
1 1/4 cups all-purpose flour
3/4 teaspoon baking soda
1/2 teaspoon salt
2 cups semi-sweet chocolate chips
1 (14 ounce) can sweetened condensed milk
1 teaspoon vanilla extract
Instructions
Preheat oven to 325 degrees F.
Sift together flour, baking soda and salt.
Cream butter, peanut butter and white and brown sugars. Mix in egg and 1/2 teaspoon vanilla. Stir the flour mixture into creamed mixture. Shape the dough into 48 balls, 1 inch each. Place each ball in one compartment of a mini muffin tin.
For filling, put chocolate chips in a double boiler over simmering water. Stir in milk and the other 1/2 teaspoon of vanilla, mix well.
Bake for 14 to 15 minutes or until lightly browned. Remove from oven and immediately make wells in the center of each using a melon baller or backside of a tablespoon.
Cool in pan for 5-10 minutes. Then carefully remove to wire racks. Using a measuring cup fill each well with the chocolate mixture.

Optional: top with a pecan or sprinkles for a different twist.
http://wishesndishes.com/peanut-butter-fudge-puddles/
 Recipe source:  adapted from allrecipes.com
- Craving more?
Sign up for the Wishes & Dishes Newsletter
for a fresh serving of content delivered every week to your inbox! And stay in touch on
Facebook
,
Twitter
,
Pinterest
and
Instagram
for all of the latest updates!