Is everyone ready for Christmas?  I am so behind this year it isn't even funny!  Usually I'm ahead of the game, but this year I am practicing very poor time management skills.  My shopping isn't even half done, I have no cookies made, and no menu for the Christmas dinner I will be hosting (my very first one!).  I'm freaking out a little, but still trying to enjoy this season that I wait ALL YEAR for!
I had my sweet precious little 4-year-old niece sleep over a couple of weekends ago.  We had a blast trying on aunt Ashie's closet full of high heels, taking silly pictures of ourselves, going out to dinner, pigging out on ice cream, making these delicious cookies, watching "Bee movie" and playing Xbox games. She was a perfect little angel, as always (her mom claims she isn't perfect at home….what?!), and I always have tons of fun with her.  She makes me so happy, that girl.  She even asked me "Aunt Ashley, was your name always "aunt Ashley" even when you were a baby?"  Haha!  I love it.
These cookies were super easy to make, required no baking (obviously) and were delicious!  I don't know what I could possibly love more than raw cookie dough… so needless to say I was basically in heaven eating these and knowing I wouldn't be yelled at for eating raw cookie dough and risking salmonella poisoning.  It's a beautiful thing!  I have a bunch of ideas for what you can stuff these with listed below.  I used Nutella for half of them and mini Reese's Peanut Butter Cups for the other half because that was what I had on hand.  All of you cookie dough lovers out there – MAKE THESE NOW!  They'd also be perfect to add to your Christmas cookie trays…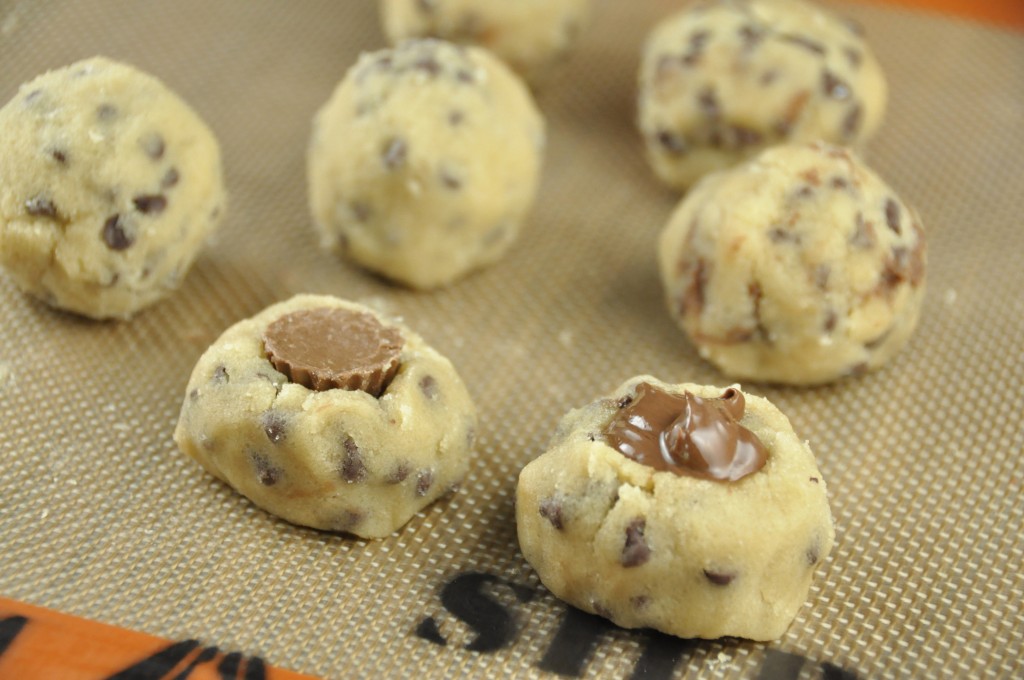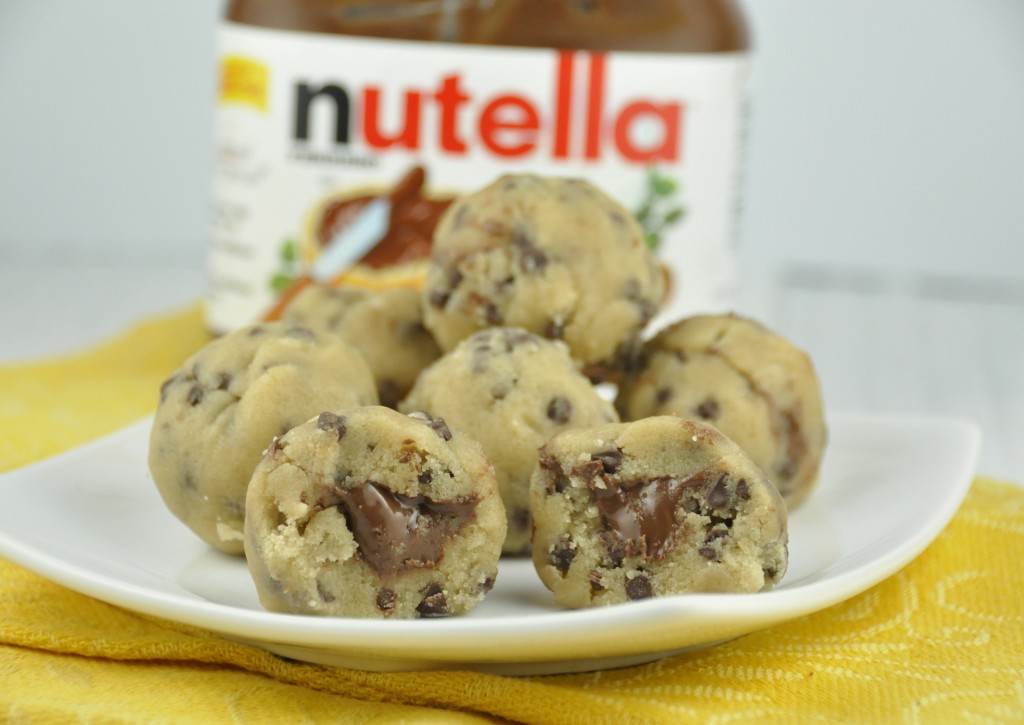 INGREDIENTS:
1 stick (8 tablespoons) unsalted softened butter
1/2 cup granulated sugar
1/2 cup packed light brown sugar
1 teaspoon pure vanilla extract
1 cup all purpose flour
1/4 teaspoon kosher salt
1 cup mini chocolate chips
Possible Fillings:
Mini Oreo Cookies
Mini Reese's Peanut Butter Cups
Mini Butterfinger
Cubed Brownies
Nutella
Biscoff
DIRECTIONS:
Place butter and sugars into a stand or electric mixer. Beat on medium high for 2-3 minutes, until nice and creamy. Add vanilla, beating until well combined. Add flour, salt then chocolate chips, mixing until just combined. Place 1 inch scoops of dough onto a parchment lined counter top. With tip of finger or thumb press into the center of each dough making room for filling. Fill each cookie dough piece with your favorite filling then top with enough dough to cover the filling then form into a ball shape.
Serve bites at room temperature.
Makes about 18 cookie dough bites.
Recipe source:  pickypalate.com
- Craving more?
Sign up for the Wishes & Dishes Newsletter
for a fresh serving of content delivered every week to your inbox! And stay in touch on
Facebook
,
Twitter
,
Pinterest
and
Instagram
for all of the latest updates!