Classic Green Bean Casserole
Classic Green Bean Casserole side dish recipe made with fresh green beans that is a tradition in our household for all of the holidays, especially for Thanksgiving!
This is an old favorite in our family.  It's a staple for the holidays!  You can also just make it for any meal as a quick and easy vegetable dish.  I did some change it up a little bit by adding less milk as I wanted a creamier result.  If you like it a little more "saucy" I would suggest adding 1 whole cup of milk.
I used fresh green beans in the casserole and it made all the difference in the world as far as flavor.  I steam the beans first, then mix them with the other ingredients.  You can also use canned french-style green beans or even frozen beans and it will still come out great.  I would recommend the green beans that are cut french style (sliced in thin strips).  French-style beans are more delicate in comparison to regular green beans that can be kind of tough and too rubbery sometimes.  I'm one of those weird texture freaks when it comes to vegetables in case this hasn't already been established time and time (and time) again.  But it's all a matter of opinion and to each his own!
I think that you will appreciate the ease of this simple, yet great Green Bean Casserole side dish whether it's for a holiday or just when you're having company over for dinner.  It's nice to have something that doesn't require a whole lot of effort when everything else in the kitchen is complete chaos from all the cooking.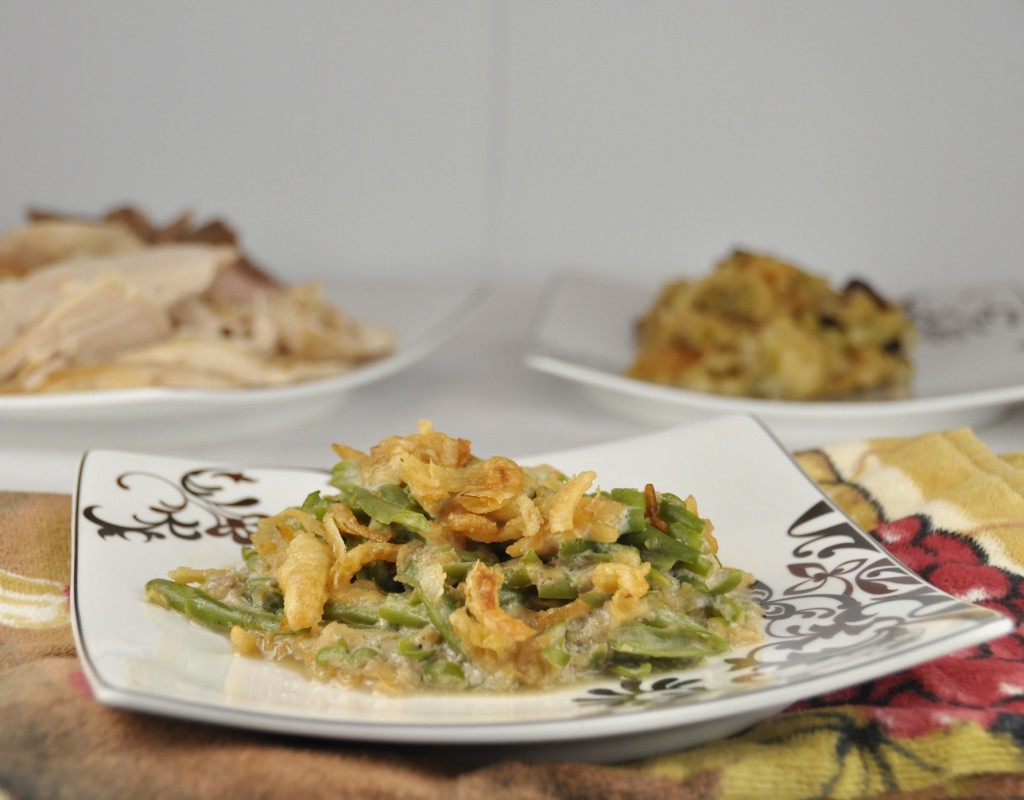 Classic Green Bean Casserole
Prep time:
Cook time:
Total time:
Ingredients
*half this if making for 2-4 people and don't want leftovers
2 (10.75 ounce) cans condensed Cream of Mushroom Soup
¾ cup milk
2 teaspoons soy sauce
dash of ground black pepper (about ⅛ teaspoon)
8 cups cooked and cut green beans
2⅔ cups French Fried Onions
Instructions
Stir soup, milk, soy sauce, pepper, beans and 1⅓ cups onions in 3-qt. casserole dish.
Bake at 350 degrees F. for 25 min. or until hot. Stir.
Top with remaining onions. Bake for 5 minutes more to get the onions nice and crispy.