No-Bake Stuffed Cookie Dough Bites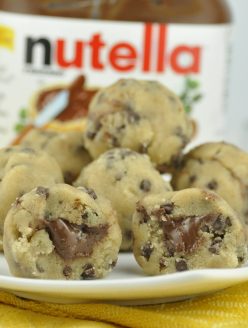 1 stick (8 tablespoons) unsalted softened butte
½ cup granulated sugar
½ cup packed light brown sugar
1 teaspoon pure vanilla extract
1 cup all purpose flour
¼ teaspoon kosher salt
1 cup mini chocolate chips
Mini Oreo Cookies
Mini Reese's Peanut Butter Cups
Mini Butterfinger
Cubed Brownies
Nutella
Biscoff
Place butter and sugars into a stand or electric mixer. Beat on medium high for 2-3 minutes, until nice and creamy. Add vanilla, beating until well combined. Add flour, salt then chocolate chips, mixing until just combined. Place 1 inch scoops of dough onto a parchment lined counter top. With tip of finger or thumb press into the center of each dough making room for filling. Fill each cookie dough piece with your favorite filling then top with enough dough to cover the filling then form into a ball shape.
Serve bites at room temperature.
Makes about 18 cookie dough bites.
Recipe by
Wishes and Dishes
at https://wishesndishes.com/no-bake-stuffed-cookie-dough-bites/