Happy Wednesday, everyone!
Chocolate and peanut butter….peanut butter and chocolate.  No matter how you put it, I don't anticipate any point in my future where I will be able to pass up that combination…ever.  My candy of choice has always been either peanut butter cups or butterfingers, and one of my favorite holiday desserts has always been buckeyes – those awesome peanut butter balls dipped in chocolate that always seem to make it on to every dessert table at Christmas time.  In case you didn't know, the buckeye is named for the nut of the Aesculus tree; it's also known as a horse chestnut. If you're from Ohio, you might refer to yourself as a Buckeye (it is the Buckeye State, after all), even if you're not necessarily an avid fan of the Ohio State Buckeyes.
The sweet and salty combination of these Buckeye bars is incredible. Then the fact that it also has the chocolate and peanut butter combination makes it even better!  I LOVE the combination of all three together – SO dangerous.  I can't even decide what I like better, these bars or my Buckeye brownies.
These bars don't take very long to mix together and are ready in no time.  The hardest part of this recipe is waiting for the bars to chill before enjoying the chocolate and peanut butter deliciousness.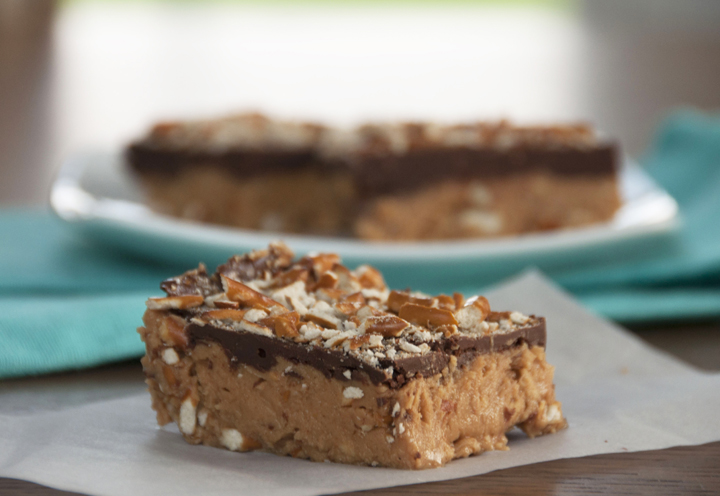 INGREDIENTS:
Bars:
2 cups creamy peanut butter
3/4 cup unsalted butter, softened
2 cups powdered sugar
3 cups pretzel sticks, crushed (I measured before crushing, but you can do whatever you like!)
Topping:
1/2 cup creamy peanut butter
2 cups semisweet chocolate chips
Crushed pretzels (about 2 cups or as much as you prefer)
DIRECTIONS:
Line a 9×13 baking pan with parchment paper and spray with nonstick cooking spray. In a large mixing bowl, combine peanut butter, softened butter, powdered sugar and crushed pretzel sticks. Press evenly into prepared pan. In the microwave (can also use a double broiler), melt the chocolate chips with the peanut butter, stirring every 30 seconds until melted and smooth. Spread this over the peanut butter layer. Sprinkle on crushed pretzels. Refrigerate for AT LEAST one hour before cutting into squares and cut them while they are cold so they don't get too messy.  Keep leftovers refrigerated.
- Craving more?
Sign up for the Wishes & Dishes Newsletter
for a fresh serving of content delivered every week to your inbox! And stay in touch on
Facebook
,
Twitter
,
Pinterest
and
Instagram
for all of the latest updates!