I'm sharing the recipe for my absolute Favorite Breaded Chicken Cutlets.  It's a great, quick and easy dinner idea for those nights when you have no idea what to make for your family!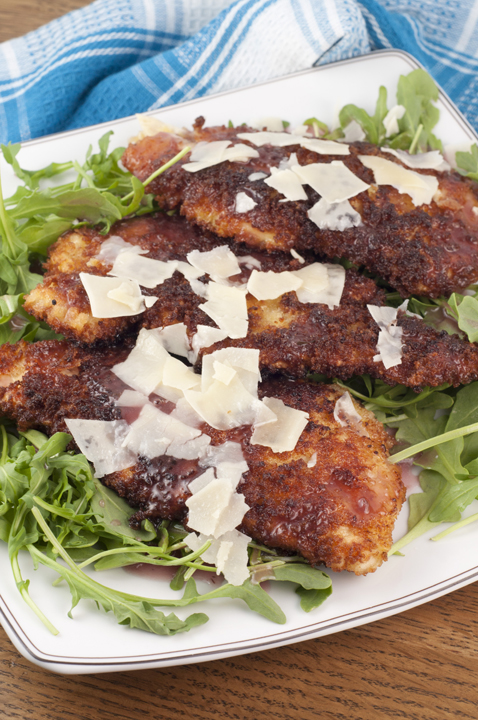 Along with my homemade hamburger helper, these Breaded Chicken Cutlets might make the most appearances on the dinner menu in my house.  I love it that they are a year 'round kind of meal – summer or winter – gimme some chicken cutlets!  The method of cooking these produces such juicy chicken.  I am known in my house to NOT be a huge fan of chicken at all because it always tastes dry to me (mostly all in my head, I'm sure), which is the reason I always prefer meals made with beef.  This chicken dish is actually one of my favorites and turns out moist and flavorful – no complaints from me on this one!
I also love how easy it is to make.  Just a little bit of prep work and you throw them right into the skillet for just a few minutes on each side.  I like to serve mine over a bed of arugula and drizzled with lemon vinaigrette and finally, topped off with some fresh Parmesan cheese.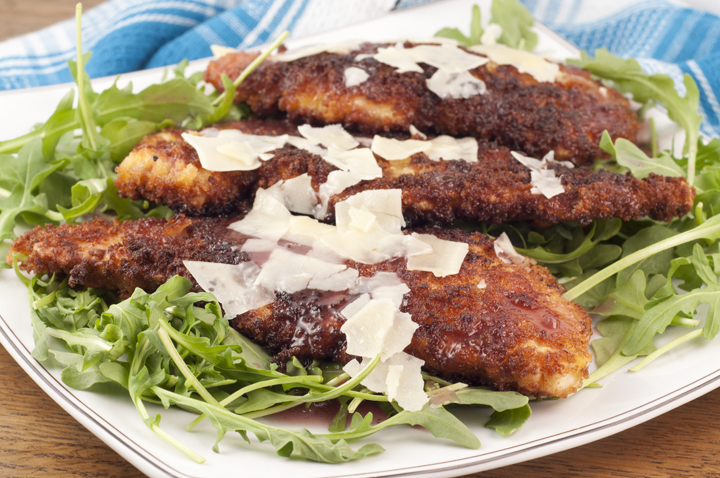 If you prefer, you can serve these breaded chicken cutlets with oil, garlic spaghetti and a green salad.  They would also go fantastically with your favorite dipping sauce (barbeque, honey mustard, or ranch).  This meal is great because you can switch it up each time you make it!
Next time you decide to cook breaded chicken cutlets for dinner, consider making your own from scratch using this method instead of using the pre-made, frozen variety.  You will be glad you did!  It tastes so fresh and light.  Enjoy!
My Favorite Breaded Chicken Cutlets
Prep time:
Cook time:
Total time:
I'm sharing the recipe for my absolute Favorite Breaded Chicken Cutlets. It's a great, quick and easy dinner idea for those nights when you have no idea what to make for your family!
Ingredients
1 and ¼ cups Panko bread crumbs
About 1 cup all-purpose flour, for dredging
2 large eggs, beaten
4 boneless skinless chicken breasts, each about 6 ounces (or use 4-6 chicken tenders or cutlets. Just pound them until uniformly thin.)
⅓ to ½ cup oil, for shallow frying (I use peanut oil)
Salt and ground black pepper
My serving suggestion: Arugula, lemon vinaigrette dressing, fresh Parmesan shavings
Instructions
Preheat the oven to 350 degrees F.
With a meat-pounder/tenderizer, pound each breast to equal thickness. You want them to be pretty thin.
Put the flour, eggs, and the bread crumbs each separately in 3 shallow dishes. Pat the chicken dry and season both sides with salt and pepper. Dip each breast into the flour, then shake off the excess.
Next, run the breast through the egg to coat it lightly and hold the chicken over the liquid to let any excess fall back into the bowl. Finally, lay the chicken in the bread crumbs, turn it over and press it into the breading to coat. Lay on a piece of waxed paper.
Heat a large skillet (12 inches in diameter) over medium heat. Add the oil. Lay 2-3 chicken breasts (depending on the size) in the pan once the oil is hot. Cook the chicken without turning until beginning to brown, about 2 minutes. Turn the chicken and cook until equally brown on the other side, about 2 minutes more.
Repeat with the remaining chicken.
Transfer chicken to a paper towel lined plate to drain. Place all 4 breasts on a rack over a baking pan and bake until firm to the touch, about 6 to 8 minutes.
Remove from the oven and serve immediately on a bed of arugula, drizzled with lemon vinaigrette, and topped with fresh Parmesan cheese shavings.
- Craving more?
Sign up for the Wishes & Dishes Newsletter
for a fresh serving of content delivered every week to your inbox! And stay in touch on
Facebook
,
Twitter
,
Pinterest
and
Instagram
for all of the latest updates!