My Favorite Breaded Chicken Cutlets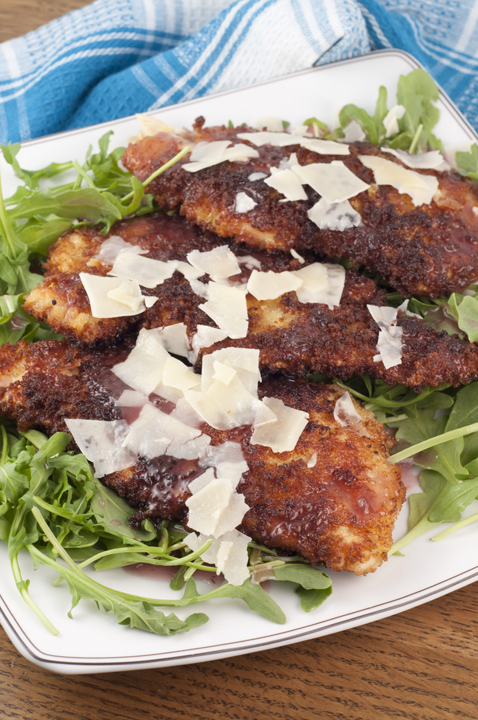 1 and ¼ cups Panko bread crumbs
About 1 cup all-purpose flour, for dredging
2 large eggs, beaten
4 boneless skinless chicken breasts, each about 6 ounces (or use 4-6 chicken tenders or cutlets. Just pound them until uniformly thin.)
⅓ to ½ cup oil, for shallow frying (I use peanut oil)
Salt and ground black pepper
My serving suggestion: Arugula, lemon vinaigrette dressing, fresh Parmesan shavings
Preheat the oven to 350 degrees F.
With a meat-pounder/tenderizer, pound each breast to equal thickness. You want them to be pretty thin.
Put the flour, eggs, and the bread crumbs each separately in 3 shallow dishes. Pat the chicken dry and season both sides with salt and pepper. Dip each breast into the flour, then shake off the excess.
Next, run the breast through the egg to coat it lightly and hold the chicken over the liquid to let any excess fall back into the bowl. Finally, lay the chicken in the bread crumbs, turn it over and press it into the breading to coat. Lay on a piece of waxed paper.
Heat a large skillet (12 inches in diameter) over medium heat. Add the oil. Lay 2-3 chicken breasts (depending on the size) in the pan once the oil is hot. Cook the chicken without turning until beginning to brown, about 2 minutes. Turn the chicken and cook until equally brown on the other side, about 2 minutes more.
Repeat with the remaining chicken.
Transfer chicken to a paper towel lined plate to drain. Place all 4 breasts on a rack over a baking pan and bake until firm to the touch, about 6 to 8 minutes.
Remove from the oven and serve immediately on a bed of arugula, drizzled with lemon vinaigrette, and topped with fresh Parmesan cheese shavings.
Recipe by
Wishes and Dishes
at https://wishesndishes.com/my-favorite-breaded-chicken-cutlets/