Who loves Key Lime pie???  This may sound crazy, but I never tried it until last spring when I was in…….you guessed it – KEY WEST!  What better place to have my first Key Lime pie?   Oh, and it was a frozen key lime pie covered in white chocolate.  Needless to say, I was sold.
Once a week, Mr. Wishes and I get together with a group of people around our age from our church and each week we have a different food theme. This week the theme was dips.  I tried to come up with something fun and creative because for some reason I feel like the expectation might be high for me seeing as I have a food blog.  That reason might be because people TELL me they are expecting something great each week from me 😉  No pressure there!
I figured we would have an abundance of hot dips so I came up with this dessert dip idea.  And it is low fat which put a smile on a lot of faces!  Everyone seemed to enjoy it and gobbled it up.  It's a great warm weather dessert without the guilt and couldn't be any easier to put together.  I think I will be making this all summer long.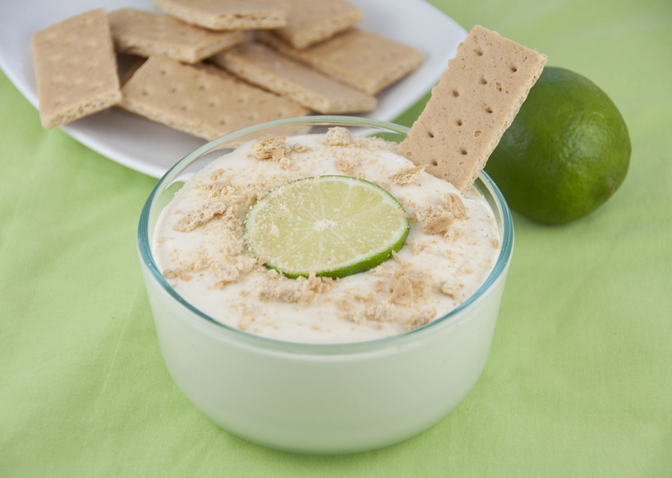 INGREDIENTS:
1 (14 oz) can fat free sweetened condensed milk (can also use full fat)
1/4 cup + 2 Tbsp Key Lime Juice
1/2 cup Marshmallow Fluff
graham crackers, animal crackers, or fruit, for dipping

DIRECTIONS:
In a medium bowl, whisk together the sweetened condensed milk and key lime juice until thickened, approximately 30 seconds.
Add in the marshmallow fluff and continue stirring until incorporated.
Chill for at least an hour.
Serve chilled with graham crackers, animal crackers, or fruit.
- Craving more?
Sign up for the Wishes & Dishes Newsletter
for a fresh serving of content delivered every week to your inbox! And stay in touch on
Facebook
,
Twitter
,
Pinterest
and
Instagram
for all of the latest updates!